What if there was a coffee grinder out there that just blew every other coffee grinder out of the water and you'd never need another grinder again?
What if said grinder was so good, you had to get on a list to order it?
Let us introduce you to the Monolith Titan Grinder. In this Monolith Grinder review, we'll talk about what makes the Monolith so special and whether it's for you or not.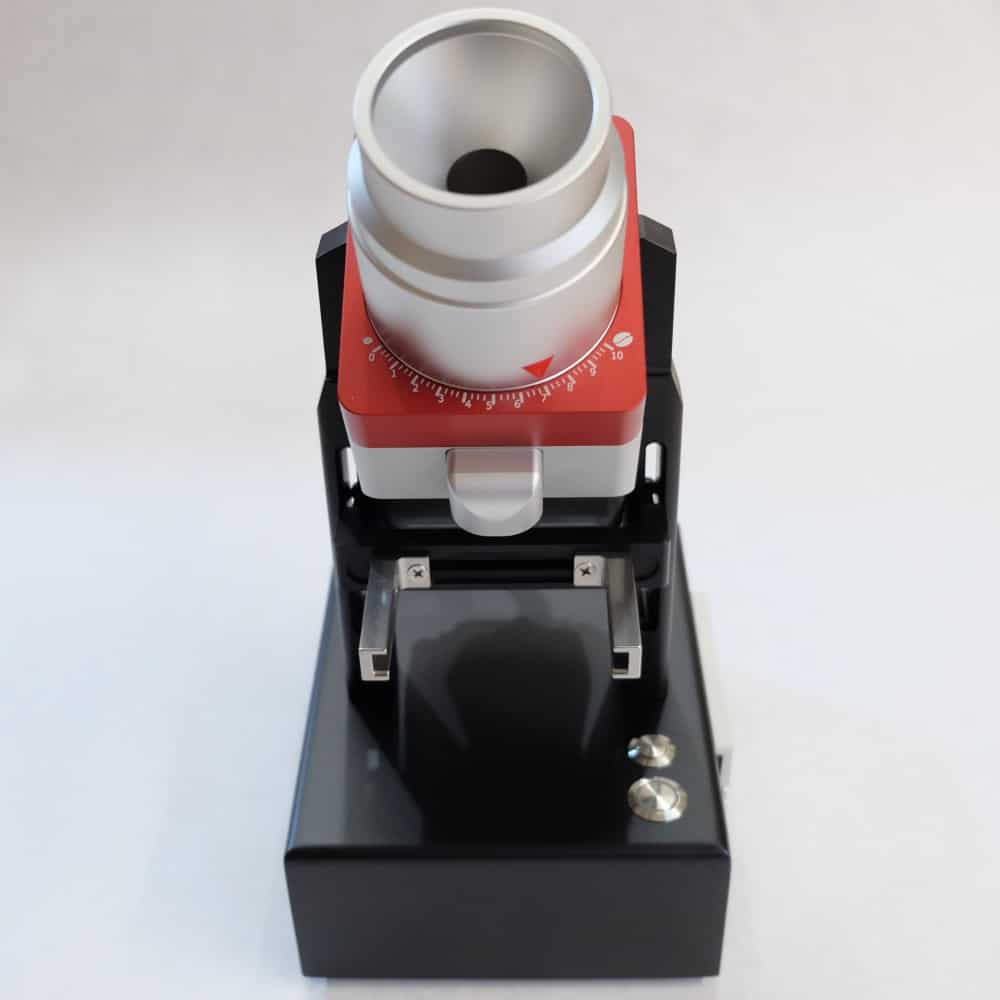 Monolith Grinder Review: just wow!
Monolith is a relatively smaller name in the coffee world, as you probably won't see their products on Amazon or other big box stores. But their grinders are amazing and worth checking out.
Design and build quality
Don't let the comparatively smaller size of the Monolith fool you. The Monolith grinder is built like a tank and it's built to last.
The build quality is just something else, as the designer opted to make a machine that has as few parts as possible. The result is a grinder made up of only 14 parts, all machined in and around Seattle, and assembled at Kafatek, the manufacturer of the Monolith.
The machining quality is with such precision that all the parts have a tolerance of just 10 microns.
The Monolith is ridiculously simple, yet the simplicity is what makes it so special. It's available in two versions: one that has 71mm conical burrs, and another that has 75mm flat burrs.
Older versions had a clamp that you tighten down with a thumbscrew. The clamp makes sure that the grind size stays the same and the body does not turn at all.
The new version has a unique locking mechanism that lets you adjust the fineness when you want, and then locks it in place so it does not turn from any rotational force from the motors.
The conical version is a little cheaper than the flat version.
The conical burrs are rated for 1700 kg of coffee, and the flat burrs can handel 4000 kg of coffee. According to Kafatek, these are conservative estimates.
It stands on a strong base, where the power switch is housed. Coffee beans go in from the top, and come out of a magnetic chute either into a portafilter or whatever you wish to grind into.
Even though it's small, this is a commercial-grade grinder built for home use. A quick search on forums yields comments such as "this is the last grinder you'll ever need to buy".
The beauty of the grinder is the simplicity: there are no electronics besides a capacitor and a motor. Everything else is mechanical.
Ease of use
The Monolith is a single dosing grinder, which means it can't grind out a specific quantity of beans. Instead, you grind by pressing and holding a button. Just add coffee beans into the hopper and replace the wooden cap, then as long as the button is held down, the grinder will do its magic.
This is very useful for dosing espresso, as Kafatek built this machine as an espresso grinder.
Ideally, you use a portafilter and grind directly into that. There's an included dosing funnel the helps prevent any loose grounds from falling out, so that all the grounds fall into the portafilter as expected.
Once you're done with the grind, just pull off the funnel, give it a tap to knock out any loose grounds, and replace it. You're good to go to make your coffee now!
The design of the burrs makes it such that very few coffee grounds are retained, and nearly all of the grounds make it out of the machine.
Levels of grinds
The Monolith conical and Monolith flat burr version are both capable of grinding coarse enough for french press and fine enough for espresso.
At its heart, the Monolith is a single dosing espresso grinder, so it shines in very fine grinds. That doesn't mean it can't do coarse grinds well, though.
To adjust the grind size, you just have to turn the cylindrical hopper left or right. There are markings on the base of the hopper that indicate how coarse or find the grinds are. Since the adjustment is stepless, you can adjust with an incredible amount of precision.
At either extreme, you could also grind for cold brew or Turkish coffee.
The conical burr version has a 120 RPM motor for slow, consistent grinding. The flat burr version has an adjustable motor where you can change the speed from 22-800 RPM.
Durability
The Monolith Titan Grinder is meant to last. We're not kidding when we say that you'll never need to buy another grinder again.
The overall construction of the Monolith flat and Monolith conical is very solid and it's not going to break anytime soon.
Kafatek also offers a 12 month non-commercial warranty, which means as long as you use it at home and not beyond it's expected capability, they'll help you out if something goes wrong.
Is it worth buying?
Here's the million(or thousand, rather) dollar question.
The Monolith Titan is an expensive grinder. All the parts are custom machined, the grinder itself is assembled by hand, and each grinder is tested against a standard model before being shipped out, they both cost well above $1000.
The conical burr version is around $2000, and the flat burr version is around $2600.
That's a serious amount of cash, and only very serious espresso enthusiasts will consider buying.
With that said, for that kind of money, there are machines you can buy that will both grind and brew your coffee however you prefer.
It is important to note, though, that a $2000 super automatic espresso machine is a single unit: if the grinder goes bad, you can either get it repaired if possible, or buy a new grinder. The same thing goes for every other component.
By comparison, Kaftatek Monoliths pretty much wont go bad.
So at the end of an extended time period, you may find that the Monolith outlasts almost every other grinder out there.
Conclusion
To conclude, I'll say this: if you have the money to spend and you love coffee that much, I'd get the Monolith. A good burr grinder is a critical piece of the coffee puzzle, and if you can get your hands on a grinder as awesome as the Monolith, you'll never look back.
But if you don't have the budget, you can still make really good coffee with less expensive grinders, too.