So you're on your way to brewing artisanal coffee in the comfort of your home, right?
You've got almost every variable tested and perfected, but there's still just one little "oomph" missing in your coffee. You need to find the best coffee grinder for some really fresh coffee.
You're buying pre-ground coffee. It's freshly roasted, but still pre-ground – and that's the issue! You need to get yourself a burr coffee grinder in order to really start brewing amazing coffee.
We went through this same process when we were starting out with brewing coffee. When we stopped buying pre-ground beans and started buying coffee beans and grinding just before brewing, the difference was mind-blowing.
There was a time where I could not imagine ever having black coffee. After buying fresh beans and grinding in a burr grinder just before brewing, I've started almost exclusively drinking black coffee. I don't want any additives to dampen the coffee flavor, of course!
That's where we come in – we've simplified the buying process for you, choosing the best coffee grinder options and explaining what makes a grinder good or bad.
Let's get this party started!
Burr Grinder Comparison Table
IMAGE
PRODUCT
DETAILS

Best for home use

Best for home use

Bodum Bistro Burr Grinder

Budget-friendly
12 grind settings
Awesome cream color

VIEW ON AMAZON →

Best for the money

Best for the money

OXO Brew Coffee Grinder

Sleek stainless steel design
15 grind settings + microsteps
Does not break the bank

VIEW ON AMAZON →

Best overall

Best overall

Baratza Encore Coffee Grinder

Extremely versatile
Not too expensive
40 grind settings

VIEW ON AMAZON →

Most high-tech

Most high-tech

Breville BCG820BSSXL The Smart Grinder

Full programmable
Lots of grind settings
Stainless steel burrs

CHECK BEST PRICE →
Best Coffee Grinders: Burr Grinder Reviews
1. Bodum Bistro Burr Grinder:

best coffee grinder for home use
Burr Type: Conical
RPM: 720
Grind settings: 12
First up in our reviews of the best burr grinders is the Bodum Bistro. Bodum is a very well known name in the coffee world, most notably for their excellent-yet-simple-yet-elegant french presses. My first foray into proper coffee was with a Bodum french press.
The Bistro Burr Grinder by Bodum is no exception to the quality you'd expect from these guys. Most burr grinders are quite expensive but the Bistro is actually quite cheap at $99.95 as of today.
When you're worried about breaking the bank in order to break open your coffee beans, the Bistro is a good start to get you converted to always grinding just before brewing.
Another huge advantage of the Bodum Bistro is that it is very low maintenance. The grinder is built with materials that are not susceptible to something called "coffee bean static" – the burrs will not themselves get affected when they're grinding coffee beans and releasing all the compounds and oils.
It should be noted though that the Bodum Bistro is not really suited for grinding beans into Turkish coffee consistency.
For most other brews, like drip, french press, or cold brew, it absolutely shines.
The motors spin at 720 RPM, and conical burrs grind the beans into a consistently sized grain all the way down. One major gripe that I felt with this machine though is that the only way to initiate the grinding process is with a timer button – so you can only set to grind for a fixed time, push the button, and wait it out.
You can't manually grind a little bit more to iron out inconsistencies, and you can't automatically have the machine spit out a grind of a particular consistency. Instead, you'll have to consult the manual and experiment a little bit to see how much time is required to get the grind size you need.
That being said, please bear in mind that this is a budget burr grinder and it is unreasonable to expect high-convenience features in it.
Verdict:
If you're on a tight budget and are looking for a name-brand burr grinder that can cover the basics very well, the Bodum Bistro is a good choice. However, if you're looking for more advanced features and more fine-tuning for your grind settings, you may find the Bistro a little underwhelming.
2. OXO Brew Coffee Grinder: best burr grinder for the money
Burr Type: Conical
RPM: 400
Grind settings: 15 (plus more micro-steps)
OXO Brew is a newer brand on the coffee scene but they've entered the playing field with a bang with their coffee makers, grinders, and other equipment.
The OXO Brew Conical burr grinder is inexpensive and very functional. With 15 major grind settings and lots of micro-steps in between, you have a lot of scope to adjust your grind and really dial it in.
To adjust the grind size, just turn the hopper until the marker reaches the desired number. 1 is the finest possible grind, and 15 is the coarsest.
The OXO has stainless steel burrs which are very sharp and produce very consistent grinds. The grinder works by time, which means it will run for a specific amount of time before automatically turning off.
In order to grind your beans correctly, you either store lots of coffee beans in the hopper, start the grind, and let the timer run its course, or you only add as many beans as you need and then manually stop once the beans have finished grinding.
The OXO grinder is also quite straightforward to clean, though the bottom burr does not come out. Removing the top burr is quite easy, though.
Verdict
Of all the coffee grinder reviews that we've done for this post, we really like the fact that the OXO has stainless steel burrs and an easy-to-use construction.
It would have been nice to be able to clean the bottom burr as well, but for this price level, we can't really complain. Just remember to not use oily coffee beans as the residue becomes quite hard to wipe off.
3. Baratza Encore Coffee Grinder: best ceramic burr coffee grinder
Burr Type: Conical
RPM: 450
Grind settings: 40
Baratza is easily one of the best known brands when it comes to coffee grinders. There's just no brand that quite competes with it in terms of quality and consistency of grind.
Though many Baratza grinders are quite expensive, the Encore is actually comparatively easy on the wallet without sacrificing any quality.
The Baratza Encore is powered by a 450 RPM motor connected to 40 mm ceramic burrs. These will deliver consistent and evenly ground coffee to you every single time you use it.
Like the Virtuoso, the Encore also has 40 grind settings which should be more than enough for all the coffees you could possible want to brew at home – again, with the exception of Turkish coffee.
If you're not quite at the serious hobbyist level and you want to get your feet wet with a good machine that can do timed and pulse grinding (the Bodum can't do pulse grinding), then the Baratza Encore is a good choice. It's a slightly simplified version of the Baratza Virtuoso, which is targeted to a more serious coffee enthusiast.
That being said, you can certainly get the Encore and it will grow with you as you progress from coffee drinker to coffee connoisseur.
An on-off dial on the right controls the power, and a pulse button on the front gets the grinder going. Overall, this grinder is incredibly easy to use and of all the coffee grinder reviews we've done here, it's tough to beat the Baratza Encore.
Verdict
Although the Encore is a little more costly than the OXO, Baratza is a much better-known brand and have been making coffee grinders for a long time. They're the best in the business when it comes to grinders. As a novice, you may find 40 grind settings quite intimidating, but it does give you room to grow as you begin to experiment and further dial in your brew.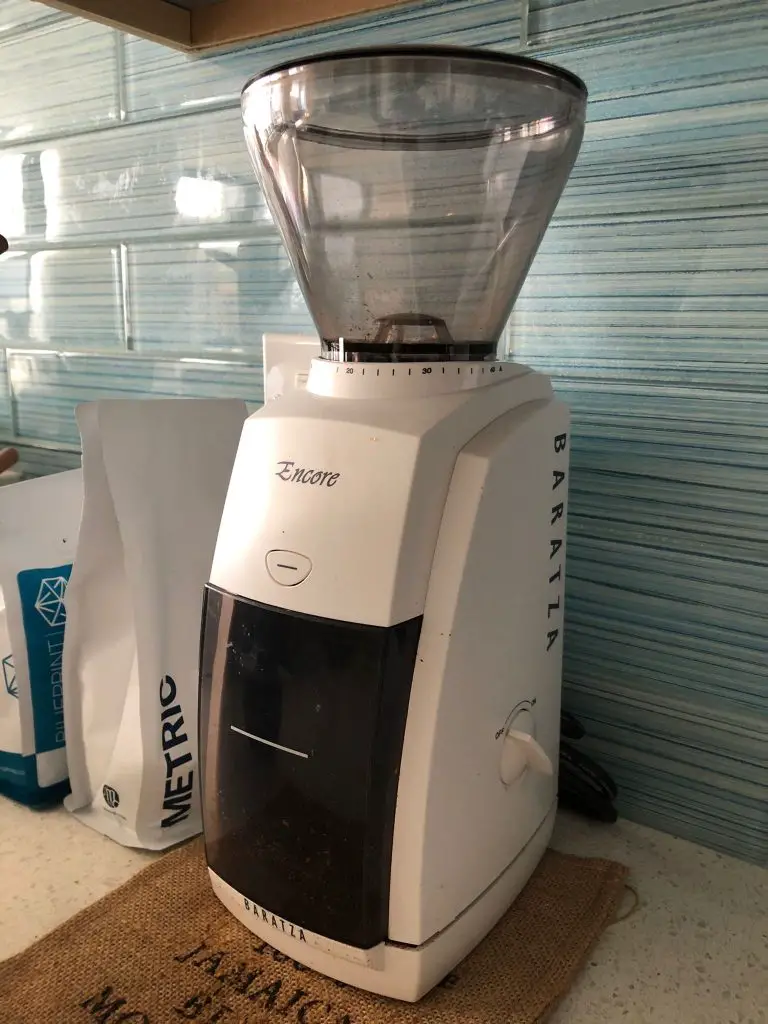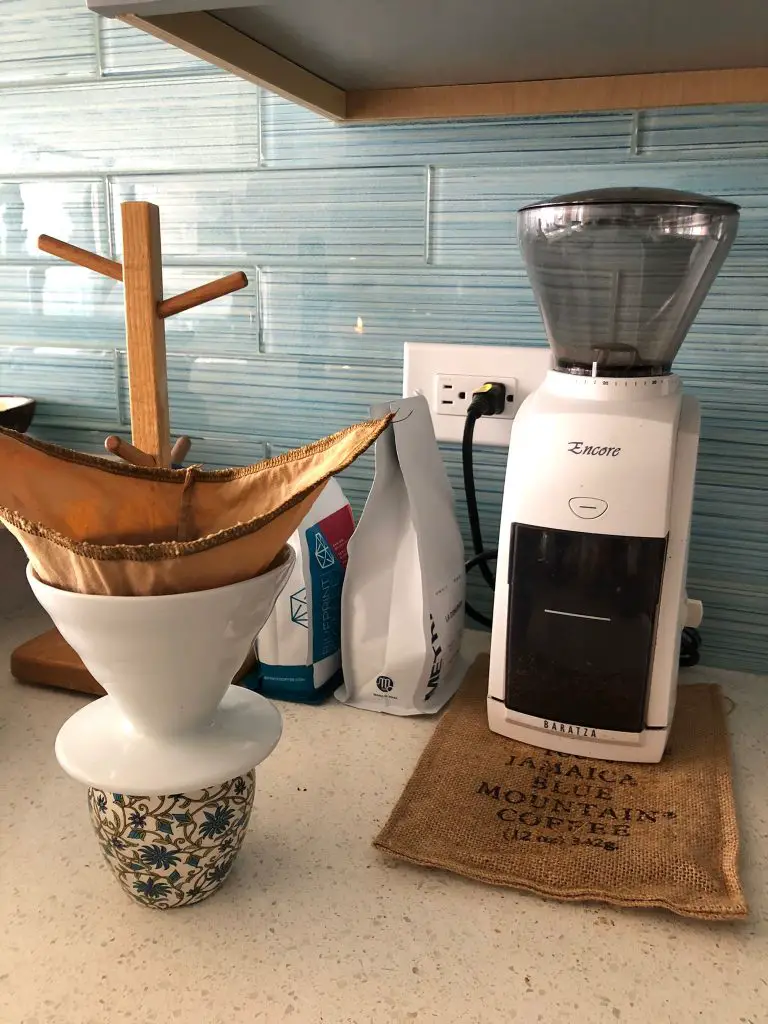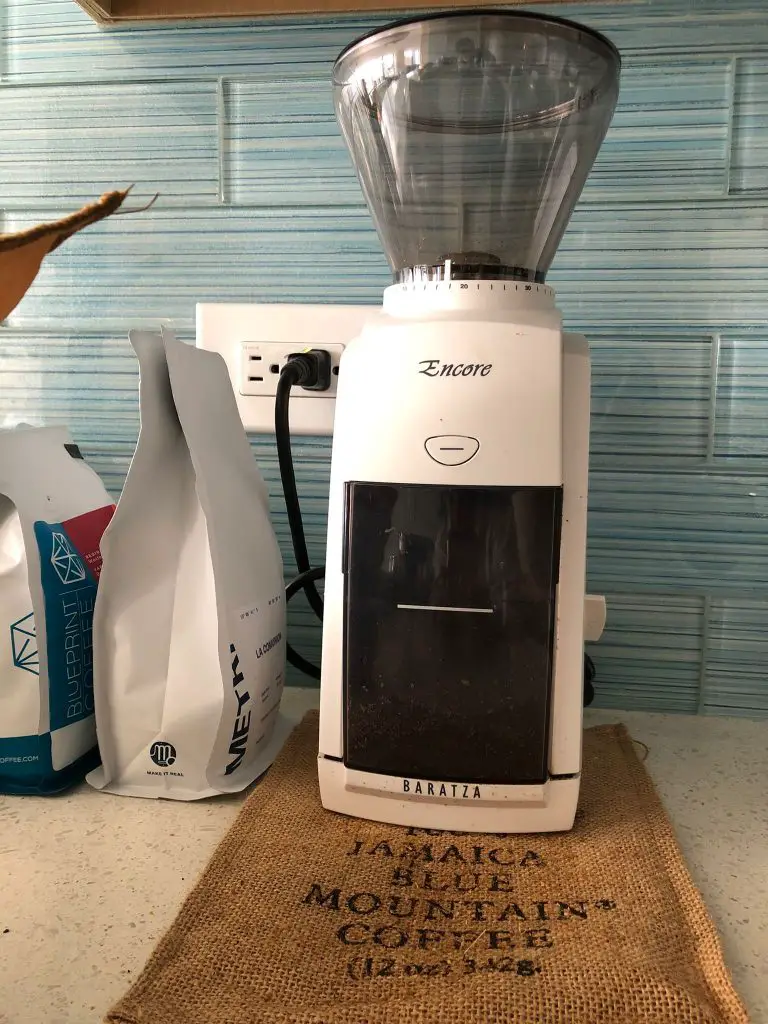 4. Capresso Infinity Plus Burr Grinder
Burr Type: Conical
RPM: 450
Grind settings: 16
The Capresso is a versatile grinder that's very special on this list because it is the only coffee grinder that we've got here which is capable of grinding superfine grounds suitable for Turkish coffee or Arabic coffee.
There are a total of 16 grind settings but they can be divided into 4 categories: coarse, medium, fine, and superfine. This means the Capresso can grind cold brew coffee all the way to Turkish coffee and everything in between.
If you're into drinking a wide variety of coffees – including Turkish and the Arabian Qahwa, then you'll need to get yourself a Capresso grinder.
At 450 rpm with 40mm conical stainless steel burrs, the Capresso grinds at a speed slow enough to be consistent but not generate too much heat from friction.
The only drawback with the Capresso is that it can't grind quite as many beans in one go as some of the other grinders we've listed can.
Again, this is only a problem if you're looking to brew a lot of coffee in one shot – if you're just grinding for one or two people, then this is a non-issue.
I really like how affordable and functional the Capresso is – even though it does not have the name brand power of say Bodum or Baratza, but with its price range and features it gives those grinders a run for their money.
Verdict
The description page states the Capresso is a commercial burr grinder, but we have to disagree there. However, the Capresso is definitely a really good budget burr grinder we've reviewed that manages to produce extremely fine grounds. Don't expect to put this in your pop-up coffee shop, though!
5. Baratza Vario Flat Burr Coffee Grinder
Burr Type: Flat
RPM: 1350
Grind settings: 230
The Baratza Vario 886 is one of the most expensive burr grinders on this list and for good reason. This is one of the most customizable grinders you can find, period. It has 230 settings that you can use to really fine tune your grinds down to a science.
The Vario 886 could be your graduation present from casual coffee drinker to master home barista. You'd normally expect a grinder of this caliber to be found at a local cafe, but this machine is actually meant for home use.
It's also the most powerful of the grinders listed here, with a 1350 RPM motor powering 54mm ceramic burrs.
To justify getting the Vario 886, I think you'd really have to be a coffee fanatic – it's quite an expensive machine and if you're just getting something for casual brewing, this can easily become overwhelming. To contrast, the simpler machines we've listed here have 16 grind settings – this has 230!
That said, if you're into experimenting and fine tuning, and you like to keep a diary of every coffee you've had and how it tasted, this is certainly the machine for that level of dedication.
It also has a portafilter holder that you can grind beans into and directly place in your espresso machine.
Besides, it's also an amazing conversation started and a great way to keep the conversation going over lots of cups of coffee 🙂
Verdict
I don't think we've ever reviewed a grinder quite like the Barazta Vario. It's great for home, office, or even commercial use thanks to the super fast grind speed and customization. You can set three grind presets using the buttons on the front panel for quick grind adjustments.
So if you enjoy drinking espresso, drip, and cold brew, for example, you can just set a button for each grind setting and quickly grind to your exact consistency.
The price is quite steep, but if you're really into coffee, or you really love someone who is into coffee, why not splurge ;)?
6. Rancilio Rocky Coffee Grinder: best coffee grinder for espresso
Burr Type: Flat
RPM: 1725
Grind settings: 55
Another huge name in coffee of course is Rancilio. Rancilio makes the Rocky coffee grinder, which is ironic, because once this machine is done with your coffee beans, they'll be anything but rocky.
Like the Vario 886, the Rancilio Rocky is a commercial grade machine in a home machine's clothing.  This grinder is POWERFUL. It could be considered the best coffee grinder in terms of power.
Sporting a 1750 RPM motor and 50 mm burrs, your coffee will be ground to an even, perfect consistency every single time. There are 55 settings which allow you to tune your grinds to the exact level of fineness or coarseness that you like.
Rancilio is so finicky about perfection that every machine is tested with actual coffee beans before they ship it out. I'm dead serious!
This level of quality control is definitely apparent in their end products.
Verdict
Because this is such a high quality, professional burr grinder, you'll also have to expect to pay top dollar for it. However, if you wish to feel like a barista at home, grinding right into portafilters and to a perfectly tuned consistency that only you know the secret to, then the Rancilio Rocky is certainly worth considering.
7. Breville BCG820BSSXL The Smart Grinder
Burr Type: Conical
RPM: 450
Grind settings: 40
Of all the grinders listed so far the Breville Smart Grinder is most definitely, well, the smartest, high-tech grinder there is. It's very versatile and can grind to a wide variety of consistencies, all the way from very coarse to fine.
Unfortunately, it will still not be able to manage a grind fine enough for Turkish Coffee.
Note: At this point I feel like it's necessary to mention that if you're really going to drink that much Turkish coffee then there are pre-ground Turkish coffees available – it's not quite as good at grinding yourself but if it's just not possible with the equipment you have it's the next best thing.
The stainless steel burrs are 40mm size. The motor is 450 RPM and you can grind beans into a wide variety of containers depending on what you're planning to brew. Grind into a portafilter, a filter basket, a paper filter, or a regular container – whatever works for you.
There are a total of 40 different settings so you can really fine tune the coffee to your taste.
Verdict
If you're a techie and want a burr grinder that can do most of the heavy lifting for you, the Breville Smart Grinder is an excellent pick. In our review process, we found that coarse grinds did not come out as well as they did in other grinders, but if you're not too big on french press and cold brew, that will not be an issue for you. Overall, this is a long-lasting grinder that does the job really well.
8. Krups GX5000 Burr Coffee Grinder: best coffee grinder for drip coffee
Burr Type: Conical
RPM: 450
Grind settings: 45
The Krups GX5000 Burr Grinder is the most inexpensive conical burr grinder on our list. If you're really on a budget, then this is the one to go for.
It has 9 levels of grind settings from coarse – think french press and cold brew – all the way to fine – think espresso. There are 5 sub-notches between each setting, for a total of 45 settings. The burrs are made of stainless steel, and produce fairly consistent grinds in a very short time.
One major issue with this machine however is that there is a lot of static buildup so when you empty the grounds container, the statically charged coffee grounds tend to stick to your countertop and they get a little tough to remove.
Still, considering how cheap the Krups GX5000 is, we had to include in our list as an absolute last resort for someone who has to grind their own beans but just doesn't have a big budget. It will do the job well enough, but don't expect the exact same performance as some of the more expensive machines.
Verdict
To round off our review of the best coffee grinders, we thought we'd include the Krups as an extreme budget option for someone who really needs an electrical grinder but can't justify spending more than $100 on one. One of the biggest advantages of the Krups is that it can grind up to 12 cups worth of coffee, making it the best grinder for drip coffee since drip coffee usually requires a lot of coffee to be brewed in one go.
Related:
Coffee Burr Grinders: a buying guide
Now that you've seen our 8 picks for the best coffee grinders (conical burr grinders of course), let's go a little into the nitty gritty(pun 100% intended) of coffee grinders and what to look for.
Manual grinders vs electric grinders
Roasted coffee beans are not soft, so it takes a bit of energy to grind them into right consistency. For home use, I would suggest you get an electric grinder, simply because it takes less time to grind and it's far more convenient.
Manual grinders are really useful for traveling – they can easily be tossed into a suitcase along with your Aeropress and you won't even notice the weight in your bag.
You can use a manual grinder at home but it will give you a good workout every morning!
Burr Grinders vs Blade Grinders
I must admit, the first time I bought a coffee grinder, it was a blade grinder. I didn't know any better back then. But then I realized that the grounds were not very consistent, and I found out from researching that consistent grounds are key to good coffee.
The way conical burrs are designed enables you to get a really smooth, even, and consistent grind. This allows for even extraction of flavor from the coffee all the way through.
Think of it this way – even a tiny proportion of extra fine grounds can make a french press coffee muddy, and a tiny proportion of coarse grounds can make an espresso lose part of its intensity.
To make seriously good coffee, you need a conical burr grinder. As you saw above, you don't really have to break the bank to do so. Burr grinders come in budget and high end models.
Number of grind settings and functions
Generally speaking there are 3 major grind functions. Coffee grinders either  pulse, auto-grind, or timed-grind.
Pulse is like the first button on your blender – the burrs will spin as long as the button is pushed. This is good for grinding small amounts of coffee, as you can just drop a handful of beans in the grinder, press the button as long as it takes to grind all the beans, and enjoy your coffee.
If you're making more than one cup of coffee at a time, you may find it annoying to have to push and hold the pulse button and stand there looking around as you wait for your coffee to finish grinding.
Aut0-grind is where you simply turn the knob on your grinder to the desired setting, and it will automatically grind the beans. This is the most hands-off method and the most useful for grinding large amounts of beans at once.
Timed-grinding, as the name suggests, is where you set a timer and the grinder will continue for that long.
In addition, there are a wide variety of grind settings in each grinder. The settings are essentially the coarseness or fineness of the grounds. Some simpler machines have 10 settings, whereas bigger, more expensive machines have up to 200.
At some point, I feel that having too many grind settings becomes inconvenient more than anything else – but you can use the multitude of settings to really dial in your coffee just the way you like it.
Whether you're willing to spend all that time and money(buying so many coffee beans) is another thing altogether.
You're not exactly going to use all 230 settings on an espresso, though. Espresso grounds are fine so you'll probably be experimenting within the fine range of the settings, not even touching the medium or coarse range.
Check out coffee grind size chart here.
Burr sizes and RPMs
The speed of your grinder is measured in RPMs – you probably have seen this abbreviation in your car's dashboard too.
RPM stands for revolutions per minute. The faster the grinder, the more consistent the grounds, but with a catch.
Fast grinding builds up a lot of static electricity and heat. Heat, as you know, is bad for coffee grounds – it can screw up the flavor profile.
To get around this, high speed grinders have large, flat burrs that help dissipate the heat more easily through a process called gear reduction, so your coffee is not damaged.
Lower end grinders tend to have slower RPMs and conical burrs. Most home grinders you'll find(as well as the ones on this list) have lower RPMs and conical burrs.
The lower RPMs are 100% fine for home brewing.
Other features
All other things considered, there are a few other creature comforts that some grinders have and others don't, like the ability to grind directly into a portafilter, which is great for espresso brewing, or a touch screen, which is a convenience more than anything else.
Finally, if you find the grinders in this list too costly, we've also reviewed the best coffee grinders under $100.
More Burr Grinder Reviews:
Bottom line: which burr grinder should you choose?
If you're still stuck for choice after reading these reviews and having trouble making a decision, I'd suggest you take the middle road and go for the Baratza Encore.
It doesn't break the bank and has all the basic functionality for brewing everything from cold brew to espresso and everything in between.
Last update on 2023-08-31 / Affiliate links / Images from Amazon Product Advertising API