Any coffee lover worth their salt knows that you don't brew with pre-ground coffee. Great coffee comes from freshly roasted, freshly ground coffee beans.
So if there was an automatic coffee maker out there that could grind and brew your coffee, that would be so awesome, right?
In this post, we'll review our favorite picks for the best coffee maker with grinders built in. These are also known as grind and brew coffee makers.
The obvious advantage of a coffee maker and grinder combo is that you don't need two separate machines. So instead of picking up a separate coffee machine and a separate grinder, you can get just a single machine.
Plus, many grind and brew coffee makers are programmable, which means you can just set a timer and the coffee maker will freshly grind and brew your coffee in the morning for you.
10 Best Grind And Brew Coffee Maker Reviews
There are many coffee grinder brewer combo options out there that can deliver a cup of coffee from fresh coffee beans in minimal time. Each one of these machines have their own advantages and disadvantages, so let's take a look.
1. Breville BDC650BSS Grind Control: Best Drip Coffee Maker with Grinder
Brew Capacity: 12 cups
Grinder: Stainless Steel Burrs
Programmable: Yes
This Breville BDC650BSS Grind Control is one of our favorite coffee makers that has a built-in grinder.
One of the things that stands out immediately is its design, which looks absolutely amazing in any contemporary and modern kitchen.
Of course, you're here about the grinding and brewing!
In our humble opinion, you can get some of the best coffee from this compact Breville. The stainless steel burrs are incredibly sharp and do a great job of evenly grinding the coffee beans.
There are 8 strength settings on the Breville grinder. You can adjust the settings to make your coffee stronger or weaker, depending on what you prefer.
The strength setting adjustment is good if you use a wide variety of beans. Some types of beans and roasts have a naturally stronger flavor, in which case you may wish to use a coarser grind for a more balanced cup.
Similarly, if your cup tastes meh, you can make the grind size a little finer to extract more flavor.
In case you've got some ground coffee lying around, you can also choose to bypass the grinder and add your own grounds to the filter, too.
As we mentioned above, this is a programmable coffee maker, which means you can set a timer and the grinder/coffee maker will do the rest for you.
This is a huge plus if you're not a morning person and would just prefer to have a steaming, hot cup of coffee on the ready.
You can choose to brew into the stainless steel carafe, a travel mug, or even a tall cup.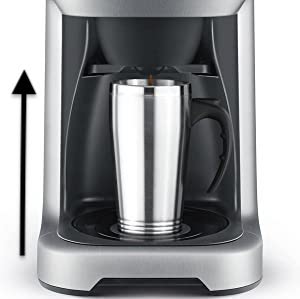 2. Cuisinart DGB-900BC Grind and Brew Coffee Maker with Thermal Carafe
Brew Capacity: 12 cups
Grinder: Burr
Programmable: Yes
With the Cuisinart Grind and Brew, you can count on programming features up to 24 hours, which provides you with similar functionality as the Breville we recommended earlier. Of course, there are some differences with the previous coffee machine, so let us have a look at the special features that make this coffee machine stand out.
When you tend to brew coffee with some time to spare, then you might be interested to know that the Cuisinart Grind and Brew has a special carafe. The carafe is designed to keep your coffee warm for several hours, meaning you do not have to put a new round through your coffee maker!
Another interesting feature is the coffee grinder that is incorporated in this coffee maker. it is an automatic burr grinder with adjustable settings. So, when you add your coffee beans, you can adjust the burr grinder to meet your personal preferences.
Finally, you can also adjust how many cups of coffee you want, which is truly an amazing feature for a multi-functional coffee maker. Simply adjust the settings from 2 to 12 cups, depending on how many cups you need.
3. Capresso 465 CoffeeTeam TS Coffee Maker/Grinder with Thermal Carafe
Brew Capacity: 10 cups
Grinder: Conical Burrs
Programmable: Yes
Compared to some of the other brands in this overview, this brand of coffee maker may not mean much to you. However, it should be on your shortlist if you want to effectively grind whole beans into your favorite cup of coffee.
The Capresso 465 Coffeeteam TS contains a conical burr grinder that makes grinding whole beans a piece of cake. It is also a fully programmable coffee machine, which includes a clock and even a timer for good measure!
One of the standout things about the Capresso is its unique design. The design is designed to fit in most kitchens, so you could place this in a contemporary kitchen just as well as you would in a traditional kitchen.
Another feature of this coffee maker is that it is one of the best at maintaining the aroma from your whole beans. Not every coffee maker achieves this feat, so this could be the recommended option for true coffee experts.
The Capresso has quite a decent capacity too, providing a bean hopper with a capacity of 10 ounces.
In addition to the bean hopper, you also get the option to use the machine with or without the grinder, so you can adjust your brew perfectly depending on your mood.
4. Gourmia GCM4700 Coffee Maker and Grinder Combo
Brew Capacity: 10 cups
Grinder: Burr
Programmable: Yes
When you are looking for a machine that functions as a grinder for coffee beans as well as a coffee maker, it would be so easy to overlook the Gourmia.
While the machine has quite the basic design that does not stand out from the others in our overview, this is the top choice where speed and convenience is concerned.
While the design of this burr grinder and coffee maker combo machine may be lacking a bit, you do get so much convenience in return that makes up for the lack of aesthetic.
This is one of the most user-friendly grind brew machines out three, perfect for those who are just starting to know coffee beans and brewing methods.
The grinder of the Gourmia is situated on top of the machine, which makes it easy to access and operate.
It is ideal for those who like a quick cup of coffee made from freshly ground coffee in the morning, but do not have the time to make ground coffee first thing in the morning. In addition to that, it is decently priced too!
5. Black & Decker CM5000B Mill and Brew Coffee maker
Brew Capacity: 12 cups
Grinder: Stainless steel blade
Programmable: Yes
When you're not looking for an outstanding drill or DIY tools, you may be heading to Black & Decker for something else.
This something else could be nothing other than the Black & Decker CM5000B Mill and Brew Coffeemaker.
With the Mill and Brew, you can adjust grind size and coffee strength, ensuring you get the perfect brew according to your personal taste preferences. So, you can use this Black & Decker for regular coffee as well as espresso.
Like some of the other options in this overview, the Mill and Brew also comes with a 24-hour programming feature, which means you can set your coffee to brew before you even come down in the morning.
Another interesting feature with this coffee maker and grinder combination is its easy maintenance. Opposed to some other machines, the streamlined design of the Black & Decker makes maintenance more straightforward.
However, the maintenance is easy due to the fact that this is a blade grinder, not a burr grinder! 
Burr grinders will always outperform blade grinders.
But if you don't look forward to cleaning your machine for many hours, then this is the option to get.
Finally, the Black & Decker is also an excellent option for those who are bound to a lower budget. This is one of the most affordable coffee makers with a built in grinder out there, but does not compromise on quality.
6. Melitta MEMB1B Grind & Brew 10-Cup Coffee Maker
Brew Capacity: 10 cups
Grinder: Burrs
Programmable: Yes
If you are looking for a coffee maker that can save valuable time, we suggest the Melitta MEMB1B Mill & Brew 10-Cup Coffee Maker as the last product to make our review.
To ensure the quality of your cup of coffee is maintained throughout the brewing process, the manufacturer included an immediate brew feature.
This means that you can place the beans in the hopper and that the brewing follows shortly after the grinder has completed its round.
You also get various grinder options, ranging from fine to coarse. And like the other suggestions in this overview, you can also adjust the strength of the cup of coffee you are making.
Easy maintenance is another benefit you get with the Melitta. Opposed to a disposable coffee filter, you get a special filter made from stainless steel.
This means you can reuse the filter every time and simply clean it to keep your machine as pristine as possible.
Another interesting feature with the Melitta is that you can stop the brewing process when you are doing several cups at once. So, if you are dying for a cup, but still have a couple of cups to go, you do not have to wait for all the other cups to run through. That's a great feature to have!
The Melitta also has a bunch of interesting safety features. One of the best is the automatic shut-off feature, which turns off the grinder and the brewer when inactive after one hour.
The benefit of that is that your coffee won't overheat, which could influence the taste and aroma of your carefully selected brew.
7. Saeco PicoBaristo Coffee Maker Grinder Combo
Brew Capacity: Espresso Shot/One cup
Grinder: Burr
Programmable: Np
Some coffee lovers like to have variety when it comes to their daily cup of comfort. Not all automatic grinder and brewing machines cater to that, but fortunately the Saeco PicoBaristo Super does!
Now, drink variety is not the only reason why you should seriously consider the Saeco machine, because this machine is one of the closest things to a professional barista machine for your home. And for a really attractive price to boot.
The Saeco PicoBaristo provides you with five different strengths of espresso, enabling you to adjust anything from brew length to water temperature.
The machine also contains a quality ceramic grinder, which provides some additional benefits to the machine, including improved durability.
Another feature you will find with the Saeco is an additional milk container. Thanks to the presence of this separate container, you will have no problems getting those milky coffees just right. It also enables you to create foam to go on top of your drink, depending on the type of coffee you are making.
While this is a powerful machine, it is not an overly bulky one. So, even if you have a smaller kitchen, you can get a perfect cup of coffee thanks to the compact yet powerful design from Saeco.
8. KRUPS EA8298 Espresso Maker/Grinder
Brew Capacity: Espresso Shot/One Cup
Grinder: Burrs
Programmable: No
Many suggestions in our review of coffee machines and grinder combos are quite convenient, but none may beat the KRUPS EA8298 where convenience is concerned.
Interestingly, this brand is also one of the favorite brands among gourmet espresso lovers, so you can be sure you will receive an outstanding cup of coffee from this one.
One of the most interesting features about the KRUPS EA8293 is that you can adjust grind size in only a couple of seconds.
So, even for a very quick brew early in the morning, the incorporated grinders and matching settings of this machine will not let you down.
To make settings adjustments easy and straightforward, even for those who are not too brilliant at making coffee, consumers can count on a fully functional LCD panel, from which you can easily adjust your settings with minimal effort.
Water temperature is also crucial for the best coffee. To ensure your coffee will meet your standards, KRUPS included professional features such as thermoblock technology and a 15 bar pressure pump.
So, temperature and even brewing force is completely on point.
And if you thought the premium features could not get any better, you would be completely wrong.
There are other advanced features that have been included in this machine thanks to the manufacturer, including a removable 60 ounce water tank, drip tray, steam nozzle and a bean hopper with a very high capacity.
Like our previous suggestion, KRUPS delivers a professional grade machine that fits in any kitchen, as the design is quite compact.
And with the various professional features that have been included, you can make a perfect cup of coffee no matter what your personal coffee preferences are.
9. Breville BES870XL Barista Express Espresso Coffee Maker With Grinder
Brew Capacity: Espresso Shot/One cup
Grinder: Burr
Programmable: No
Our overview of grind brew machines would not be complete without a decent espresso machine. Yes, you can also get an espresso machine that delivers fresh ground coffee from your favorite selection of coffee beans.
The espresso machine you are looking for? The Breville BES870XL Barista Express!
This is the second Breville that made it into our overview, and this is no real surprise since each machine coming from this brand is almost pure perfection. Their Breville burr grinder and coffee maker is a prime example.
The Barista Express is a semi-automatic machine. It contains a built-in grinder, and opposed to some other advanced espresso makers, this one does not need advanced knowledge to operate!
With the Barista Express, you can get conical burr grinder with a capacity of 1/2 pounds and a sealed hopper, so you do not have to worry about your beans leaving a mess.
On top of that, the machine also contains a 1600W heating system, which ensures that your water temperature is perfect for your preferred cup of coffee.
Another interesting fact about this machine is that you can obtain it in three different colours. So, if you want to ensure your have the best coffee maker for your interior design preferences, be sure to check the different designs available for this brand.
10. DeLonghi ESAM3300 Magnifica: Best Espresso Machine with Grinder
Brew Capacity: Espresso Shot/One cup
Grinder: Burr
Programmable: No
The DeLonghi brand delivers some outstanding grinders, coffee machine options and accompanying accessories. So, it is no surprise they managed to conquer a spot in our grind brew machine overview.
If you are looking for a user-friendly grind brew machine that also delivers a superior cup of espresso, you cannot go wrong with this particular machine. It contains their patented direct-to-brew system, which uses a unique method to process your coffee from grinding coffee beans to brewing a fresh shot of espresso or cup of coffee.
You can also take it a step further and make cappuccinos and lattes with this machine, all at the touch of a button.
It's worth noting that there is a little bit of trial and error involved in dialing in the grind settings before you get a good cup of coffee.
Once you've dialed it in, though, it's all smooth sailing.
When you think of automatic grinders and brewing machines, you may immediately think about bulky options, such as the previous Barista Express. Obviously, this does not work as well in small kitchens.
Coffee Machine With Grinder Buying Guide
To better understand which machine you should pick, consider the following: there are two main factors in the coffee makers we chose here.
Some are drip coffee makers, and others are espresso machines
Most have burr grinders, and one has a blade grinder
Drip coffee makers vs espresso machines
The first question you want to ask yourself is if you need a drip coffee maker or an espresso machine.
A drip coffee maker is a traditional coffee pot style machine that can brew anywhere from 2 to 12 cups, depending on the model you get.
Coffee beans are ground and go into a filter, where they'll be showered with hot water. The hot water drips through the coffee and filter and into a carafe below.
Drip coffee is what we mean when we just say the word "coffee". It's rich, flavorful, clean, and comforting.
It's also what you'd get if you want to have a pot of coffee running that a lot of people drink from, or indeed, if you pour from multiple times.
The other option in grind and brew machines is to get an espresso machine with a grinder.
Here, coffee beans are ground, go into a portafilter, and are brewed using high-pressure steam to produce a rich shot of espresso.
Some espresso makers also have the option of pulling a longer shot that's almost as big as a regular cup of coffee.
You can also make cappuccinos and lattes with these machines, as they have milk frothers built in.
It comes down to personal preference: do you want a pot of coffee going, or do you prefer specialty coffee?
Burr vs blade grinders
Some of these machines come with a burr grinder, while others come with blade grinders.
If you are looking for a more consistent grind, then the burr grinder is your recommended choice. However, the blade grinder is definitely less expensive compared to a burr grinder.
Blade grinders are also much easier to clean.
However, the difference in brew quality between a blade grinder and a burr grinder may make you rethink the way you are leaning. Blade grinders simply cannot compete with burr grinders, period.
The only situation in which I'd suggest picking up a blade grinder machine is if you're not too keen on cleaning the grinder very often.
Thermal or glass carafe.
Another feature you may want to weigh up is the size of the carafe of your machine. While this may not sound very important, other than capacity, the type of carafe in the machine can actually influence the taste and aroma of your coffee.
So, if you want to retain as much of the original coffee flavor as possible throughout the day, it is essential to look at the carafe.
When flavor is extremely important to you, you must step away from the usual glass carafe that is kept warm by a hot plate. Even though all the drip coffee makers we listed here have thermal carafes, some do have a less expensive glass carafe option.
The reason why you should avoid glass carafes on a hot plate is the fact they systematically cook the flavor and the aroma from your coffee.
So, while it may be a good option for a less than perfect cup of coffee at the office, you do not want to lose the flavor of your carefully selected beans.
So, it is always better to choose a thermal carafe, which keeps your coffee warm without the need for extra heat. All the machines we mentioned in this overview have a thermal carafe, so all those options are perfectly safe if you wish to retain the flavor of your selected beans.
Disadvantages of grind and brew coffee makers
Built in grinders are hard to clean
The biggest gripe that mostly everyone has with coffee makers with built in grinders is that the grinder is really hard to clean.
In most of these machines, the grinder is around halfway between the top and bottom of the machine, so it's not easy to reach by any means.
As a result, you have to do some disassembly to get to the grinder and clean it properly.
If you fail to clean your grinder, it will pick up oils and aromas over time and adulterate the flavor of your coffee.
In fact, cleaning your equipment is one of the best ways to diagnose why a cup of coffee may be tasting bad!
So if you're not up for the slightly complex task of reaching into your machine and performing complex cleaning rituals, these machines may not be for you.
Built in grinders don't allow much flexibility
The other big disadvantage is that there are not many grind settings in a coffee brewer grinder combo, so you're very limited as to the type of coffee you can brew.
With a drip coffee brewer, you can only make varying strengths of drip coffee. If you had a french press lying around and wanted to grind some coffee beans to use in your french press, then hard luck!
The same thing goes for an espresso machine with a grinder: you can only brew varying strengths of espresso.
This is the biggest trade-off between a grind-and-brew and buying a separate coffee maker and a separate grinder.
Conclusion
Ultimately, it boils down to.convenience. If you'd like to enjoy freshly brewed coffee and don't want to fiddle with a grinder, these are great machines. Plus, the programmable coffee makers make it so that you can enjoy a cup first thing in the morning.
The only trade-offs to grind and brew machines are the added maintenance and the limited choice you have for brews.
Frequently asked questions
Are grind and brew coffee makers good?
Yes, absolutely! They're the best of both worlds: grinding fresh beans and brewing them right away.
What is the best grind for drip coffee makers?
The best grind for drip coffee makers is a medium grind.
Does a finer grind make stronger coffee?
Yes, provided you brew it the right way. An espresso brewed with a fine grind will make for a strong, intense cup.
Last update on 2021-09-17 / Affiliate links / Images from Amazon Product Advertising API