Let's face it: making a good espresso is a lot of work. It's an incredibly involved process that includes grinding, measuring, tamping, and pulling a shot. So if you wanted to skip all of that and just get something that did all the work for you, you're looking for a super automatic espresso machine.
Super automatic espresso machines are the apex of all coffee makers. They're the ultimate convenience and the ultimate status symbol, but they come at a price.
In this guide and review, we'll check out which models we feel are contenders to be the best super automatic espresso machine. We'll also talk about:
Why you should get a super automatic espresso machine
Why you may not want to get a super automatic espresso machine
What things you should look for when shopping for one
Since you're looking for the best super automatic espresso machine, here it is: the DeLonghi ESAM3300 Magnifica is hands-down our favorite pick for the best super automatic espresso machine. In terms of value and features, there's just no other machine like it out there.
Compare Super Automatic Espresso Machines
Editor's Choice
Runner Up #1
Runner Up #2
Features
Manual frother for customized beverage
Rotary switch for easy use
Features
Customizable brew using adjustment knobs
Height adjustable milk spout to fit a variety of mugs
Editor's Choice
Features
Manual frother for customized beverage
Features
Customizable brew using adjustment knobs
Runner Up #1
Runner Up #2
Features
Rotary switch for easy use
Features
Height adjustable milk spout to fit a variety of mugs
Best Automatic Espresso Machines
1. DeLonghi ESAM 3300 Magnifica (BEST Super Automatic Espresso Machine For Home Use)
When you want to buy a high quality super automatic espresso machine under $1000, you need to look at DeLonghi. Reigning as one of the Kings of the industry, DeLonghi produced one of the finest machinery in the entire industry with the ESAM 3300 Magnifica.
This beast is pristine and an aesthetic masterpiece. This can stand with the greatest on the top-rated list and produce some of the best cups of espresso of all of the machines at a price that other machines just can't compete with. Without further ado, let's look at these features.
Every user wants a machine that is customizable. This machine comes with a high-quality front control panel that gives the user power of their espresso desires. Whether you want your shots stronger or weaker, the choice is yours on the control panel.
You can adjust the volume of the shot and the size of the grind to dial in your shot.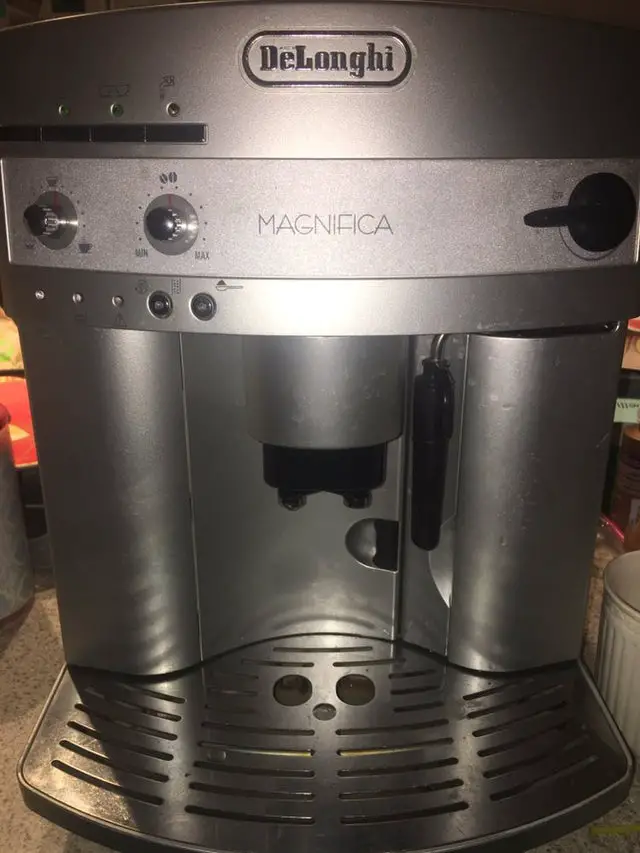 With a bean-to-brew system, there is no effort or delay in time on your behalf when brewing your cup of coffee or espresso. This machine will do all of the work for you at the coarseness of your preference. With a (slightly noisy) burr grinder built-in, you just have to add beans into the hopper and the machine will do the rest for you.
The DeLonghi ESAM3300 has two stainless-steel boilers so each shot and each frothing will always be accurately heated. You will never need to worry about missing an extraction or pulling a shot because this machine comes with an instant-reheat function. Your espresso shots will be perfect all the time.
A variety of indicator lights let you know when it is time to do regular maintenance on the machine.
Don't be fooled by the plastic exterior: this espresso machine is a beast and you can't beat it in terms of value.
Pros
Designed with a simple control panel to aid your operations
Whether you'd wish to do ground coffee or whole beans, the choice is yours
No more waiting for your brew, thanks to the instant reheat feature
The reservoir is easy to remove hence a plus to refill and also clean
Cons
Slightly noisy during operation
Gives a little trouble when brewing oily beans
The machine is incapable of brewing and steaming at the same time
Verdict
In terms of quality and value for money, you just can't beat the DeLonghi ESAM3300 Magnifica. It's the most budget-friendly automatic espresso machine of the lot, and the fact that it's been around for so long is a testament to how good it is. If you really need an automatic espresso machine and don't have a lot of cash to spend, this is the way.
2. Gaggia Anima Deluxe Super Automatic Espresso Machine
If you have not heard of a Gaggia machine before you should know a secret: this brand is stellar and five-star worthy. Known for their impressive espresso machines and amazing frothing systems, Gaggia has bagged two spots on the Top-Rated list.
With an impressive line-up of features and a beautiful exterior, this piece of machinery is perfect for any kitchen. Let's take a peek into the features of this super automatic espresso machine.
All espresso-lovers prefer a machine that has customizability options. With the Gaggia Anima Deluxe, the user has full control over different brewing options. Whether you are seeking an espresso or lungo, you can set the amount of espresso or coffee the Anima Deluxe will dispense.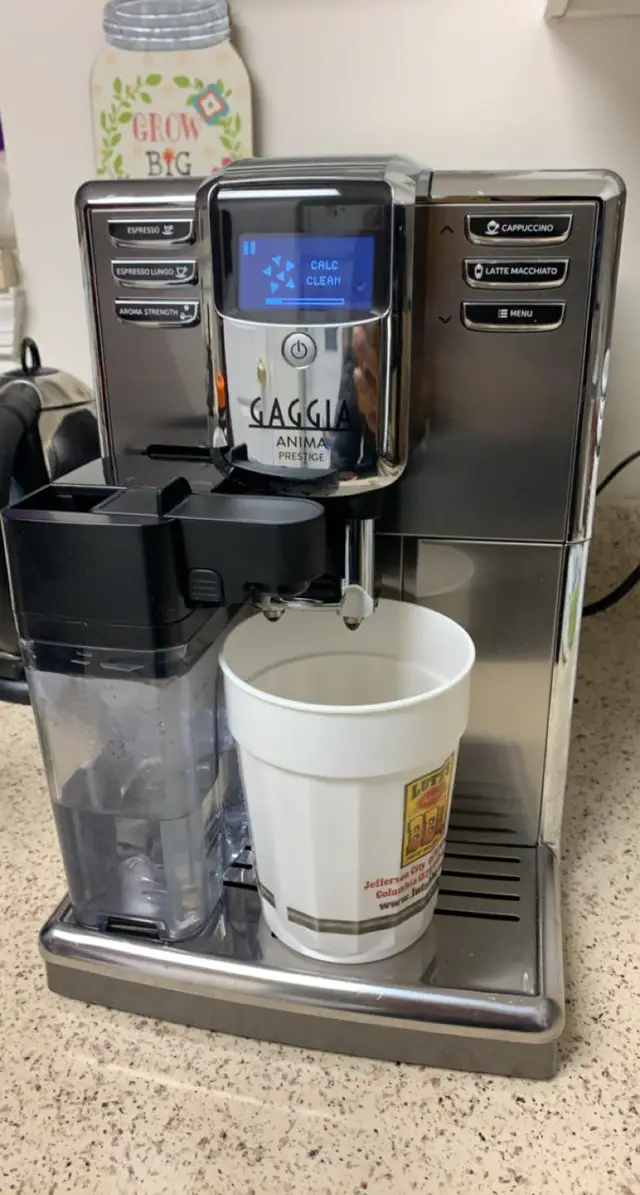 With a built-in auto-frothing feature, all of your milk-based drinks will be made with the richest and creamiest froth you can imagine.
With many other super automatic espresso machines, the grinder hopper and water tank are often hard to access and can become a hassle. With a removable 60 ounce water tank and easy accessible hopper, this machine is extremely easy-to-use and function with.
One bonus feature is temperature control. The user will have full control over the temperature of the espresso shot. Many machines often only allow for one brewing temperature.
Pros
Compact design with convenient operation
Has the best automatic cycles including a descaling and standard cleaning options
Full programmable options that let you choose the amount, strength and temperature of the coffee
You have an option to either use fresh beans or ground coffee
Cons
The exterior is totally plastic
Can develop problems with the coffee spout if overused
The bean hopper lid isn't airtight enough
Verdict
The Gaggia Anima is the other extreme from the DeLonghi Magnifica. While the Magnifica is a budget-friendly automatic espresso machine, the Gaggia Anima is an incredibly high-end machine. Both make superb coffee, that's for sure. One major difference between the two is that the Anima has a frothing wand, which allows a bit more control over the texture of the milk.
3. Gaggia Brera Super Automatic Espresso Machine
When it comes to Super Automatic Espresso Machines, the Gaggia Brera is nearly a steal for all espresso lovers. With the benefits and features of more expensive machines, the Gaggia Brera Super Automatic Espresso Machine is cheaper than you are probably thinking.
This machine comes equipped with a Pannarello wand, which is one of the best frothing and steaming wands in the industry. Not only this, but it can also be used to generate hot water for tea and americanos.
This machine was built for convenience and ease of use. Any user who has bought this machine will attest to how easy the machine was to access and learn. With a user-friendly display with push button controls and an LED display, this is a treat for any espresso lover.
One of the purposes of a super automatic espresso machine is to cut-down the time waiting for machines to brew or warm up. With rapid steam technology, the Gaggia Brera is built for quick heat up times and brewing.
Pros
The machine is easy to operate with programmable features to remember your preferred settings
Convenient access to the water tank and coffee ground drawer makes cleaning very easy. It's also easy to maintain
Very fast heating up
Clean water is guaranteed with the Mavea Walter Filter
Cons
Not good for oily beans
Requires frequent refilling due to a very small water tank
Plastic exterior is not that good
The machine has a single boiler
Verdict
If you feel like the Gaggia Anima was too expensive for your taste, the Gaggia Brera is easier on the wallet. The Panarello wand is very good at producing excellent textured milk. It's easy to use, and makes good espresso, which is why it's on our list of the top rated super automatic espresso makers.
4. Jura Giga 5 Automatic Espresso Machine: Best For Offices
No products found.
It's hard to say that there is a better espresso machine than the Jura Giga 5 Automatic Coffee Center. The truth is, there is not. This espresso machine is pure bliss for the espresso lover. If you love espresso, this machine is for you.
It's a lot pricier than the other options we've listed so far, which is why it's a bit further down the list.
Built with some of the highest class features and materials, this beautiful masterpiece can be the centerpiece of your kitchen counter.
This is easily the FASTEST machine in the industry. With two ceramic disc grinders, this machine will not only quickly brew the perfect shot of espresso, it will also do so quieter than a mouse.
With a TFT display system, you can create a LIST of all different specialty coffees that you probably have dreamt to make at home. In fact, there are over 17 different options! Can you imagine the variety on one single machine? How powerful is that!
Due to the two grinders that the machine has alongside two heating systems, it's actually two espresso machines in one.
You never have to fear your machine getting too hot. The machine was built with an automatic system to remove the heat through adjustable Venti Ports. You can consider this the machine's personal ventilation system.
The Jura is meant to make every owner a true authentic barista. Built with over 12 specialty recipes in the Rotary Switch, you can learn through pictures and text how to make the perfect cup of espresso.
The last feature you can't forget about is the absolute beautiful design of this machine. It is probably one of most beautiful pieces of machinery that can ever hug a countertop. That is, until you graduate to the next level of Jura, the Jura Giga X7 Professional.
Pros
Has dual grinders and can make two cappuccinos simultaneously
Programmable automatically power on or cleanse
Gives your coffee more flavor with built-in features that cut down on scale build up
Capable of making numerous blends and brews
Available in two colors
Cons
Not budget friendly
Has a small bean hopper capacity
Small water tank as well
Verdict
The Jura Giga 5 is an incredibly powerful espresso/latte/cappuccino suite that does everything at the touch of a button. The speed at which it brews makes it an excellent choice for high-volume settings like an office.
No products found.
5. DeLonghi ECAM28465 Prima Donna Fully Automatic Espresso Maker
There is a reason why there are multiple DeLonghis on this list and this machine is going to make it a whole lot better. The Prima Donna Fully Automatic Espresso Machine is a blessing to look at and use.
With Latte Crema System, a sleek and beautiful design, a massive 2 Liter Water tank, this is the creme de la creme from DeLonghi. For more, let's look at their impressive list of features.
The machine comes built with the DeLonghi patented Single Touch Latte Creama system. This is the feature that is responsible for producing the absolute perfect shot or cup of cappuccino.
Built into this feature is an automatic cleaning function. This is meant to do more work than the actual user during the cleaning process of the machine.
What is better than a single-shot brewing cycle? How about a twin-shot brew system? This machine will allow the user to create two different perfect crema-laden shots of espresso at the same time.
One of the biggest selling features of this machine is the beautiful touch control panel. With over 18 languages, this intuitive feature is just awaiting your first direction. Don't wait any longer!
Pros
User-friendly. Have your cup of coffee with just a press of a button
Produces the best quality of espresso with a top-notch taste
Its ease of cleaning and maintenance is the best you can have. Apart from having detachable parts, the machine also has automatic self-cleaning functionality. The only thing you need to do is press a button
Programmable to produce either maximum front, medium or not
Cons
Verdict
The DeLonghi ECAM28465 is a similar machine to the ESAM3300, but it is newer and more expensive. If you'd like a few extra bells and whistles like an auto-clean cycle and an advanced frothing system, the ECAM28465 automatic espresso machine is for you.
6. Jura Impressa J9 One Touch TFT Espresso Machine
Could you ever go wrong with a Jura espresso machine? I think not. Jura is sort-of in its own tier in the game. You truly can not compare the Jura Impressa J9 One Touch with the DeLonghi ECAM28465 this machine comes with some of the finest features and designs to match its hefty price tag.
What makes this machine so special is its beautiful TFT display with Rotary Selection. The whole idea behind this is intuitive operation. In fact, once the machine learns your drink of choice, all you will need to do is press the button once and the magic machine does the rest.
With an adjustable spout, you will be able to decide the size of your drink that you are going to have. This is a nice feature that many super automatic machines do not often talk about or market.
Jura has developed one of the best foam and steamed processes in the industry. With fine foam technology this machine provides you with genuine and authentic foam that will make you wanting more.
As you may know, grinders are one of the most important facets of a delicious shot of espresso. With an impressive six-level, conical grinder every single granular of coffee is going to be ground into your desired level of fineness.
If you are to purchase this machine, you will also get the luxury of a stainless-steel vacuum milk container.
Pros
User-friendly with a color panel screen. All your desired options are a button press away
Choose the temperature, strength, and volume as you wish
Energy saving mode lets you adjust the machine how long it should be idle before switching to sleep
The unit is capable of storing cold milk for up to 8 hours and still produce wonderful milk texture
Cons
This specific unit is quite hard to find
When the unit fails, it's difficult to get if fixed and therefore you might be required to purchase a new one
Doesn't work smoothly with non-dairy milk
Verdict
The Jura Impressa J9 is as its name suggests: very impressive! It's a one-touch system controlled by a screen. You just have to make your selection and the machine will do the rest. Unlike some of the other machines on this list, there is not much room for adjustment here. The name of the game is convenience. If you want to make a statement and make this machine a status symbol in your kitchen, this is what you're looking for.
7. Saeco Incanto Classic Super Automatic Espresso Machine
The Saeco Incanto Classic is another budget-friendly super automatic espresso machine. The Saeco Incanto is very well-built and versatile: you can brew a wide variety of coffees and customize the brew to your preferences.
Once you find a particular setting combination that you like, you can save it to not have to set it every time.
For the price range, it's tough to find a super automatic espresso machine that has a water filter built in, but the Saeco Incanto comes with a water filter built into the water tank. You will need to replace the filter once every three months.
This helps to reduce scale buildup and also improves the taste of your coffee.
The grinder has ceramic burrs for optimal grinding capability. The hopper can hold up to 8 ounces of beans(that's a lot), and you can brew up to 15 shots before needing to clean out the coffee puck drawer.
For cappuccinos and lattes, the built-in milk frothing wand is very effective and you can make creamy, foamy milk in no time.
The Saeco Incanto heats up very quickly, too, so the time from powering up to sipping a cup of coffee is very little.
Finally, in case you don't wish to use coffee beans, you can bypass the grinder and use your own coffee grounds too.
Pros
Great value for money
Removable brew group for easy cleaning and maintenance
Easy to use and customize
Cons
Must be cleaned very regularly
Grinder needs to be bumped every few cups
Verdict
We would be remiss if any list of espresso machines did not have something from Saeco, so we're topping off our list with the Saeco Incanto. The Saeco Incanto is quite similar to the ESAM 3300 and and ECAM, falls at a similar price point, and has similar features.
Super Automatic Espresso Machines: Buying Guide
The first thing that we'll address is the obvious question: do you really need an automatic espresso machine? Is it really worth the steep price tag?
Let's take a look at the overall pros and cons of super-automatic espresso machines.
Pros
One-touch solution for espresso, latte, cappuccino. Just press a button and the espresso maker will measure, grind, tamp, brew, and pull a shot for you
Saves you the hassle and time of doing everything separately
One self-contained unit for everything
Generally produces consistent results after you dial it in
Cons
Expensive compared to the cost of buying a grinder and espresso maker separately
If you want to drink other types of coffee, you will need a separate grinder
Only good if you're confident you're only going to drink espresso and espresso-based drinks
Comparatively hard to clean
You can't use them with dark roasted(oily) coffee beans
Are super-automatic espresso machines worth it?
Super automatic espresso machines are worth it for folks who want freshly brewed espresso and don't want to go through the manual effort involved.
Basically, you're paying for extreme convenience and consistency!
Can you get the same or similar results with separate components? Sure. Grind beans yourself, tamp the espresso puck yourself, pull the shot yourself, and steam the milk yourself.
Just for fun, I used to time myself when I made a cappuccino using my semi-automatic setup. It would take me about 7 minutes from the time I entered the kitchen to the time I had a ready shot in my hands.
7 minutes is a lot of time: I had to measure, grind, tamp, wait for the machine to heat up, and finally brew. Then there was cleaning up!
An automatic espresso machine is not as fast as a Nespresso machine, but it does take the guesswork out of everything and it just comes down to a single push of a button to have a ready drink in your hands.
If you're not a morning person and can barely tell your left hand from your right in the morning, perhaps a super-automatic is a good choice!
How much programmability do you need?
The next important question to ask yourself is how much programmability do you need. Not all automatic espresso machines are equal: some give you a greater degree of control than others.
One extreme is a Nespresso machine, which only lets you control the size of the shot.
Other machines let you dial in the grind size(sometimes known as strength) and the amount of coffee, too.
If you get a super-automatic suite that has just one-button operation and you're disappointed with the resulting brew, the only option you have to change the result is to change the type of coffee beans you use.
On the other hand, if you get a machine that gives you some degree of control, you can adjust the grind size and the volume of the shot to change the flavors as you need.
Maintenance
Because super automatic espresso machines are self-contained units, cleaning them is a bit of a hassle. It's important to know what you're getting into, so let's talk about the ways you need to clean your machine so you have your expectations set correctly.
Regular maintenance
Every time you brew a cup of coffee, you'll need to wipe down the surface of the espresso maker and the milk frother. Failing to do so will mean the brew head may clog, and the milk frother will get coated with dried milk gunk. Yuck!
Monthly maintenance
Once every month, you'll need to do a deeper cleaning of the machine. Specifically, you need to clean the grinder. Every machine disassembles differently, but cleaning the grinder is a bit of an involved process.
Still, it's a critical bit of maintenance because the grinder collects oils and coffee dust, and over time, the older oils and dust will begin to affect the taste of your shots.
The monthly maintenance is much easier on semi-automatic espresso machines than it is on super automatic espresso makers.
Quarterly maintenance
Once every quarter, you should descale your super automatic espresso maker. Descaling helps prevent the buildup of limescale in the internal pipes of your espresso machine. This is critical, as it will affect both the performance of your espresso machine and the taste.
Related: 
Check out our favorite selections of espresso beans
For a broader overview of the best espresso machines, see here
What can you make with a super automatic espresso machine?
These machines have the word "super" in them, so it goes to follow that there shouldn't be much these machine's can't do, right?
Along with brewing a really awesome shot of espresso, here are some of the other beverages you can brew with most super automatic espresso machines:
Cappuccino
The classic Italian coffee with espresso and steamed milk, this is one of my favorite coffee preparations and the whole reason I myself bought an espresso machine to start with. Super automatic espresso makers have steam wands built in, so they'll make some really nice foamy milk to top on to your espresso shot.
Macchiato
Macchiatos are similar to espresso shots except they have a small added layer of milk foam on top – not as much as a cappuccino, though. Most super automatic machines have a macchiato setting built into them, but even if they don't, you can simply top off your espresso shot with a bit of steamed milk and you're good to go.
Steaming milk with these machines is really easy and can be done with the push of a button or turning a dial.
Lungo
Italian for "long", Lungo shots are espresso shots with an added amount of espresso water, increasing the quantity of the beverage without compromising on flavor.
Ristretto
Ristrettos are the opposite of Lungos. Lungos have more volume, while ristrettos are even less in quantity and result in an even stronger shot of coffee. Be prepared!
Americano
If you enjoy the rich taste of espresso but you don't want to add milk, and feel that an espresso shot is too strong, you can dilute it with some hot water to make a classic Americano.
Note: Do these machines seem a little out of budget?
Setting up a super automatic machine for the first time
When you first get your super automatic espresso machine, you will need to follow the instructions to prime the machine and get it to brew correctly.
While instructions for priming will vary from machine to machine, the basic idea is to pull a shot of hot water to get the machine warmed up and get water flowing through the pipes.
Next, you'll want to make some adjustments to the grind control dial. Since every coffee is different, you ideally want to adjust the grind control for every blend you use.
A simple way to do this is to set the grind control knob to the middle and adjust up or down as necessary. Making the grind bigger will decrease intensity, and making the grind smaller will increase intensity.
You can also play with coffee volume, as some machines allow varities from ristretto all the way up to lungo. For most people, though, the standard espresso shot(1.5 ounces) is a good place to start.
Conclusion: should you get a super automatic espresso machine?
As you can see, super automatic espresso machines are the cream of the crop in terms of functionality and ease of use. They strike a good balance between customizing options and one-touch drinks.
They're also quite expensive! If you plan on just drinking espressos and americanos, you may wish to save some money and opt for a machine that does not have a steam wand. However, you do get a built-in grinder which makes things much easier, as you'd need a good grinder, a scale, and a tamper to get the dosing right.
To conclude, the best super automatic espresso machine for tight budgets is the DeLonghi ESAM3300, and if you've got money to splurge, the Jura Giga 5 is the best in its class.
Last update on 2023-08-31 / Affiliate links / Images from Amazon Product Advertising API