Making great coffee does not always have to be expensive. Grinding fresh beans is an essential part of a good cup, but most grinders are hard on the wallet.
Are you looking for an affordable coffee grinder, without compromising on the quality? If so, you are in luck.
We went down the coffee grinder rabbit hole to find the best coffee grinder under $100.
Below, you will our list of the best affordable grinders that do not compromise on quality. We've done our best to find the perfect balance between budget and reliability.
Should you get a burr grinder or blade grinder?
Before we get to the grinders themselves, it's really important to understand the distinction between burr and blade grinders. Since we're in the budget range, a quick search for cheap coffee grinders will definitely turn up some blade grinders as well as burr grinders.
Burr grinders use two ceramic or metal gear-like parts called burrs to crush coffee beans. Burr grinders are great because they produce the most uniform grind. You can adjust the distance between the two burrs to set fineness or coarseness, and all the grounds will come out with nearly the exact same consistency.
Blade grinders use spinning blades to chop up coffee beans. There is no option to adjust the grind size here. The only way you can control the grind size is by timing how long you spin the blades.
Brief pulses will result in a coarse grind and grinding for an extended time will result in a fine grind.
Even then, the grounds will not be uniform: some particles may still be coarser and others finer. Learn more about grind sizes here.
Best Coffee Grinder Under $100
1. Oxo Brew Conical Burr Grinder
Grinder Type: Stainless steel conical burrs
Capacity: 12 ounces
Grind settings: 15
If you prefer a conical burr to grind your coffee, then you should take a thorough look at the Oxo Brew Conical Burr Grinder.
Since this is one of the most popular burr grinders around the world, let us evaluate its features and tell you why this could be the best burr grinder out there.
Some of the other models mentioned in this overview only provide you with a couple of grind settings.
This is different for the Oxo Brew Conical Burr Grinder, which enables you to create a very precise grind with more detailed grind settings. Simply turn the wheel in the middle of the burr grinder to find your perfect grind.
The Oxo Brew Burr Coffee Grinder also comes with good capacity, as it can deliver you with twelve cups of coffee. Therefore, this burr grinder is good for even the biggest coffee addicts.
Please bear in mind that the price can fluctuate by a few dollars up or down, but since it's within the $100 range, we've included it in this list.
2. Capresso Infinity Plus
Grinder Type: Stainless steel conical burrs
Capacity: 11 ounces
Grind settings: 16
Looking for great capacity and lots of diverse settings for your valuable coffee beans? If so, have a look at the Capresso Infinity Plus!
The Capresso is one of the best appliances if you are looking for the ability to create an ultra-fine grind, since most options under a $100 only provide fine. Since there are 16 settings, there is plenty of room for experimentation.
The large range of brewing settings caters to some of the best brewing methods, but that is not all. The overall construction of this appliance is also impressive.
The durability stands out immediately, but so does its ability to retain aroma and flavor in even the most valuable coffee beans.
One final benefit you might be interested in is that this particular grinder is a whole lot quieter than some of the other options out there.
So, if you like grinding your coffee early in the morning, the Capresso should be on top of your list.
3. SBoly Burr Grinder
Grinder Type: Stainless steel conical burrs
Capacity: 12 cups(ground coffee)
Grind settings: 19
When you like the precision of the Oxo burr grinder, but would not mind to save a bit of money on your purchase, there are other options to consider.
Another one of the best burr grinders for an affordable price is the SBoly Burr Grinder, which provides features that are quite similar to the Oxo Burr Grinder.
With the SBoly Burr Coffee Grinder, you get immediate access to a whopping 19 grind settings. You can really dial in your brew no matter what method you are using.
Where burr coffee grinders are concerned, that is pretty impressive!
The SBoly Burr Grinder is made with professional grade materials, ensuring that none of the valuable oils and flavor of the beans are not lost due to the oxidation process that occurs with some other burr grinders out there.
In short, the SBoly Burr Grinder is a solid choice that performs just as good as the Oxo Brew Conical. And all that for less than 100 dollars!
4. Timemore Chestnut C2
Grinder Type: Stainless steel conical burrs
Capacity: 20 grams
Grind settings: Multiple
The Timemore Chestnut C2 is the grinder I currently use. I am only listing it at number 4 because there were electric grinders that came before it.
Otherwise, the Chestnut C2 is hands-down the best manual coffee grinder I have ever used.
The handle design is really brilliant and it takes a lot of the effort out of the grinding process. What used to take me 2 to 3 minutes and over 150 turns to grind I can now do in less than a minute with just 50 to 60 turns.
The stainless steel burrs are super sharp and the adjustment knob is also really precise. You can adjust for over 20 clicks between fineness and coarseness.
The outside has a knurled finish which means you can get a really good grip on it.
I just have one issue with it, which is that the top gets a little loose if you don't push it in all the way, so you may end up spilling a few loose grounds here or there if you're not careful.
Considering how fast this thing can grind, it's forgivable 🙂
It also comes with a really neat carry case.
If you choose to grind for espresso, remember to start at 9 clicks – anything less and the burrs will be too close to one another and can get damaged.
5. JavaPresse Manual Coffee Grinder
Grinder Type: Ceramic burrs
Capacity: 25 grams
Grind settings: Multiple
The JavaPresse manual coffee grinder is probably the most budget-friendly coffee grinder under $100 on this list. In fact, if we made a list of coffee grinders under $50, it would make it on that, too!
This grinder is the grinder that all Chinese knockoffs are modeled after, so that really goes to show something!
The JavaPresse is really easy to use. You can adjust the grind size with 18 levels of precision using the click thumbscrew.
It's super slim, so the most you'll be able to grind at once is enough coffee for two people, but considering the size and portability, that's ok.
Unlike the other grinders on our list, the JavaPresse has ceramic burrs. Ceramic burrs don't quite have the accuracy of stainless steel burrs, but the difference is so minute that you're not really going to notice unless you're a sommeliere.
Also, ceramic burrs last much longer than steel burrs.
As far as drawbacks go, the surface is very shiny and smooth so you may have a hard time gripping it and keeping it upright as you turn the crank to grind.
You may think that the knockoff grinders look exactly like this one so you should get those, but the biggest difference you'll notice is in the alignment of the burrs and the click adjustments for grind size.
6. KitchenAid BCG111OB
Grinder Type: Stainless Steel Blade
Capacity: 25 grams
Grind settings: None
It is difficult to find grinders that come with a decent warranty these days, but fortunately we found one where this problem does not apply, the KitchenAid BCG111OB.
Being one of the few grinders to come with a 1 year warranty and being packed with numerous features, there are many reasons to check this option out.
One of the handy features of the Kitchenaid grinder is that it comes with a special bowl with measurement markings.
Because of these markings, it is easier than ever to determine the right amount of coffee beans for your grind and the amount of coffee you want to make.
To protect the motor and increase the lifespan of this KitchenAid grinder, the manufacturer included a durable motor housing. So, even if this device gets an accidental knock or bump, the motor will purr on as usual.
Why you need a grinder
One of the most fundamental steps of making coffee is grinding coffee beans just before roasting. This ensures that the resulting cup of coffee is rich and flavorful.
The drawback of buying pre-ground coffee is that the grounds go stale very quickly. Once you grind coffee beans, they only remain fresh for 30 minutes to an hour before losing most of their flavor.
If you've only ever had pre-ground coffee, that's probably why you were not able to swallow it without milk or sugar!
Once you start grinding right before brewing, your whole world will change.
You'll actually be able to taste the coffee for what it truly is, and you'll never touch pre-ground coffee again.
Electric or manual?
Since we're on a tight budget and want to keep our coffee grinder under $100, you'll be hard-pressed to find a good quality electric burr grinder. There are a couple that we've suggested, but they're cheap for a reason!
If you don't mind putting in a bit of elbow grease, then you can find a really top-notch manual burr grinder for this price range. It may seem like quite a lot of effort at first, but you get used to it.
I personally use a manual burr grinder, and grind for 3 cups of coffee every day!
If you're brewing for many people, a manual grinder will become tedious very quickly, so in that case, stick to an electrical grinder.
Electrical grinders are obviously going to be much quicker and more convenient. The price will determine how fine the adjustments are and how good the build quality is.
Burrs are rated for a limited number of grinds before they start losing their sharpness. That's not any reason to worry though as any grinder will easily last you a couple of years for home use.
How big should your grinder be?
The answer to which size grinder you need depends on how many cups of coffee you make in a single go. If you just brew a single cup for yourself, a small grinder will do the job just fine.
Most manual grinders can handle up to 30ish grams of coffee beans, which you can use for 2 cups of coffee or 2 shots of espresso.
If you plan on making a large batch of cold brew or plan on brewing for many people, a small grinder will be inconvenient. A small manual grinder will be terribly inconvenient, and a small electric grinder will only be mildly inconvenient :).
Balancing price and quality of grinders
Since we're sticking to really budget-friendly choices here, it's a tough decision to balance price and quality.
This will be very evident in electric grinders, since most high quality electric grinders are well above $100.
But if you're getting a manual grinder? $100 can get you the Ferrari of manual grinders!
Again, you'll have to consider how much coffee you grind in a single go!
Number of grind settings
Another feature you want to look out for is grind settings. This is the levels of adjustment that you have for coarseness and fineness. Most cheap manual grinders don't have proper grind settings.
Instead, you just have to tighten or loosen a screw and eyeball the grind size by looking at the gap between the two burrs.
Better quality grinders often have a clicking thumbscrew where you can count clicks as you turn it to keep track of grind size.
Electric grinders will have a wheel that you rotate to adjust grind size. The wheel typically has markings that show you what grind size you are at.
Higher end electric grinders have very sensitive grind size adjustments – these allow you to really dial in a coffee to an exact science.
Cheaper grinders will have less grind settings, but they'll still do the trick for a wide variety of brews.
Burr Grinders Or Blade Grinders – Which Are The Best?
Now that you have read through our overview of grinding appliances, you may wonder which is best, burr grinders or blade grinders?
My personal choice is burr grinders as they grind the beans much more evenly. The best blade grinder will only grind as well as a really cheap burr grinder.
However, since we've set budget as a constraint here, we've included both burr and blade grinders in this list.
If you've got the cash, an automatic burr grinder will make life much easier. On a tighter budget, go for a manual burr grinder. We've also curated a list of grinders for french press coffee.
But if manually grinding before brewing seems like a pain, and budget is an issue, a blade grinder should do the trick.
Finally, durability is a feature you are going to look for across the board. Even if you use an appliance with few special settings and features, you want your appliance to last for some time to come.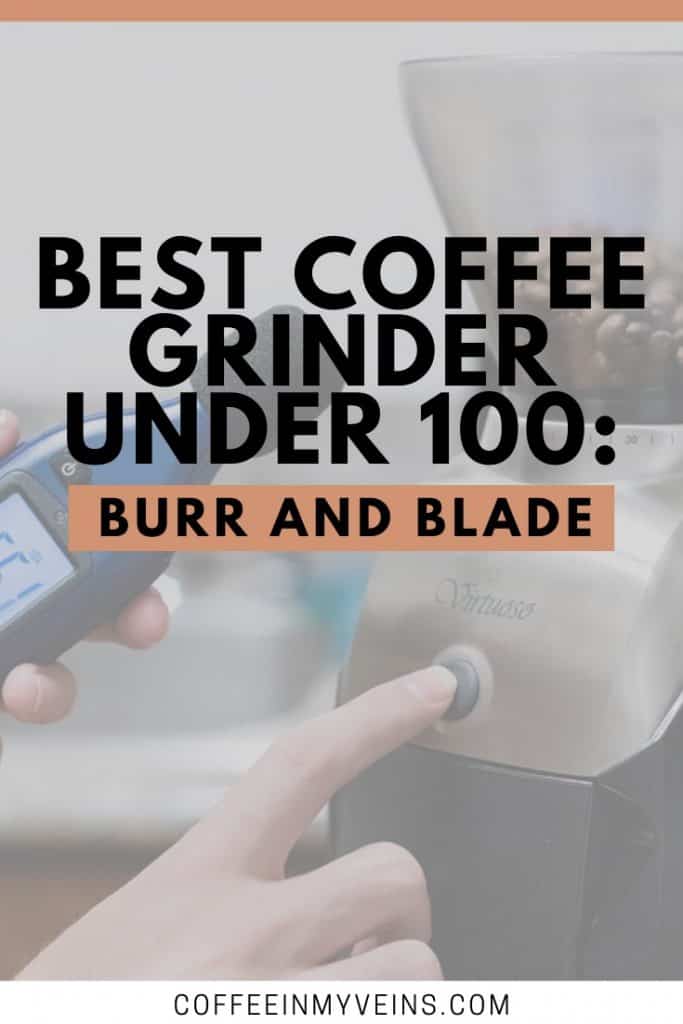 Last update on 2021-07-28 / Affiliate links / Images from Amazon Product Advertising API