French press coffee makers utilize force and pressure to produce coffee at its purest form. With each French pressed coffee, the user obtains a rich, dark and full-bodied cup of coffee.
Let's take a look at the best french press coffee makers.
French Press Coffee Makers: What are they?
French Press Coffee Machines are completely different than other types of coffee machines. One of the biggest differences that one will notice is that French Press Machines do not utilize the paper or plastic filters that coffee makers use.
In that, French Press Machines provide the user with all of the natural oils and natural flavors of coffee that are often trapped in the filters.
Moreover, in most of the cases, through this process, many automatic machines begin to build residue and staining begins to occur. With French Press Machines, the clean-up is simply and easy. In fact, there is no risk of burning the coffee or having that "left-over" coffee taste.
If you buy the perfect French Press, you can even get a thermal insulation to keep your coffee warm and ready. There truly is no comparison in the flavor or taste of a French Press and any other machine, these machines are far superior and on a whole new level.
Our Favorite French Presses
1) Kona French Press Coffee Maker
A very close competitor to the SterlingPro is the Konda French Press Coffee, Tea and Espresso Maker. This 34oz Glass teapot has stolen the attention away from the SterlingPro and could be considered the next greatest in the industry. With some of the most notable features at such an affordable price, many reviewers don't look back.
Many French Press Machines are very delicate and made of finite glass. While the Kona French Coffee Maker stays true to the tradition, it features a protective and sleek design around the glass. This feature will protect the delicate glass through each brewing process.
Due to the protective and beautiful exterior features, this machine will compliment any kitchen counter. In fact, guests may be jealous and want to buy one of their own.
There are numerous French Press Machines that lack in extracting the perfect cup of coffee without the essential oils and grinds. The Kona brand has mastered the extraction process giving the user the perfect cup of coffee every time.
If you are a traveler but love their French press machine, look no further! This machine is the perfect portable French Press for all different travels.
Are you tired of cleaning up messes? Well, this machine is not only dishwasher safe, it also comes with a detachable filter system, which is perfect for easy clean ups.
2) Kuissential Stainless Steel Insulated French Press
Do you want an elegant and sleek looking machine that has impressed all coffee aficionados? The Kuissential 8-Cup Stainless Steel French Press has gathered the eyes of coffee lovers with its stainless design and delicious brewing capabilities. This machine is fairly priced in the market and matches many of the other machines on this list. Let's take a look at its features:
This machine comes built as a double walled stainless steel beast. This machine can be considered the sister machine of the SterlingPro French Press Machine. These are the only machines that can handle the optimal temperature of 195 degrees -205 degrees F
Many complaints about other companies is from their delicate glass builds. Many reviewer have reported shattering their French Press Machines. This is made of strong stainless steel and is more durable than the glass machines other companies make.
The exterior of the machine is made to appear like a mirror. This unique feature provides a luxurious touch that many other machines don't offer.
Since coffee cups are measured by 4oz, this machine can handle making 8 Cups of coffee per batch. This is profoundly amazing in comparison to other French Press Machines.
3) Bodum Brazil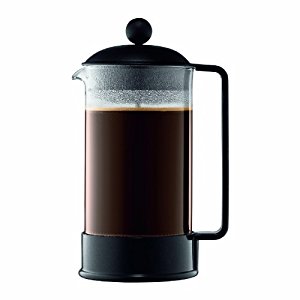 Another powerhouse in the industry is the Bodum Brazil 3 Cup French Press Coffee Maker, 12 ounce, black edition. While the machine is much smaller than other competitors, that does not detract away from the pure capacity to brew a powerful, rich and full-bodied cup of coffee. If you are content with a 3 cup French Press, take a look at these features:
As mentioned before, this a 3 Cup-French Press Machine. As coffee is measured by 4 ounces, this machine is a 12 ounce machine with the intention of single serving cups of coffee. The intention behind this machine is not the quantity of brews but the quality of each brewed cup.
The carafe, which is the exterior part of the French Press, is made from heat-resilient borosilicate glass.
The machine was will to be easy-to-use and easy-to-clean. With dishwasher safe products, the user can easily place this in the dishwasher and allow the magic to happen. With minimum messes, don't fret about cleaning up!
The machine has a built-in 3-part stainless steel mesh filter, which is the perfect contraption for extracting all of the flavors and oils of a full-bodied coffee.
4) Secura 1500ML French Press Coffee Maker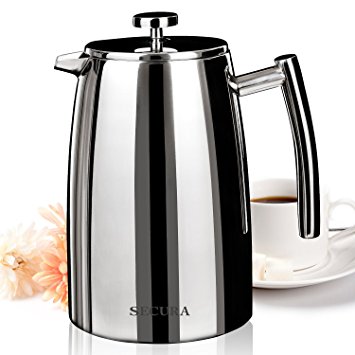 The king of the French Pres Machines is making its stand among the list of Top-Rated French Press Makers: The Secura 1500 ML French Press Coffee Maker. Known as one of the largest French Press machines, Secura not only captured enthusiasts with its capacity but also with its sleek and mirror-like design. Without further explanation, let's take a look at the features:
One of the most notable features of this mammoth French Press Coffee Maker is its 1.5 Liter capacity. This is larger than any maker on this list, thus far. This means it can handle producing more cups of coffee than any other machine. To be precise, over 12 cups of coffee can be made from the Secura.
The machine was designed with precision and beauty. Made from the highest quality of 18/10 stainless steel – this machine is built to last a life-time.
Like other machine, this comes built with a 3-layered stainless steel filter structure. This is the perfect composition to extract and brew the perfect and smoothest cup of coffee. If you are seeking a refined taste, stack your screens. This also allows for an easier cleaning process.
Many other French Press Machines come with handles that are affected by the temperature of the boiling water. This machine comes with a "Cool" touch handle feature. Instead of risking burning your hands, your hands are safe and cool with Secura.
5) Bodum New Kenya French Press – 34 ounces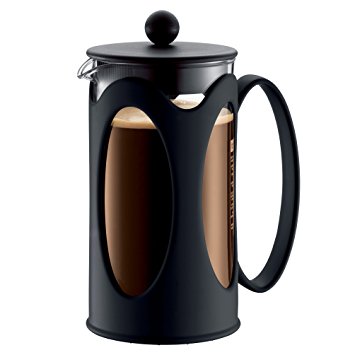 When you see a product with the brand "Bodum" on it, you know that it is a trustworthy product that you can buy. Winning numerous awards for the best French Press makers, Bodum has done it again with the New Kenya addition.
Let's take a look into the features of the award winning company Bodum's New Kenya French Press Coffee Maker.
The Bodum New Kenya comes with a beautiful and modern design that is a beautiful accent to any kitchen. With a heat-resilient borosilicate glass exterior and plastic wrapping, your guests will be asking where you bought that piece of luxury.
Unlike other French Presses in the industry, this machine comes with a stainless-steel 3 piece filter system. This allows for the coffee to maintain its true flavor and oils, giving the drink a full-bodied coffee.
The machine can handle a maximum of 34 ounces, which is either 3 mugs of coffee or 8 four ounce cups of coffee, which is standard.
6) Espro P7 Vacuum Insulated French Press
I was originally going to stop my list at 5 french presses, but when this particular press caught my eye, I decided I would include it in this list for posterity.
DISCLAIMER: This is the most expensive french press of the lot, and at a first glance, I felt the manufacturer is over charging for this one – but it's interesting to see how they're trying to justify the price point – there are indeed quite a lot of innovations in play here and you can think of the Espro as the Mercedes of french presses.
French presses are usually quite similar and the extra effort made by manufacturers goes a long way. In this case, Espro uses a double walled vacuum insulated stainless steel design – this should keep your coffee nice and warm for a long time.
This is actually quite a useful feature (though the Espro is not the only vacuum insulated one out there). There have been so many instances where I've put a pot of coffee to brew and then got engrossed in something else, eventually forgetting I had a french press brewing.
By the time I get around to drinking it, I'd have to re-heat it in the microwave – eek!
Another issue I have is grit at the bottom of my cup – the last few sips, which are sometimes the most important, end up being very powdery.
The filter enables you to use a finer grind – almost an espresso consistency – to extract even more flavor from your coffee without having to worry about any grinds getting into your coffee.
Espro has designed a multiple layer filter system which is attached to the standard french press filter – this prevents almost any grounds dripping into your mug with the rest of your coffee.
Finally, the construction is very solid and rugged and don't expect to be breaking this anytime soon.
7) Frieling stainless steel french press coffee maker
One more expensive french press on our list is the Frieling Stainless Steel Press. Like the model we listed above, it is a tad on the costlier side but you definitely get the value for your money.
The Frieling is durable, sturdy, and works well. I've had experiences with cheap french presses that just don't brew well because they don't create enough of a vacuum or don't filter correctly, but the Frieling won't have any of those issues.
It will also last a long time without much wear and tear on the parts.
One issue I had with glass french presses is that the glass loses heat very easily. Since this is made out of double walled stainless steel, it retains heat very well and your coffee will stay nice and hot even if you forget to plunge it for a while.
It's also very dishwasher safe and simply throwing it in the dishwasher will clean it very thoroughly.
The seal is nice and tight, and prevents any unwanted solids from getting into your coffee as you press the plunger and pour the coffee out.
All in all, this french press is built to last – I have broken maybe 3 to 4 glass french presses and after switching to stainless steel I have not gone back.
8) GROSCHE Madrid French Press (largest capacity)
The Grosche Madrid French press is a great option for large households or for bringing out when entertaining guests. Out of all the french presses we've reviewed so far, the Grosche has the biggest capacity: a whopping 51 ounces (1500 ml).
That means you can easily brew 6 cups of coffee at a single time! If everyone at your breakfast table likes french press, this is the fastest way for everyone to enjoy their coffee.
It's also really nice and elegant with it's chrome finished stainless steel housing and heat-resilient glass, so it will look really good on your countertop and can also serve as a nice conversation piece during dinner parties or brunches.
The heat resilience also prevents the glass from cracking due to sudden changes in temperature from pouring in hot water. However, it's still not heat-proof, so it won't keep beverages as hot as a stainless steel vessel would.
The dual filter and springs will keep the grounds inside the coffee press as you pour, so you won't have muddy coffee.
If charitable causes are your thing then you'll be happy to know that Grosche helps provide clean and safe water to communities that need it – so every purchase of a Grosche product goes towards helping people.
9) Espro Travel Coffee Press
The Espro Travel Coffee Press is designed for french press coffee on the move, whether you're a commuter or a hiker. Espro essentially tried to combine a french press and a travel mug and this glorious coffee maker is the result.
From the looks of it, it does not seem like a french press: but on the inside, there is a filter basket and a plunger to put your coffee grounds in and brew some french press coffee.
All you need to do is put in your coffee grounds, water, and screw on the lid. Then you can hop into your car, get on the bus or train, and once four minutes of brewing time have passed, press down on the plunger and sip some delicious coffee.
Because it's essentially a travel mug, it's well insulated and can keep coffee nice and hot for up to 5 hours. However, the travel element means it's small, with a capacity of just 12 ounces. It is good enough for one person (or even two), but not enough for a whole family or group.
Related:
Best French Press Coffee Makers: Buying Guide
There are some important points that you need to keep in mind for the most suitable French Press Coffee Maker in the end. And here they are!
The Cheapest One Doesn't Mean The Most Money-Saving Way
This is my own experience after choosing the cheapest drip coffee machine and espresso machine to buy. Similarly, French press can be made either of metal or glass-  it will be in cheaper price but a pretty fragile tool.
Whether you go for steel or glass, go for a good company that has a reputation. I have tried cheap french presses from unknown companies only to return them within a day because they could not brew good coffee at all.
Additionally, you may end up breaking 2 to 3 french presses before finding one that's really durable, so you'll end up spending a lot more money in the long run.
Instead, just spend a little bit extra (not necessarily asking you to splurge, just to be willing to spend an extra $10 or $20 for something you'll use every day) and get something that is built to last for a long time.
The Most Expensive One Doesn't Mean The Best One
If you cannot afford for a very expensive French Press Coffee Maker, do not manage to buy it by all means. Let's choose the item which can satisfy your needs and reasonable to your budget. And it is recommended picking the middle ground. They are affordable while working fine.
You don't need the $100 french press – the $40ish one will do just fine. I know this kind of contradicts what I just said above, but remember, don't go for the bottom of the pile to save a few bucks.
Either go to the middle ground or get something really good, depending on what your budget allows. Finally, it should be noted that the best french press in the world can't fix bad coffee, so budget for buying a french press and buying good coffee.
Consider user experiences
Former users' reviews are one of the most reliable source of information when it comes to investing an new product. For the best result, do not read the rating only, read the ideas and experiences the users share about the product, the sides at which the product is good at and bad at as well.
Sometimes, the features that others don't like are what you are looking for! So read them all, the good and bad review.
That's why we've chosen the 8 machines that we've chosen. They all have hundreds, if not thousands of positive reviews – we've just skimmed through them, separated the wheat from the chaff, and presented our findings and options to you 🙂
Metal Or Plastic Frame
Mental frame seems to be more preferable for it is supposed to be stronger and in higher-quality. But you are careful enough and you do not plan to put the machines in the areas of much other equipment around, you may prefer plastic frame.
I've found that the plastic frames are also pretty good, and most Bodum models have plastic frames anyway so they must be on to something.
More than the frame, though, the material of the flask is important.
Glass vs stainless steel
There's no real downside to using glass or stainless steel for a home french press. However, if you're planning on traveling, then I strongly suggest that you get a stainless steel one.
Not only can you pack it with the comfort of knowing nothing will break, the heat retention of stainless steel is a huge plus and will make a big difference when you're on the road and you want to keep your coffee warm for a longer time.
Cup Size
Actually, you are advised not to pay too much attention to the information of cup size listed. Instead of this, let's consider the ounces that the machine is able to hold.
Remember, one standard coffee cup is about 8 ounces, so you just have to multiply.
Cup size will only be important if you're planning to travel. A smaller cup size is easier to pack and handle.
Removable Carafe
This is a favorite feature to many users as it contributes to easier cleaning. However, such glass carafes are in higher risk of getting broken, so think carefully!
Lid Seal/Leakage
This is common issues to this coffee maker type. So to minimize the risk of it, seek a lid with a strong seal.  You can check it out. Check the seal and consider its matching with carafe to make sure that there won't be any coffee spilled all over your counter.
Dishwasher safety
Ask yourself whether cleaning the machine with a dishwasher matters with you, as there are some items which are dishwasher-safe while others are not. So be sure about this then read through the product specifications.
Coffee Warmth
Similarly to fragility, this is a big concern. As I mentioned earlier, French Presses requires you to boil the water for brewing and in the end, the coffee is warm or not depends on whether or not your container is able to retain that heat. However, this is only matter when you plan to bring coffee to working place, requiring long waiting time.
French Press Coffee: How to brew it properly
Unlike other coffee makers, French Presses need boiled water to run as they do not have a steamer or heater to do this. The ideal temperature for french press coffee is about 185 to 190 degrees Fahrenheit.
Do not use boiling water as that tends to scorch the coffee.
You'll need a separate hot water kettle to do this since most french presses themselves do not have any heating mechanism.
The coffee grounds are required to be in perfect size: a very coarse consistency for french press, so you will have to grind the coffee beans before starting brewing them.
Note that using pre-ground coffee beans and grinding just before brewing will produce a difference in taste, as freshly ground beans taste fresher than pre-ground beans.
For an authentic experience, grind enough coffee beans for one time of drinking only.
Remove the plunger from the french press, and scoop in your coffee grounds. Use about 7 grams of coffee grounds for every 8 ounces.
Slowly pour your 185 degree water over the coffee grounds, making sure to wet them all properly. Pour as much water as the amount of coffee you wish to make. Remember: 8 ounces is a standard cup.
This step is optional, but some people like to do it: use a wooden spoon to gently stir the water and coffee mixture for a few seconds.
Place the plunger over the french press and close it.  DO NOT PUSH DOWN YET.
Wait for four minutes to let the grounds steep and brew.
Push down on the plunger until it goes in all the way. When the plunger crosses the coffee, the pressure of the plunge and the sealed vacuum inside the chamber will produce a nice and rich crema on top of the coffee.
Keep the plunger where it is, don't remove the top of the french press, and pour out your coffee into your mug
Drink it black if you want the authentic experience, or add milk and sugar to taste
ENJOY!
How to clean a french press
French press coffee maker also requires a different cleaning way. The filter needs to be rinsed once you finish pouring the coffee into your cup.
The immediate filter cleaning like this is important, otherwise leftover coffee grounds and coffee mix will easily affect the filter, and then change taste and smell of your coffee in the next brewing time.
This is different from cleaning other coffee machines – it doesn't matter to clean filter after breakfast or coffee time.
In addition to this, with a French press, you have to unscrew the handle to clean the filter thoroughly. As you unscrew, remember to place parts in certain order for easier reassemble later. The cleaning stainless steel pot requires the same things and procedures.
What's so special about French Presses, anyway?
French presses are my personal favorite coffee makers, and favorites for many people. I was first introduced to french press coffee at a friend's house in Philadelphia many years ago and ever since then I've been hooked.
Here's why I feel  french presses are the best coffee makers around.
Simplicity
French presses are ridiculously simple machines. There's no complex machinery or electronics and the design of the french press uses pressure and force to extract all of the flavor from the coffee.
Compared to other coffee machines that slowly drip water, or espresso machines that use pressured steam, french presses use nothing but gravity and mechanical pressure to produce excellent coffee.
They're also incredibly portable and you can take them anywhere – you'd have a hard time lugging around an espresso machine with you!
Paperless Filtering
Next up in why french presses are awesome, paperless filtering. Many coffee makers such as aeropresses and drip machines use paper filters to filter the coffee from the grounds.
While paper is a very effective filter, it also catches many of the oils and compounds in coffee so the flavor ends up being a little different.
French presses use a fine metal filter so all the oils and compounds remain in the coffee, and that's also how you get the rich crema.
Additionally, you don't need to keep buying more filters.  A single french press can last you a very long time.
You just have to remember to use the proper grind in your french press – more towards the coarser side so that the grounds don't seep through the metal filter.
Related: French press vs moka pot
Steeping and saturation
Similar to how tea is prepared by steeping it in hot water, french press is also prepared by steeping.
Steeping is very effective because it allows all of the water molecules an equal chance to interact with all of the coffee grounds. In other coffee makers like drip for example, not all of the water comes in contact with all of the coffee.
Letting the grounds steep in hot water ensures the most thorough mixing and extraction of flavor possible.
Then the pressure from the plunger and the filter separates the coffee from the grounds and you have some great french press brewed coffee ready to go!
Taste
It is suggested that French Press coffee maker is able to offer the most flavorful coffee compared to other brewers do. Simply put the coffee sediments or coffee powder which has just been grinded before, at the bottom of your cup before taking the first sip.
As the grounds settle down, they will infuse heavy and rich coffee flavor into water. The longer the grounds infuse coffee flavor, the better the taste will be. It is also important to remove the used grounds immediately after brewing and never think of using it again for the rich taste.
Trust to say, French press is famous for its intense as well as flavorful coffee, which is much better than the normal coffee tastes. So if you are addicted to strong coffee taste, this is the best coffee brewer option.
Last update on 2023-08-30 / Affiliate links / Images from Amazon Product Advertising API