We can all agree that one of the best drinks in the morning when feeling a bit groggy is a strong shot of espresso. It's notorious to pack a powerful punch of caffeine that can help give any individual the turbocharge they need to have a successful day.
Now, this delicacy can most certainly help wake you up in the morning; however, if you are not using the right espresso bean, well, that's a different story(which is why we've collected the best espresso beans in this post).
Have you ever woken up early in the morning, excited for a delicious cup of coffee or espresso just to take your first sip and it's incredibly bitter, too sweet, or tastes nothing like what you might imagine? It's happened to all of us at one point in time.
Now, this is where we come into the picture, your coffee guru. We have the experience and expertise to measure and research a wealth of different espresso beans to ensure any morning is a great, flavorful morning.
It's worthwhile to note that there is technically no such thing as a dedicated espresso bean, but rather a roast that matches the espresso brewing process which people sometimes call espresso beans. You can brew espresso with regular coffee, too.
Related:
Let's take a look at some of the top espresso beans that can amp up any groggy morning.
Top Rated Espresso Beans
1) Lavazza Super Crema Espresso Beans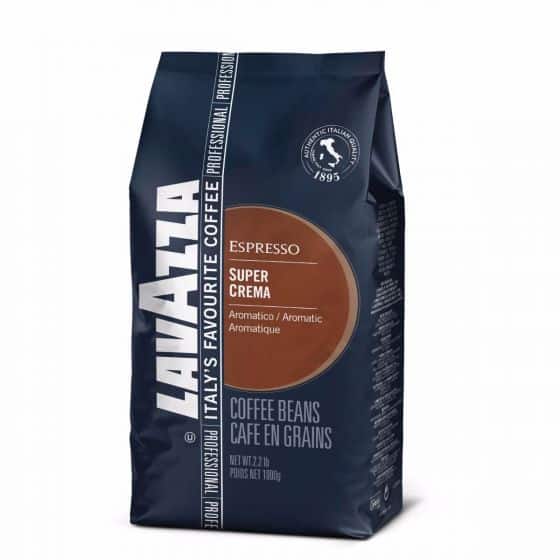 When it comes to the best espresso beans on the market today, there is not many companies that can compete with Lavazza. This is one of the most infamous brands in the coffee industry, producing some of the best tasting coffee beans. So, when it comes to espresso, this company created the Super Crema Espresso. This coffee bean is known to create a creamy espresso taste that models the taste and styles of Central America and Indonesia.
What makes this bean such a favorable option for espresso drinkers is the fact that this specific product is not oily at all. In other words, if you are planning on using any semi-automatic, automatic, or super-automatic espresso machines, this bean will function perfectly with minimal clogging.
Consumers who go with the fan-favorite, Lavazza, will receive a 2-pound bag of espresso beans for a relatively cost-friendly price tag, in comparison to what some of the other competitors are charging. With that being said, let's take a look at some of the most notable advantages and disadvantages of this product.
Advantages
Lavazza is widely popular in the world and has established a reputation for producing and manufacturing some of the best espresso and coffee beans in the world.
The Super Creama Espresso blend was made to have minimal oils, making it a great bean for espresso machine users.
This product was packaged with nitrogen, which, if you are not aware, is great for booting the shelf-life of the beans.
Many consumers tout the impressive, rich, and creamy taste of these espresso beans.
Disadvantages
Consumers need to be careful when purchasing this product as it may be outdated.
2) Stumptown Hair Bender Espresso Beans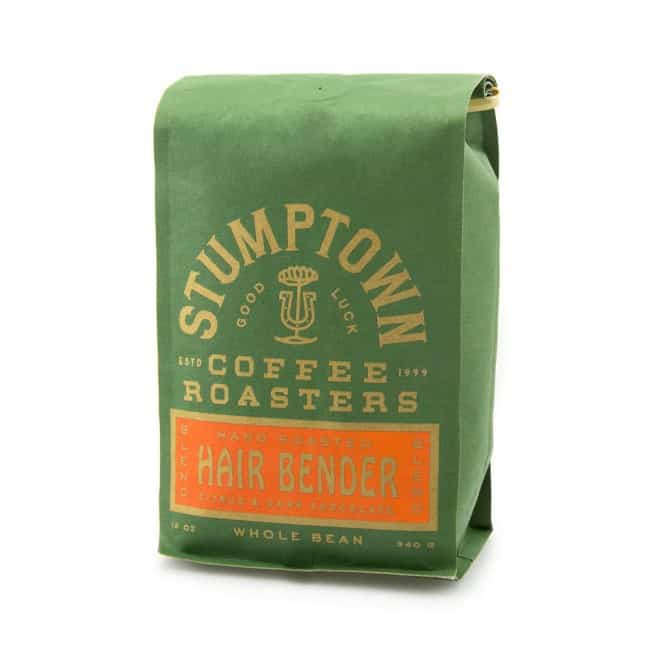 If you are in the mood for a high-quality bean that produces some of the best smelling and tasting espresso, you need to check out Stumptown's Hair Bender. Now, let us say up front: this product is not your traditional espresso bean company. The moment you look at company's espresso bag or pouch, you might think it's an antique.
The truth is, Stumptown might not have focused their attention on the marketing or presentation of their espresso bean. But what they did do was harvest arguably the best coffee beans in the world. Fans of chocolate and toffee nut will find some joy in sipping some of this espresso, thanks to its unique profile and fruity hints.
Advantages
Stumptown Hair Bender is marketed to become a day-maker in the lives of their consumers, thanks to its rich and creamy taste.
The beans that are utilized in this blend of espresso are grown in unique, rare, and remote location, allowing the company to harvest the absolute best tasting bean.
Since this blend is known to be a darker roast, the product does not have a lot of oil in it, making it a great option for those with automatic espresso machines.
Consumers have the option to select from a variety of blend and flavors from the Stumptown brand, including Founders, Homestead, and Hundred Mile.
Disadvantages
In recent months coffee drinkers have complained that the product did not arrive fresh, in accordance with the package date.
3) Kicking Horse Coffee, Cliff Hanger Espresso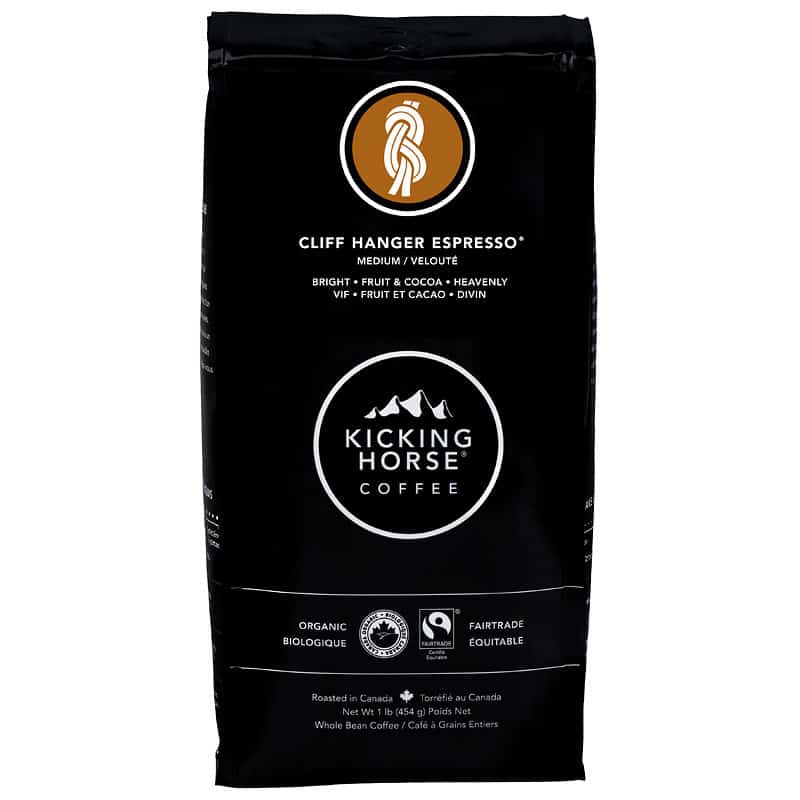 In recent years, one brand that has quickly risen to the top of not only our list but almost any major coffee or espresso drinker is Kicking Horse Coffee. If you have not had the opportunity to try this spectacular brand this is your opportunity. One of their best blends that they have created thus far is known as the Cliff Hanger. This is a blend of espresso beans that are not only kosher and organic, they are a chocolate lover's dream.
That's right, this blend has significant traces of chocolate, which could be why this product is so popular as it is. With traces back to South America, Indonesia, and even Africa, Kicking Horse Coffee is dedicated to only producing the absolute best coffee beans. One of the biggest selling factors about this brand and product is that the manufacturer markets that their beans are roasted at nearly 3,000 feet above sea level.
Who would not want to try that?
Advantages
This espresso blend could be considered the darkest blend on our list today, making it the strongest and richest in taste.
Thanks to the unique profile, this espresso bean contains a strong flavor reminiscent of chocolate.
First-time drinkers will immediately notice the significant kick or the boldness embedded in these beans.
Consumers have the option to pick between 13 different unique flavor profiles and roasts, all of which are priced the same but vary in taste.
Disadvantages
In comparison to other products that we have shared with you today, this one is oilier.
Consumers must be careful during the brewing and extraction process. Previous customers have complained that their beans lost scent after too much transition.
4) Jungle Coffee Howler Monkey Whole Bean Espresso Blend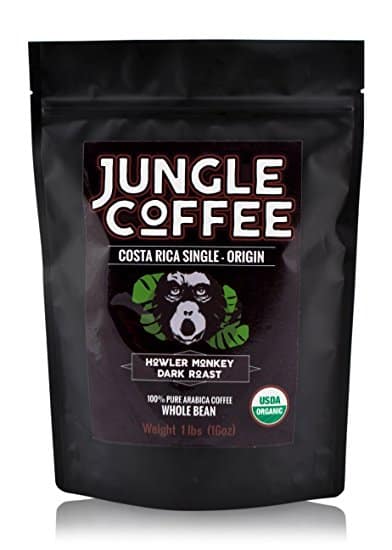 At this point, we could not wait to introduce to you the Jungle Coffee Howler Monkey. If you are like us coffee drinkers, we look for the non-mainstream coffee brands. Reason being, we are interested in the rare, unique, and different type of coffee and espresso beans. Now, you might be wondering, what could make this brand different or unique? Well, for beginners, this espresso bean is actually farmed in quite an interesting location.
I mean, have you ever thought of sipping espresso from beans grown nearly 2,000 feet below the earth's surface? While it may seem farfetched, this indeed one of the best locations for the richest, creamiest, and smoothest espresso beans. Now, we would like to say that, because of the environment and climate of where this bean is grown, it can be a bit oily. Regardless, if you are looking to enhance your espresso game, this Costa Rican delicacy is sure to do the trick!
Advantages
This espresso bean is 100% organic and is only harvested in small amounts, ensuring the most authentic tasting espresso beans.
Thanks to the unique conditions of where this bean is found, consumers will find the taste of espresso to be incredibly bold and rich yet smooth and creamy.
Unlike many other espresso beans, this specific product does not come with any bitter aftertastes.
The manufacturer of this espresso bean has received immense praise from customers who have touted the taste, packaging, and even the overall price tag.
Disadvantages
This bean is considered to be slightly more oily than other beans on this list, making it a problem for individuals with professional espresso machines.
5) Blue Horse Kona Dark Roast Espresso Beans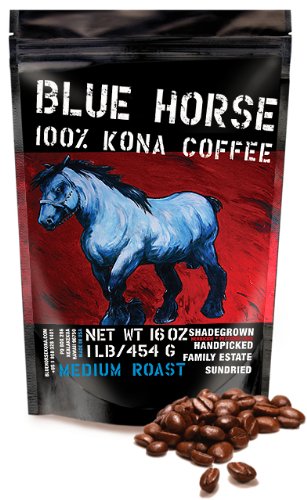 Chances are, if you are an avid coffee drinker, you have heard of the infamous: Kona coffee. This is an infamous type of coffee bean that consumers can find in their common grocery store. However, what many consumers do not realize is that many of those coffees do not possess even a remote amount of true Kona coffee. If you are wanting a genuine and authentic Kona coast coffee, you need Blue Horse Kona Dark Roast.
This coffee has quickly risen to the top of the coffee and espresso market thanks to its 100% pure Kona coffee ingredients. Our favorite part about this espresso bean is that, even though the bean itself derives from a volcano – it's actually less oily than you might anticipate. Now, the only thing that we want consumers to be aware of is that, since it's authentic, you will have to pay the 'authentic' price tag.
But then again, to true coffee drinkers, does it matter?
Advantages
This brand of espresso beans is not a large, manufactured brand. In fact, each package of espresso beans is handled from a small family farm located in Hawaii.
Unlike many other traditional blends of Kona coffee, this product is comprised of 100% Kona coffee.
This bean is less oily, making it a great compliment to all espresso lovers.
Thanks to the unique chemistry of the bean, users can anticipate an authentic, chocolate and volcano-like boldness in the taste of each espresso shot.
Disadvantages
In comparison to other products that we have shared with you today, this brand of espresso beans is probably the most expensive.
The bean itself is not considered 100% organic.
Related: You should also try Peet's Coffee!
6) Coffee Bean Direct Italian Roast Espresso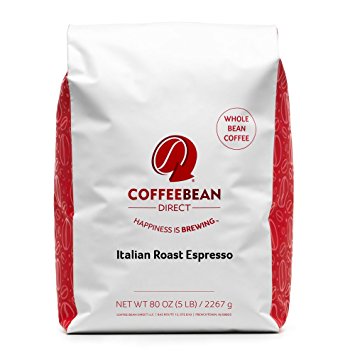 We can all agree that when ordering a package of espresso beans online – you want it fresh, right? Well, there is nothing better than a fresh roast of Coffee Bean Direct Italian Roast Espresso. Not only are these beans some of the freshest beans you can buy,  they are easily considered one of the most delicious – hence why they made our list. With that being said, a standard purchase from this brand will come with whole espresso beans, meaning consumers will be responsible for grinding the beans themselves.
Now, this brand may not be a common name for many coffee drinkers; however, as many previous consumers might attest – it should be. If you are curious as to what you can anticipate – consider that consumers boast about a wealth of advantages, including a great taste, price tag, caffeine count, and so much more. If you are looking to make an impression among family or friends at your next gathering, this might just be the espresso to do it!
Advantages
Coffee drinkers will have the option to choose from four different coffee flavors: Six Bean Espresso, Organic Fair Trade, Medium Roast, and an Italian Roast Espresso.
1 standard purchase comes with a large, 5-pound bag, which should be used when looking at the price tag.
This is one of the smoothest espressos on our list today, even though it's considered a dark roast.
Consumers may choose to include this espresso bean in coffee mixtures, such as lattes, iced coffees, or even a cappuccino.
Disadvantages
Consumers agree that this brand of espresso can be considered quite expensive.
This espresso bean could be considered the oiliest on our list.
7) Verena Street Shot Tower Espresso Beans
Verena Street's Shot Tower beans are a dark roast that makes a sweet and creamy coffee and produces a generous amount of crema upon brewing. Dark roasts tend to make more crema, as I've noticed experimenting with different coffees.
These are coffee beans, which you'll have to grind yourself to a fine grind to use in your espresso machine. Of course, if you have an automatic espresso machine then you'll just have to pour some beans into the machine and it will grind them for you.
Sourced from Rainforest Alliance Certified farms, these espresso beans come from a place where farmers, wildlife, and environment are protected with sustainable business practices. From these farms, the beans come to Iowa, where they're packaged by a family owned coffee company.
They're also certified Kosher if that's an important factor for you.
These coffee beans are roasted in small batches to ensure that every customer receives the freshest possible batch. The company also gets creative with their combinations and mixtures to bring out flavors that can't be achieved with just a single bean.
Some dark roasts tend to be a little on the extra bitter side, but these just toe the line between richness and bitterness and the result is a very rich and full flavor.
8) JO Espresso Medium Dark Roast Espresso/Coffee Beans
The JO Espresso Medium Dark Roast is a blend of espresso beans that have a heavy dark chocolate flavor profile. Like other dark roasts, these beans produce a rich crema which leaves a really velvety aftertaste in your mouth.
Whether you like straight espresso shots or lattes and cappuccinos, either combination will bring out a really nice and rich drink.
This coffee is USDA certified Organic, Fair Trade, and Kosher. Interestingly enough, some people sell knock-offs or resell these coffee beans on Amazon.
JO Coffee is the only certified distributor for their own coffees, so if you find yourself on Amazon looking for their coffee, make sure you buy from them and no one else.
They use organic arabica coffee and they're very selective about which beans they choose. As a result, any espresso you brew with these beans will be something truly unique(provided you've got the right brewing equipment, of course!)
One thing to be wary of is that there are sometimes little impurities in the bag with the beans, so be sure to check before throwing the beans into your (possibly costly) grinder.
9) Starbucks Espresso Dark Roast Whole Bean Coffee
Last but not least in our list, we can't complete a post on espresso beans without talking about the company that arguably brought coffee culture to the mainstream: Starbucks.
The beauty of Starbucks beans are consistency and availability. No matter where you live, you can easily find Starbucks beans in your local grocery store, and every single pack tastes the same.
While Starbucks coffee beans may not be as artisanal as others, they certainly are inexpensive and deliver consistent flavor.
This roast of espresso beans has a caramelly, sweet flavor. A darker roast means more crema and more intensity, but less caffeine.
One of the most important aspects I feel for your morning cup of coffee is consistency. As I've written elsewhere, my parents have been enjoying the same brand of coffee for the past 20 years – it's a part of their morning routine now.
If you want consistent flavor day in and day out, consider getting Starbucks beans.
What really is espresso?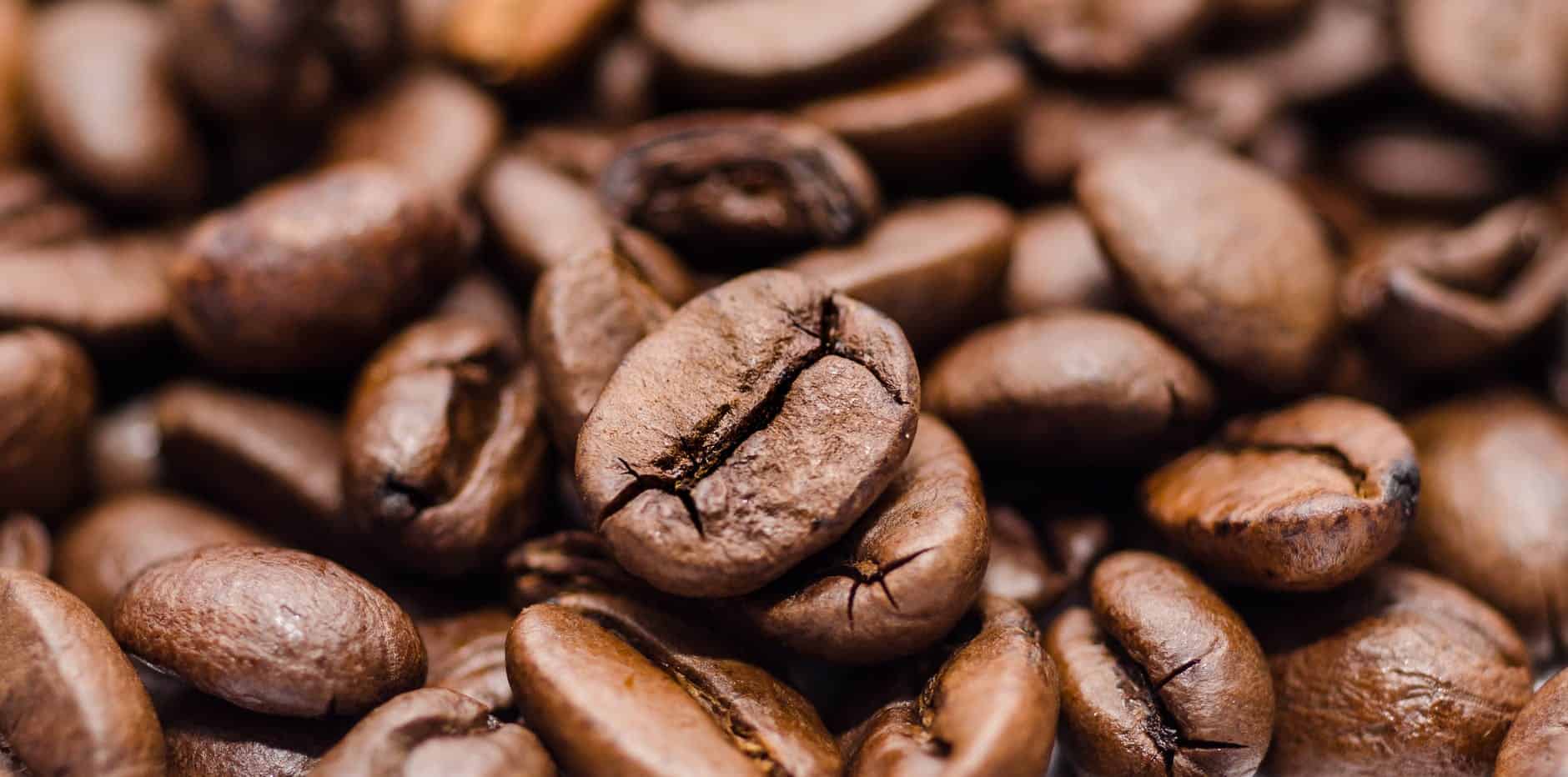 Before we jump straight into the best espresso beans for your consideration, we thought we would start with the basics about espresso. So, at the core, what really is espresso? Many people tend to believe that the grind or even the bean roast is the difference between a cup of coffee and espresso – and it's not! Think about it – just because you add espresso beans to a coffee maker does not mean it will produce espresso.
It's all about how the bean is used to produce a liquid – whether espresso or coffee. At the core, espresso is made from a unique process, combining hot water, over 9 bars of pressure, and an extraction process. Only through this process can a coffee bean officially be considered espresso. So, when utilized through a coffee maker or other coffee-making means, it's simply a cup of joe, which brings us to our next point.
What is the difference between espresso beans and coffee beans?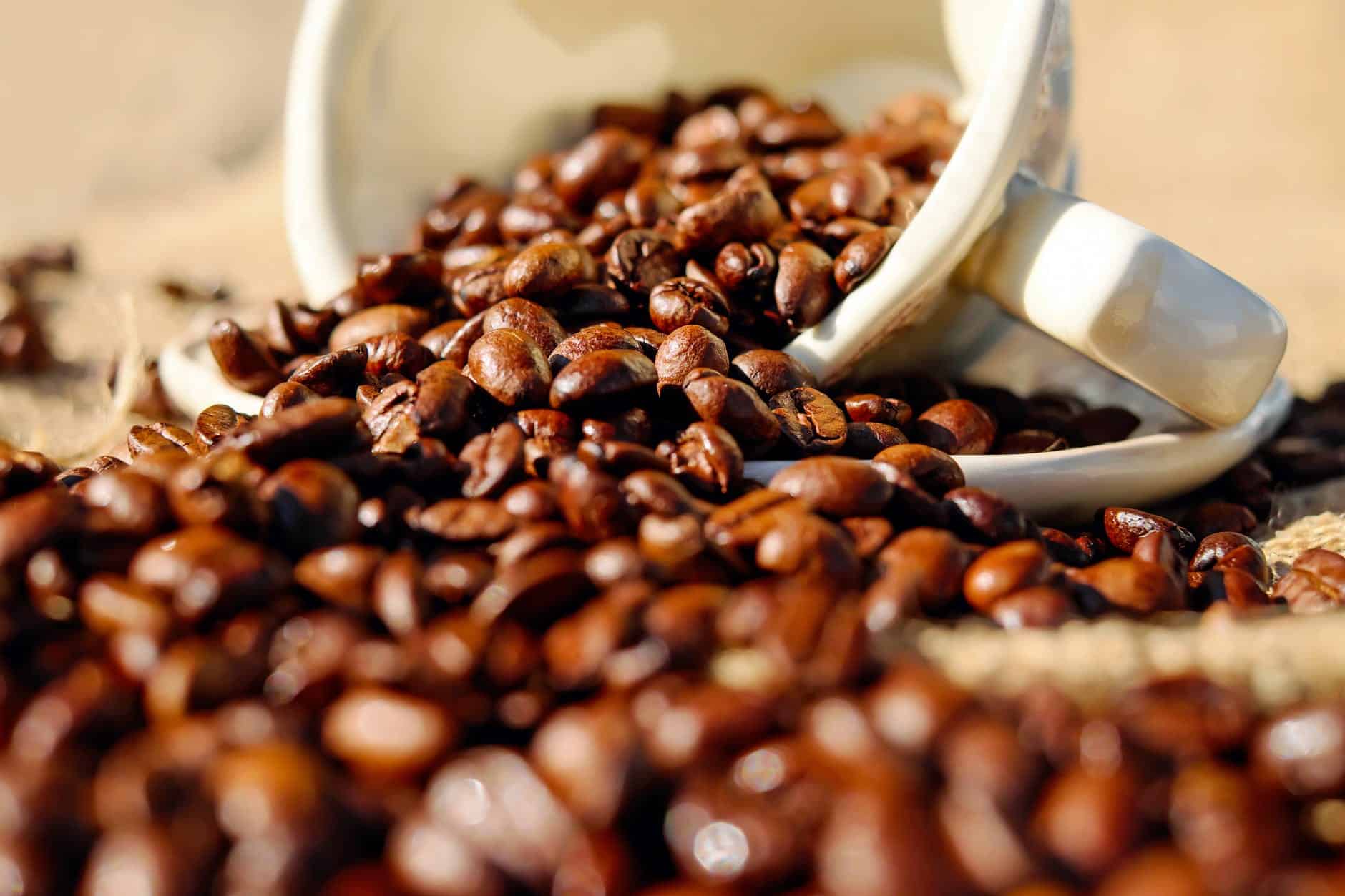 If you are like most coffee-drinkers, chances are, you are beginning to ask the age-old question, What is the difference between espresso beans and coffee beans? Now, for some reason, over the course of time, many people have come to believe that both beans are different – come from different trees or from different parts around the world.
The truth of the matter is – when it comes to coffee beans and espresso beans – they are all beans. There really is no difference between each bean – as far as whether they can be used for coffee or espresso. In other words, an individual could buy a product that is marketed as espresso and use it for their regular coffee maker.
So, this may lead you to also wonder, 'Well, why is the product marketed for espresso then?'  When a bean is produced, it has a unique flavor and taste. In this, the manufacturer decides what process will bring out the flavor of the bean the most: a coffee-maker or an espresso maker. The purpose of this is to ensure that all coffee-drinkers are getting the best taste when drinking their coffee or espresso.
Related:
Isn't that cool? Now, before we can share the top-rated espresso beans with you, there are just a few things you need to consider before you can purchase just any of the products below.
Let's take a look:
Things to Consider Before Purchasing Any Espresso Beans
Not all Beans Are the Same: One of the biggest mistakes that consumers make is that all beans are the same. As we have covered in this guide today, every bean will have a unique flavor, taste, and profile. With that being said, when purchasing an espresso bean, the type of bean you purchase will alter the flavor and experience.
Price: Let's be honest – coffee and espresso can be costly. With that being said, it's critical that, as a responsible consumer, you take precaution and measure the price of a product before purchasing it. Typically, the higher-end espresso beans will be a bit more expensive; however, we can say, with confidence, each of these beans is worth the cost.
Oil Content: Depending on the way you plan to make your espresso, the oil content in the coffee beans could be a determining factor. Reason being, if you are planning on using a specific espresso maker that is a semi-automatic or super-automatic espresso machine, you might find it difficult for the machine to continue making strong espresso shots in a few months.
Try 1, Try 2, Try 3!
When it comes to the coffee industry and espresso industry, there are dozens upon dozens of different beans for consumers to pick from. In our opinion, the best part about this market is that the beans are really not that expensive, so long as you have a grinder.
With that being said, if you are ever unsure as to the quality or taste of an espresso bean, we suggest trying a few different blends, just until you are able to figure out what flavor profiles you like the most.
In today's guide, we shared with you three of the richest and most well-known espresso blends that are available as of 2018. Each of these products has been positively praised by coffee drinkers around the world in hopes that other coffee drinkers, such as yourself, might give it a try too. So, if you are looking for that morning pick me up, try 1 of these today, or 2, or 3!
Last update on 2023-08-30 / Affiliate links / Images from Amazon Product Advertising API