Long day ahead? Yeah, we TOTALLY get it.
Most days, we just really need a good cup of a pick-me-up.
If you're like us, whose favorite meal of the day is coffee, a mediocre cup just won't do. Instant coffee powders and stale coffee beans won't give us the kick we need.
Luckily, we're here to get you a list of the best organic coffee beans.
Read on if you're ready to trump the drinks you keep buying from the local cafe.
The Top 10 Best Organic Coffee Beans
Finding the perfect coffee bean is outright difficult.
It is stressful and expensive.
There are too many factors to consider. Piecing the parts together was a nightmare.
We'll share with you a list of our top go-to USDA-certified organic coffee beans for my caffeine fix.
Hop on and get that sweet morning cup.
(1) LifeBoost Organic Coffee Beans (Best Overall, 9.6/10)
Features
Price per oz: $2.9
Roast level: Wide assortment
Origin: Single-origin from Nicaragua
Brewing methods: French press, Drip machine, Espresso
What Makes It Good?
LifeBoost organic beans are dubbed the "healthiest coffee," and rightfully so.
The beans from LifeBoost boast a pesticide, chemical, mycotoxin, and GMO-free profile. You don't have to worry about getting unwanted stuff in your body!
Indeed, the health benefits are REAL.
It is also a popular choice because of its low acidity.
Coffee is known to cause hyperacidity. For us who are chronically impaled by heartburns, this one's for us.
LifeBoost is also popular for its 30-day money-back guarantee to its customers.
Why It May Not Be for You?
LifeBoost is also big on taste. The organic coffee brand does not compromise.
The beans are shade-grown at high altitudes.
Out of all the coffee beans produced in the industry, only 2% are shade-grown. Shade growing allows the beans to have more natural sugars.
Each hand-picked coffee bean is fermented for 26 hours and washed in spring water.
It is then sun-dried and allowed to rest for 30 days. That is how it achieves an exact moisture content for that clean taste and enhanced flavor.
The process is meticulous, AND it is NOT for you if the PRICE is a deciding factor.
A slower growth time will result in a superior product, but expect it to go for a high price point.
Recommendation
LifeBoost is popular for its dark roast variety. It's the perfect medium-bodied American coffee.
Personally, we'd go with their medium roast beans.
The cup of coffee you will make with it is bold yet smooth. It has beautiful hints of caramel that tease you a bit.
They also offer light roast, espresso roast, and even organic decaf.
Pros
Healthy
Enhanced flavor
30-day money-back guarantee
Cons
(2) Volcanica Coffee Company Organic Beans (Best Value, 9.5/10)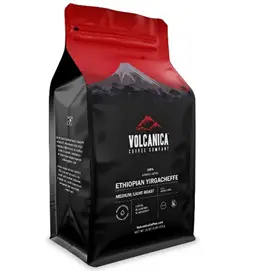 Features
Price per oz: $1.3
Roast level: Dark, medium-dark
Origin: Ethiopian
Brewing methods: French press, Pour-over
What Makes It Good?
Love that subtle EARTHY aroma?
The selections from Volcanica's coffee beans are perfect for you. You will immediately taste floral and winey tones in just the first sip.
The taste is full and rich, despite a pretty affordable price point.
If ethics and sustainability score big on your scale, Volcanica's beans are for you. They value their relationships with their growers.
Rainforest and kosher certification?
Consider this a PLUS for your fair-trade coffee.
Volcanica is a known supporter of many charity and nonprofit organizations. We're all about a company that doesn't only care about profits.
Why It May Not Be for You?
The Volcanica Ethiopian organic coffee is popular for its full-bodied flavor. It boasts notes of lemon, blueberry, and blackberry.
Naturally, sweet notes are not for everybody.
We see a lot of customers get disappointed because the aroma of the whole bean coffee is just not for them.
You will not enjoy this if you do not enjoy berries, dark chocolate, lavender, and pineapple.
Recommendation
Volcanica has a wide range of coffee beans available.
Sumatran and Sulawesi beans
African beans from Cameroon
Colombian and Bolivian beans from South America
Central American beans from El Salvador and Guatemala
Whichever variety fits you, the coffee beans are roasted only in small batches. (which means it's the FRESHEST it can be!)
The most popular variety (also my personal favorite) is the Ethiopian Yirgacheffe.
The light to medium roast is fruity and winey with a touch of fresh cedarwood and lemon zest. It is decadent and smooth.
Pros
Supports charities
Values coffee growers
Small-batch roasting
Cons
(3) Real Good Coffee Organic (Best Budget Pick, 9.3/10)
Features
Price per oz: $0.78
Roast level: Dark roast
Origin: Sumatran
Brewing methods: Coffee makers, Drip machines, Espresso, French press, Pour-over
What Makes It Good?
The selling point of this 100% arabica coffee beans?
The TASTE FIRST CONCEPT!
Real Good Coffee Co. believes in something simple and straightforward. Organic coffee should taste good.
It sounds so simplistic, but a lot of organic coffee brands miss the mark on taste.
Real Good's product is also my Best Budget choice.
The company cut out the middlemen, effectively lowering the cost of their coffee. They've also combined this with recyclable packaging and responsibly sourced beans.
All in all, it satisfies the 3 G's: Great taste, Good price, and Gentle earth footprints.
Why It May Not Be for You?
There are a few disadvantages of trying a fairly traded coffee at this price point.
Still, this may not be your best choice.
If striking packaging is part of your rubric in finding the best organic coffee brand, this product won't cut it.
They believe in distraction-free packaging. The concept is that simple, no-fuss packaging allows the customer to focus on the taste.
For coffee lovers who do not enjoy strong and exotic flavors, this is not for you.
The tones vary for each roast type. BUT, the general pattern is the same – rich, fruity base with a hint of exotic spices.
Think notes of bell pepper, or anise, or a brisk citrus taste.
If it isn't appealing to you, your best coffee beans are probably elsewhere.
Recommendation
Real Good Coffee Co. offers french dark roast, light roast, medium roast, and dark roast.
We strongly recommend their organic dark roast coffee. It's delicious coffee that delivers BOLD and SPICY flavors.
Their dark roast beans are superior. They are not excessively oily, and they make for a full-bodied brew.
The unconventional fragrance of Asian spices elevates the taste. There are notes of citrusy cedar with the right amount of acidity.
Pros
Well-balanced fruity base
Low price
Gentle on the environment
Cons
Exotic flavor can be too strong
Lackluster packaging
(4) Spirit Animal Coffee (9.0/10)
Features
Price per oz: $3.25
Roast level: Medium to light
Origin: Honduran
Brewing methods: Pour-over, Coffee maker
What Makes It Good?
Coffee beans from Spirit Animal Coffee are grown on high-altitude plantations under shade.
Shade growing allows farmers to completely remove the use of agrochemical fertilizers.
You can be free of any health worries.
The best organic coffee brands do not focus only on coffee beans.
Spirit Animal Coffee is about raising the living conditions in Honduras. Better quality organic coffee is highly dependent on sustainable harvest.
What best way to do this than incentivize the coffee workers?
If it matters to you that the coffee company believes in fair trade, Spirit Animal Coffe is for you.
Why It May Not Be for You?
What's in common with high-altitude plantations and fertilizer-free processes?
It COSTS MONEY.
Specifically, roasted beans in Honduras are processed on demand.
After roasting, it is air-shipped to every customer. It's important for Spirit Animal Coffee that you get your coffee beans the freshest you can.
The downside? Again, the price.
A high-quality organic coffee option comes with a few more dollar bills.
Recommendation
When drinking coffee, I tend to go for that rich and deep flavor. That's why the Organic Catuai and Bourbon variety appeals most to us.
Why should you try it?
The light to medium roast will give a praline finish. This whole bean coffee will provide you with notes of tropical fruit and jasmine.
A fan of milk chocolate? This low acidity organic blend also gives you hints of creamy chocolate and hazelnut.
Pros
Air-shipped for maximum freshness
Creamy without being too rich
Noble goal (raise living conditions)
Cons
Not for people with nut allergies
Pricey
(5) Kicking Horse Coffee (8.9/10)
Features
Price per oz: $1.3
Roast level: Medium, dark
Origin: Indonesia, America
Brewing methods: French press, Coffee machine, Aeropress
What Makes It Good?
Let's talk about 100% fair trade, Kosher-certified, smooth, and savory Arabica beans.
The Kicking Horse Coffee is available in ground coffee and whole bean options. Their rich organic coffee beans are not at all subpar to more expensive competitors.
FUN FACT: They are also known for being one of the best workplaces you can be in Canada.
That's a big statement.
Kicking Horse Coffee believes in a fair and creative work environment. A transparent environment will improve product quality!
Why It May Not Be for You?
Brightness is a positive trait.
But anything in excess is always bad.
One of the most common complaints of those who try the medium roast variety is that it is too bright.
A lot of coffee tasters feel that the sweetness and floral notes are just overpowering.
All in all, we find it refreshing, but you might get sick of having these over and over again.
Recommendation
The medium roast coffee of Kicking House is not for us.
The dark roast, however, is SUPERB.
It's more of a medium-dark roast rather than just a dark roast. The roasting style gave it an intense, smoky, citrusy tang.
I'd say it's perfect for making an early morning cup paired with a heavy breakfast.
The beans are from Central and South America. They carry a slightly sweet aroma with tones of stone fruit, sweet tobacco, sugar cane, and cocoa.
If you're looking to avoid caffeine but still want to try, their decaf coffee is excellent as well.
They used a swiss water process to create a mellow flavor sans any bitter aftertaste.
Pros
Great workplace
Transparent
Smooth and savory
Cons
Overpowering floral notes
(6) Camano Island Roasters Organic (8.9/10)
Features
Price per oz: $1.6
Roast level: Dark, medium-dark roast
Origin: Sumatra
Brewing methods: Moka pot, Pour-over, Keurig
What Makes It Good?
The Camano Island Roasters Organic Coffee comes in several varieties. Regardless of the variety, this company has one goal.
Serve the top 1% of the coffee beans.
Their organic coffee beans have received the specialty grade top 1% Arabica seal. It's premium coffee that promises the UTMOST FRESHNESS of organic beans.
The Camano Island Roasters are well-known for fair trade organic beans. The smooth, lingering chocolatey taste makes it a great option. The hints of toffee give an amazing aroma.
It promises low acidity and delivers very well. It is a perfect choice for us with tummy problems!
Why It May Not Be for You?
The organic coffees from Camano Island Roasters are part of the top 1%. If you hate being disappointed, you may want to lower your expectations a bit.
The company's organic coffee beans are superior to the rest.
No doubt.
But to claim it is a specialty coffee at the top 1% can create problems. Some customers who tried the beans said it was overhyped.
It's rich and flavorful but not THE best organic coffee.
Less caffeine in their organic coffee beans can also cause an underwhelming feeling.
If you're looking for a kick from that cold brew you made from this, you may feel some dissatisfaction.
Recommendation
Like other organic coffee brands, they have a variety of options at your disposal.
What I can recommend is the Sumatra dark roast.
It's not really complicated. It's full-bodied with notes of dried fruits and nuts.
The slight hint of chocolate combined with a tinge of caramel gives you a robust flavor that lingers in your mouth.
Pros
Specialty seal
Low acidity
Premium
Cons
Less caffeine
Can be underwhelming
(7) Don Pablo Subtle Earth Organic (8.7/10)
Features
Price per oz: $ 0.63
Roast level: Medium-dark roast
Origin: Honduras
Brewing methods: Moka pot, Pour-over, Kcups
What Makes It Good?
Organic coffees from this brand are processed without any sort of outsourcing. They grow, pick, and process their own coffee beans.
We're talking about 100% Arabica beans shade-grown at high altitudes.
We've been here.
We know what this means.
High-altitude shade-grown Arabica coffee beans get a perfectly matured and caramelized sweetness.
It's a meticulous process, but it guarantees consistent and high-quality produce.
Have to chug antacids every single time you try to drink coffee?
This one's for you. The low acidity of the coffee doesn't compromise anything.
Why It May Not Be for You?
The subtle earth organic coffee is proud of its roast-to-order policy.
The small-batch artisan roasting promotes freshness and optimal quality of the product.
BUT!
You should know that the weakness of this product is INCONSISTENCY.
Picture this. You try the product for the first time and love the perfectly-roasted organic coffee. Heck, you can even say it's the best you've had.
On your REPURCHASE, however, you get a batch that's a little bit over-roasted. Some even get a batch close to burnt.
If you can't deal with irregularities, this is not the best organic coffee beans to buy.
Recommendation
From their selections, I'd have to give it to the Honduran Marcala.
The Honduran Marcala is a medium-dark roast with a thick and full taste. It's soft to the mouth and gives you a texture similar to chocolate.
I'd say it stays true to its low acidity claim.
The cold brew method of coffee extraction will suit this organic coffee.
They also have a decaf version of their GMO-free organic coffee. It has the flavors of honey and cocoa.
Pros
Artisan coffee
Suitable for those with stomach issues
Slow sugar caramelization
Cons
(8) Java Planet Colombian Organic Coffees (8.4/10)
Features
Price per oz: $ 1.0
Roast level: Medium-dark
Origin: Colombia
Brewing methods: Aeropress, Pour-over, Coffee machine
What Makes It Good?
Honestly, what makes this organic coffee stand out is its FRAGRANCE.
You buy a pack of fair-trade beans. You excitedly open it, and surprise!
The aroma is out of this world.
It does not end on fragrance alone. It is a clean-tasting coffee that's also gentle on your stomach.
Java Planet uses 100% fair trade, bird-friendly, and rainforest alliance certified Arabica beans. You'll be able to buy it in whole bean form for maximum freshness.
This family-run Tampa-based company is also all about leaving gentle footprints.
They boast environmentally responsible farmers. Their organic coffee is also free of pesticides or any chemical additives.
Why It May Not Be for You?
Java planet considers this organic coffee as a low acid alternative.
However, it is still not a great option if you have GERD or severe stomach problems.
Drinking organic coffee from Java Planet is good if you opt for a low acidity variant. The levels of acidity are much lower.
But, it is NOT enough to recommend it to people struggling with hyperacidity.
You should also know that some consumers find that it has a slight bitterness, albeit very little.
If a bitter aftertaste is intolerable for you, do not purchase this.
Recommendation
Java Planet is a sustainability awards winner. They offer a wide range of coffee beans on the organic label.
Here are some of the choices in case you already have prior exposure to different coffee origins.
Guatemala Organic (Medium)
Peru Organic (Medium-dark)
Costa Rica Organic (Dark)
Espresso Organic Blend (Dark)
All of these organic coffee bean options are smooth, creamy, and easy to like.
My personal favorite would be the medium-dark Colombian Organic.
It's a fair trade coffee bean that delivers full-bodied richness. Out of the available options, it is also the one with the most robust fruitiness and the least bitter taste.
Pros
Fragrant
Family-run
Clean-tasting
Cons
Slightly butter
Low acid alternative is not good enough
(9) The Bean Coffee Co. (8.3/10)
Features
Price per oz: $ 2.1
Roast level: Medium roast
Origin: Indonesia
Brewing methods: Cold-brew, Aeropress, Coffee Machine
What Makes It Good?
What got this product to the list of the best organic coffee brands?
The loyalty to small-batch roasting
Their 100% Arabica beans are roasted slowly to get you a balanced body and level of acidity. The flavor is strong enough for one to enjoy but never overpowering.
The flavor profile of coffee beans from this organic label is mostly mild.
The subtle flavor gives you enough character. At the same time, it allows you to blend it with other dark roast coffee for various experiences.
Why It May Not Be for You?
The Bean Coffee Co. medium roast coffee beans make a good, smooth cup of coffee.
The uncomplicated flavors allow you to focus on your cup of coffee and the long day ahead of you.
One significant downside of this whole bean is that the smell can sometimes seem fake.
It's not unpleasant, but it is not the most aromatic.
If the smell is a great deal for you, other whole beans might work better.
Recommendation
The company has an Organic Mocha Java whole bean variety that has a full body and complex tone.
It's not very acidic, and it leaves a sweet finish on the mouth.
With a chocolatey tone, this is a perfect choice for cold brew coffee lovers.
Pros
Perfect for cold brew
Balanced, subtle tones
Cons
Uncomplicated flavor can seem too simple
The smell can seem fake
(10) Coffee Bean Direct (8.0/10)
Features
Price per oz: $ 0.63
Roast level: Dark roast blend
Origin: Colombia
Brewing methods: Drip coffeemaker, Pour-over, Percolator, Coffee pods
What Makes It Good?
The Coffee Bean Direct is a whole bean artisan coffee.
Artisan coffee is gaining ground. Classic and passionate artisans push for quality and fair trade organic coffee beans.
The Coffee Bean Direct's offering is lightly roasted. It is perfect for those who find organic coffee too powerful.
It has a similar flavor profile to decaf coffee but still has the punch you need to start your day. The familiar undertones of brown sugar and milk chocolate will keep you hooked.
Why It May Not Be for You?
The beans from this coffee brand are slow-roasted. The gentle release of aromatic flavor is what gives it a full, even tone.
BUT.
The product has FRESHNESS ISSUES. They do not roast in small batches. You can purchase a pack that's been roasted 9 months before your purchase.
The beans still smelled and tasted great. But, there is no telling how much flavor and potential is lost.
Recommendation
The Colombian Supremo stands out.
It is fragrant and a little bit fruity. There are no sharp or harsh flavors. Everything is balanced.
The full rounded aroma has hints of lemon, chocolate, and blueberry. It is an excellent deal for the price, especially for such a clean-tasting cup.
Pros
Aromatic
Nothing overpowering
Artisan-based
Cons
Not the freshest beans
Large roasting
Can cause allergies (cacao)
Basics of Organic Coffee
Want to make the switch to organic coffee?
Here's a short guide on learning more about organic coffee.
What Is Organic?
Over the last few years, there has been a rise in products with the organic label.
But do people understand what it means?
The term 'organic' refers to the way plants are grown. Here are some requirements to consider an agricultural product to be organic.
Nonuse of synthetic herbicides & pesticides
Nonuse of synthetic fertilizers & GMOs
Organic coffee simply refers to coffee beans grown in natural conditions. Opting to shift can give you a cleaner coffee.
The definition is straightforward. But, the certification standards to classify the product as organic is very complex.
For us civilians, it is best to look for the USDA organic label.
Benefits of Organic Coffee Beans
Organic coffee beans are usually pricier.
Is it worth switching?
Sustainable Lifestyle
Sustainability is all about making sure something lasts long.
Organic coffee farming improves the quality of our soils. Synthetic pesticides pollute the soil and can render it useless faster.
Farming organically reduces soil damage while maintaining a wide variety of coffee beans.
Natural and Cleaner Food
Organic farming can increase the quality of coffee. Shade growing, for example, improves the ripening of coffee cherries.
Well-ripened coffee cherries lead to better tasting beans. It discourages us from adding artificial sweeteners or flavorings. Additives can be detrimental to our health.
Organically grown beans are also rich in antioxidants. This is perfect for fighting off stress and diseases.
Recap
Still unsure?
No matter your preference and budget level, there is an organic coffee for you.
Here are the TOP 3 products from the list that you definitely will enjoy.
Best Budget Pick: Real Good Coffee Organic
You can't go wrong with a product that FOCUSES ON THE TASTE.
Their straightforward product may look lackluster in packaging. But your tastebuds will never know! Cutting out costs is also their specialty.
A great-tasting cup on a budget?
It's a YES for us.
Best Value: Volcanica Coffee Company Organic Beans
We all love waking up to an earthy cup of coffee.
It is not the cheapest, but it's worth the extra cost. Staying true to roasting in small batches, you will experience natural flavors at the comfort of your home.
You won't feel any guilt as well. What makes our hearts warmer than a company that values coffee farmers?
Sustainability is not just some mouthpiece. It's a commitment.
Best Overall: LifeBoost Organic Coffee Beans
Have a bit of budget to shell out?
Go all-in!
Every process is carefully carried out to get you a final product oozing with goodness. With a low acidity coffee free of chemicals, you'll definitely get the energy you need.
The flavor profile consists of the best hints of smooth caramel.
Big on flavor, health, and quality? WORTH THE INVESTMENT.
Final Words
Can't think properly without having a cup of coffee?
It happens to us too.
Organic coffee beans may be a tad bit pricier. BUT, the elevation in flavor and nutrition will truly make your day.
Choosing which organic coffee brand can be tricky, but it is all about you and your needs.
We hope the list helped you choose your companion to get your mornings going.
Enjoy caffeinating!
Last update on 2023-11-22 / Affiliate links / Images from Amazon Product Advertising API