We all love our coffee, but for some of us, drinking a cup of coffee leads to a very unpleasant feeling afterward. If you've ever had coffee only to experience acid reflux or heartburn, you're not alone.
A lot of folks have sensitive stomachs and regular coffee doesn't really suit them. So if you can't imagine giving up your coffee, but don't want to experience heartburn and reflux, we've picked out some low acid coffee brands that taste great and are easy on the stomach.
We'll also look at why coffee is acidic and how you can make your existing favorite coffee less acidic.
But first, here's a quick overview of the best non acidic coffees:
What is low acid coffee?
It's important that you don't confuse acid in low acid coffee with coffee acidity. Acidity is actually a flavor note used by coffee experts to describe the tangy, tart taste that many coffees have.
When we look for coffee without acid, the acid we're looking for refers to the actual pH level of coffee, which is around 5. Coffees have over 30 different acids in them!
pH is a measure of how acidic or basic a substance is. Pure water is neutral, and has a pH of 7. Anything above 7 is basic, and anything below 7 is acidic. 1 is the most acidic, and 14 is the most basic.
If you think about it, 5 is not too acidic! Orange juice is around 3 or 4 on the pH scale and even more sour juices like cranberry juice are 2 to 3 on the pH scale.
Still, even the seemingly moderate pH 5 of regular coffee can be a bit much for some people with sensitive stomachs, so here are some hacks for making acid reduced coffee.
How to make your coffee less acidic
In case your coffee does not sit well with your stomach but you really like a particular blend or roast, there are ways that you can minimize how acidic your coffee is.
For starters, you can change the brew method.
The standard Aeropress recipe makes a really nice and mellow cup with nearly no acidity. That's because you actually make a shot of coffee and add water to dilute it. Even though you're diluting the coffee, it still tastes really nice and rich.
The dilution does a fantastic job of reducing the acidity.
You can also try cold brew, which also tends to be less acidic than hot brewed coffee.
Another solution is to add a pinch of baking soda or salt in your coffee. You can also use crushed eggshells, but you may prefer using salt or baking soda since they both dissolve!
Finally, if you like a particular brand of coffee but are flexible with the roast, switch from a lighter roast to a darker roast. Light roast coffee tends to be the most acidic. The more you roast coffee beans, the more of the acids are burned off.
That's why dark roasts have very little acidity. However, they're incredibly intense, so not everyone likes them.
How to find low acid coffees
There are two ways that you can get low acid coffees.
One is to get inadvertent low acid coffee or acid reduced coffee, which is less acidic by nature. Generally speaking, coffees grown at lower altitudes will be less acidic than their counterparts grown at high altitudes.
Some regions tend to produce lower-acid coffee than others, too. In coffee terms, you can call these no acid coffees:
Sumatra
South American countries
Nicaragua
Guatemala
Mexico
The other option is to get treated coffee beans, which are not naturally low acid but are then treated with a variety of methods to qualify them as acid free coffee.
8 Best Low Acid Coffee Brands To Try
1. LifeBoost Coffee: The BEST Low Acid Organic Coffee
LifeBoost Coffee is one of the best low acid organic coffees out there, period. In fact, I'll go so far as to say they are one of the best coffees, period.
If you enjoy overall healthier coffee that tastes great, is certified organic, and low acid, these are the beans for you to try.
LifeBoost gets their coffee sourced from a few exclusive farms in Central America. They are able to control a lot of the production variables and that results in a product that's free from a lof of chemicals that are commonly found in other coffees.
They sell quite a few different types of coffees, but their signature low acid line is just LifeBoost light, medium, dark, and espresso roasts.
The taste is rich with earthy and chocolatey hints: a very refreshing and satisfying cup every single time.
I'm a huge fan of the medium roast, as that's the most balanced between bright flavors and intensity. Lighter roasts tend to be too bright for me, and darker roasts are too intense for my taste!
Interestingly enough, LifeBoost's beans are grown at 5700 feet, but they're still low in acid. In fact, you can test the acidity of a cup and you'll find that it comes out to around pH 6.0, which is an order of magnitude less acidic than regular coffee!
You'll notice that Lifeboost coffee happens to be quite expensive compared to others, but once you switch to LifeBoost you may never go back to any other coffee. It is indeed the best coffee for acid reflux, too.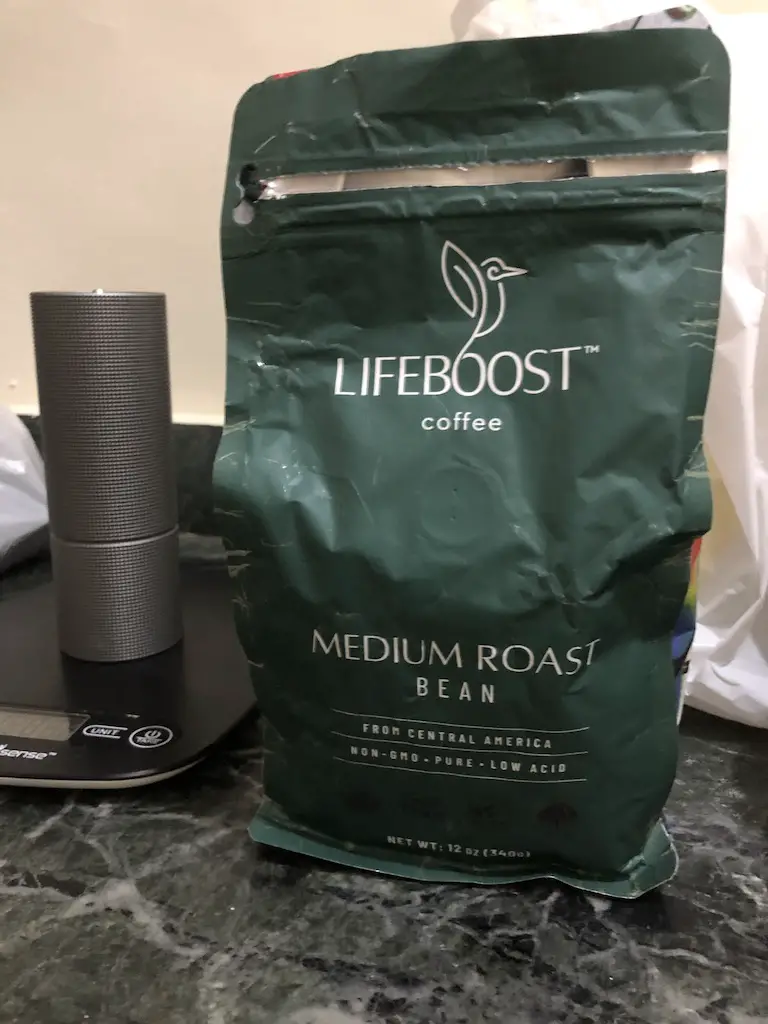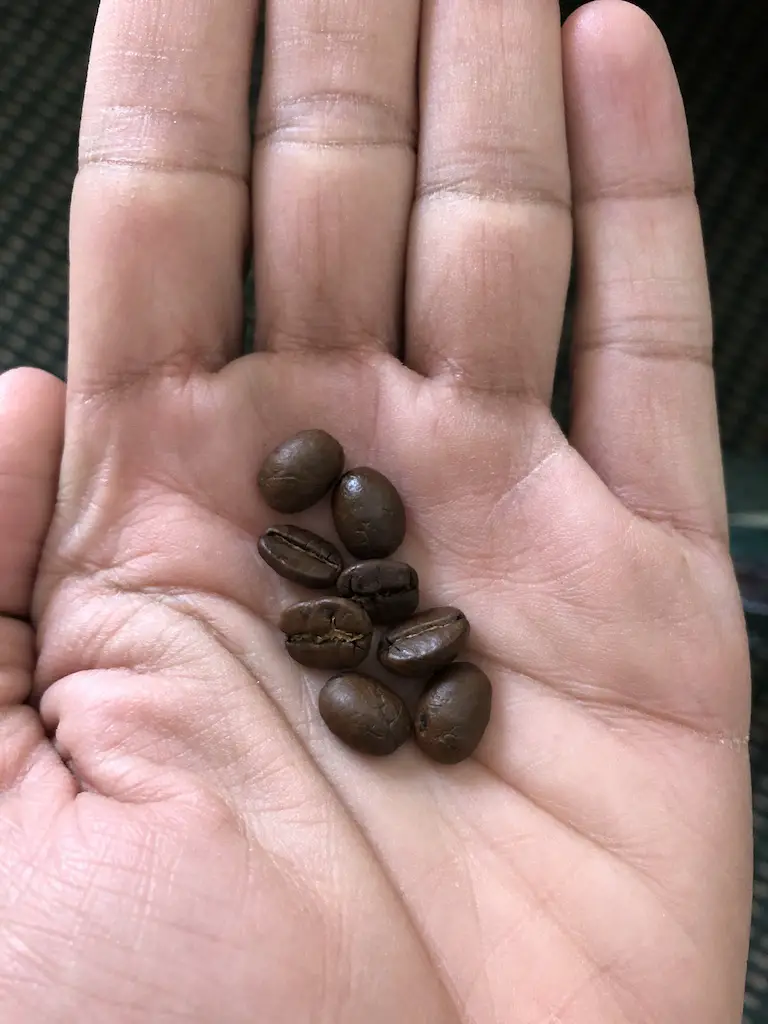 2. Mommy Coffee: decaf low acid coffee
This enterprise is a "boutique coffee company" manufacturing coffee for to-be moms, moms, and for anyone who wants a low acid cup.
This establishment has a wide range of all low acid coffees. However, you can select any of the four unique caffeine content levels according to your needs.
Full Caff
Half Caff
Quarter Caff
Decaf
The reason Mommy Coffee ranks high on our list is its delicate handling of the pH level. The coffees are not just checked with litmus indicators and shipped off.
Rather, thorough processing and screening are done on the products before they are qualified for pregnant women.
Pregnancy requires the purest and healthiest of diets. Mommy Coffee is low on acids which makes it good for the baby's bones. Low chemical profile and organic farming of the beans provide natural, toxin-free beverages for new lives.
Many pregnant women wish to avoid any caffeine, too, so the decaf low acid option is a great pick.
And a product that is good for a pregnant woman is actually best for other stomachs. Because during pregnancies, you just don't care for yourself but, more important, for another life within you.
3. Puroast Coffee
One of the oldest Northern Californian brands, Puroast Coffee offers some of the best organic coffee, low on acids and home-blended.
A researcher in the field of coffee noted that Puroast coffees have seven times the antioxidant levels compared to green tea. Secondly, they are 70% less acidic than any other roasted coffee!
Their secret is quality roasting. According to Puroast, they roast for quality and not for volume or money. They get the best out of the beans that they themselves plant, farm, harvest, and dry.
Puroast fancies a variety of flavors and different roasts. The very first roast by the founder of Puroast is known as "Lost Art Blend." The "Lost Art" roasting is unique in which the coffee develops without direct heat.
In other words, it is nature that cooks them resulting in low acidity.
You can also try their signature product – Organic Low Acid House Blend. The good thing is that there are no chemicals, no additives, or extractions in this coffee.
It is simply pure and organic goodness that has all-natural ingredients and flavor.
4. Tieman's Fusion Coffee
If you are looking for a great low acid coffee blend, Tieman's is what you should go with. Their coffees have an average ph of about 5.85%
The blending of coffee at Tiemans is almost nonparallel to any other brands. Tieman's Fusion coffee is infused Matcha Green Tea, Rooibos Red Tea, and Goji berry powders.
If you're scratching your head at this point, you're not the first one. But trust us, Tieman's is worth trying!
The coffee is sourced from Guatemala, Ecuador, and Colombia. The beans are all Arabica, balanced first, then blended with the herbs listed above, and then roasted.
You can order grounds and whole beans both. The company offers:
Dark Fusion,
Medium Fusion
and Medium Fusion Decaf (We prefer this one for its fusion and taste.)
The products are not just less acidic. In fact, Tieman's coffees are reported good for boosting your immune system, especially because of the Rooibos Red Tea. These coffees also provide an extra boost of energy.
Tiemans offer huge discounts on bulk and office orders. Office coffees are designed for commercial use in portion packs. A bulk pack can be 20 percent less than retail and hence greatly economical. The pre-measured portion pack makes it convenient for home use too.
5. Healthwise Coffee: Low Acid K-Cups
Healthwise sells Colombian organic coffee and deals specifically in Arabica. Their score on the ph scale is 6.18, which is very impressive. They guarantee that even multiple cups of their coffee will not impact your health.
Coffee seeds and plants are exported from Paisa Region – which lies in rural Colombian regions. These regions are known to produce some of the best coffees in the world.
Other than their specialized imports, Healthwise differentiates themselves by their trademark Roasting and Swiss Water Process.
High-quality Colombian beans are selected, and then they pass through a special roasting process resulting in a medium-dark roast.
No additives or food colors are used. They name this process TechnoRoasting.
Swiss Water Process purifies coffee from caffeine contents. Small batches of coffee and green coffee extract are mixed with water and heated. Time and temperature are monitored until 99.9% decaf is produced.
The result is nutrient-rich, organic coffee which is very low in acids. Their marketed product 100% Colombian Supremo is appraised by the consumers for these reasons, especially for its natural flavor.
HealthWise has a diversified range of products. The good thing about this brand is you can get Keurig K-Cups and pods too. Finding acid free K-Cups are difficult in other brands.
Columbian Supremo and even other coffees by HealthWise are USDA certified organic. Some of the experts even list their decaf as #1 in low acid coffee brands listings.
6. Euromild Coffee
Euromild is based on a European technique (branded in North America) that concentrates on mild roasts.
The beans and the region (Colombia) from where they are imported are the same as HealthWise's. However, their technique is different from other brands.
Pressurized steam is used to remove unwanted acids, irritants, and chemicals. According to Euromild, caffeine is not the major culprit causing acid reflux.
There are certain roasting irritants, which stimulate your digestive organs to produce too much acid. Basically, coffees are acid-free, and it is your body that is producing acids due to some chemicals that are composed while roasting.
For this reason, the coffee is steamed and not roasted in Euromild's products.
As the coffee beans are steamed and then ground, the beans' hardness is minimized, resulting in a smooth and silky feel. The brand makes sure that steam does not take away the flavor and aroma of the beans.
Their products are known to be quick sellers. The brand has a limited collection. You can choose from the below four:
Regular Ground
Regular Whole beans
Decaf Ground
Decaf Whole beans
Euromild claims that a cup from any of the four has 99.5% acid removed. The only limitation with this brand is the unavailability of K-Cups and Pods.
Considering that 99.5% of acid is removed, Euromild can certainly qualify as one of the coffees with lowest acidity.
7. Volcanica Coffee Hawaiian Kona
Volcanica differentiates itself as a low acid coffee brand having an exquisite flavor profile. The floral, chocolate, and woody notes are definitely worth the price tag.
Their processing method is unique too. Known as "Wet Hull Processing," initially, the beans are de-pulped and partially fermented. The beans are then dried on raised beds so that the soil does not alter the original flavors.
After semi-drying, the beans are hulled or milled. The moist grounds are again dried until deep green, and blue color is achieved. Volcanica claims that this is a scientifically proven low acid method.
You will get fresh grounds always as Volcanica roasts coffee according to consumers' orders and in small customized batches.
Volcanica offers many flavors – all distinct in their bean origin, flavors, roasts, and notes.
This product has Hawaiian whole beans grown in low altitudes. The seeds are grown and cultivated on Kona slopes of Greenwell Estate, which harbors ideal soil and temperatures for coffee plants.
The plants are protected from the sun's heat, which protects against acidic reactions within the growth.
The beans are not mixed with other inferior beans ensuring the purest Hawaiian flavors. Volcanica only processes "Extra Fancy," which is the highest-ranked among eight different Kona Beans.
Their floral, fruity, and citrus flavors in nutty cinnamon and clove overtones are savories – having the highest demands in low acid fancy flavor coffees.
8. Simpatico Coffee
Simpatico Coffee has recently entered the market and is already growing into one of the most successful low acid coffee brands.
The reason for their success is organic harvesting and modern roasting tools.
Arabica coffee beans are imported from the mountains of southern Mexico. The beans are wild shade-grown under a natural forest canopy and do not feature any pesticides, herbicides, or other synthetic fertilizers.
After the harvest, the beans are processed, and only first class beans are mechanically sorted out.
Coffee beans are roasted in Revelation Roasters at their headquarters. This modern technology is one of the most efficient in the world and features minimal to low emissions.
Small batches of beans are roasted so that the taste and aroma remain preserved. Below are some of their featured roasts and flavors:
Bright bodied Medium Roast in a nutty flavor.
Medium-Dark Roast. in berry undertones. Perfect for iced coffee.
Smoky Dark Roast having fruit favors. (Manufacturer's featured and our preferred product)
Espresso Extreme Dark Roast with dark chocolate notes.
The company also has some Specialty Roasts, which are not mentioned here as all are acidic coffees.
9. Kava Coffee: acid free instant coffee
The last pick on our list of the best non acidic coffee is an instant coffee from a company called Kava Coffee.
Kava Coffee has been around for a very long time, and their instant coffee clocks in at an impressive and mind-blowing 6.8 on the pH scale.
Since 7 is the pH of water, a pH of 6.8 is practically the same as water.
If you've got an incredibly sensitive stomach and want to avoid any acidity whatsoever, then Kava Coffee is the way to go.
The only reason they come in last on the list is because it's instant coffee and not whole bean coffee!
However, the taste is quite impressive for instant coffee and it tastes much better than other cheaper instant coffees you typically find.
Is there such a thing as an alkaline coffee brand?
By definition, alkaline is the opposite of acidic. As we've seen so far, regular black coffee has a pH of around 5, and some of the best non acid coffee brands we've listed here manage to bump that up to a little over pH 6. pH 6 is still acidic, but incredibly mild – so mild that you may hardly notice it.
The only way to make your coffee completely alkaline is to neutralize the acid after brewing by adding salt or baking soda. It may be quite difficult to find coffee beans that naturally produce an alkaline coffee!
Conclusion
To wrap up this guide to the best non acidic coffee, here's a recap of what you can do to make your favorite drink less taxing on your stomach:
Switch to acid reduced coffees. We really recommend trying LifeBoost or Volcanica's low acid coffees, but there are plenty of other options as well.
Change your roast from lighter to darker roasts
Add a pinch of salt or some baking soda to neutralize the acid before drinking your coffee
Just because you have a sensitive stomach does not mean you should not be able to enjoy great coffee! Since coffee is such an important part of our day, it's totally worth making sure that it does not make any other parts of our day any more difficult!
Last update on 2023-08-31 / Affiliate links / Images from Amazon Product Advertising API