Peet's coffee is counted among the most popular coffee blends out there. Anyone who loves a great cup of coffee cannot say no to the range that Peet's has to offer. If you are curious about the Peet's blends and the glorious coffee they can deliver, be sure to read our ultimate Peet's coffee review below.
Best Peet's Coffee: Major Dickason's Blend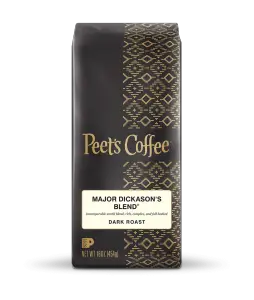 One of the most popular blends in the Peet's range is the Major Dickason's Blend. It is actually considered as the gold standard of the Peet's brand, since this blend creates a coffee packed with flavor and lots of interesting layers.
The Major Dickason's Blend is a very dark roast, so when you first open the bag, be prepared to find some very oily coffee beans. If you're planning on brewing an espresso with these, make sure you don't put these beans in the built-in grinder on your machine if it has one.
Putting oily beans into built-in grinders can damage the machinery in the long run. To brew these, grind them separately.
Additionally, you may find that the aroma is quite strong. Very strong, if you're not used to drinking very intense coffee. I personally am not a fan of very dark coffees, but if that's your thing, to each his/her own, right?
Because of the dark roast, I prefer to brew the Major Dickason coffee using a drip or pour over method such as the Chemex or a Hario V60.
Drip tends to produce a very mild and balanced cup, which does well to offset the sometimes overwhelming intensity of the dark roasted Major Dickason blend.
I would not recommend trying espresso unless you really like your coffee bold and full-bodied. French press will still be quite bold but for some people can fall into the sweet spot of not too light and not too intense.
Major Dickason vs French Roast
Major Dickason's is very similar to french roast because they're both very dark roasts. However, french roasting is a roast level and it can refer to any kind of coffee bean(s).
Major Dickason's is a very specific blend of coffee beans that is roasted very dark.
Other Amazing Coffee Blends From Peet's
When you have a brand such as Peet's, it is difficult to choose a clear favorite. If you want to discover more Peet's coffee blends, be sure to check out some of our personal favorites below.
1. Peet's Big Bang Medium Roast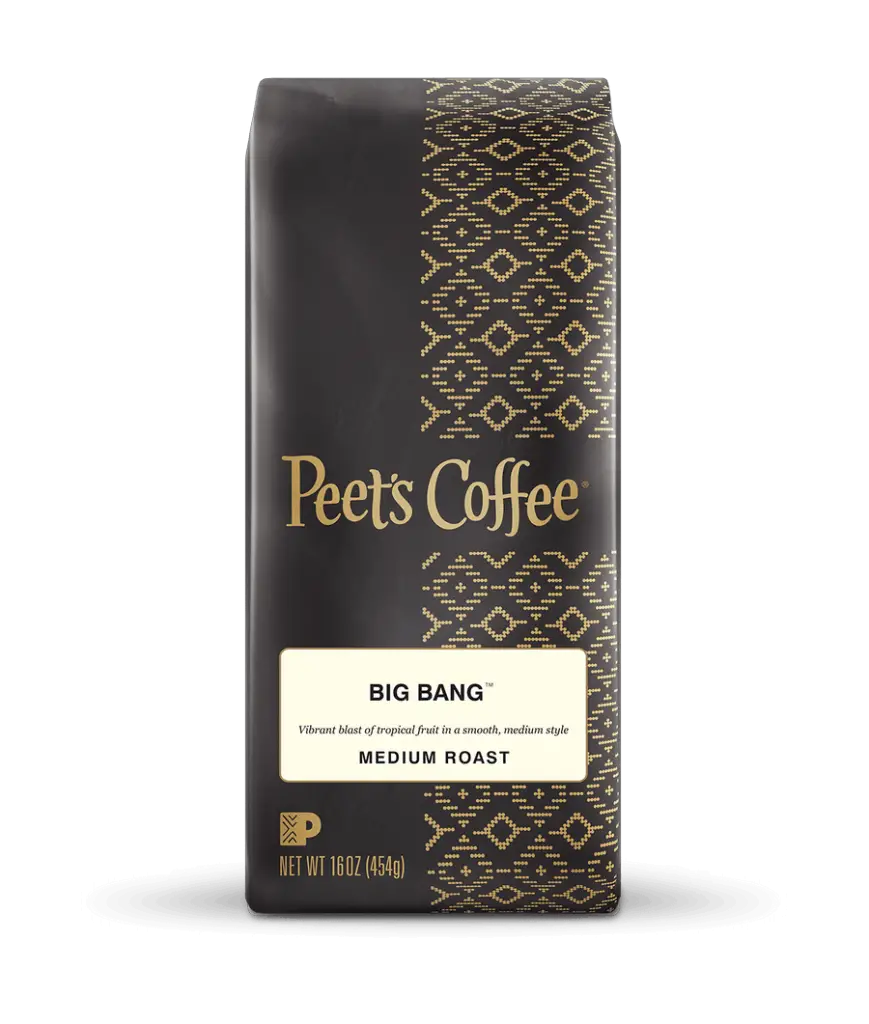 If you are looking for something different than your usual espresso, you should definitely look into the Big Bang blend. Interestingly, the medium roast coffee was created to celebrate the 50th anniversary of the coffee brand, and it certainly became an interesting one.
The Big Bang blend is an Ethiopian coffee that delivers quite an exotic flavor that is quite remarkable for any coffee blend, as it could be described as bright, citrussy, and even sweet.
If Major Dickason's blend is your favorite from the Peet's range, then you will find that the Big Bang is quite close to that superior flavor. The only difference? The Big Bang takes you to an exotic place with lots of aromatic citrus.
Contrary to some other blends in the Peet's range, almost all brewing methods can be used for this one. However, opposed to the Major Dickason's blend, the Big Bang blend is also suitable for a cold brew.
Here's a full video review:
Peet's Big Bang vs Major Dickason
Big Bang is a medium roast, which means it will be palatable to a much wider range of coffee lovers. If the intensity of Major Dickason's is too much, the Big Bang blend is very balanced and can work well with nearly all brewing styles.
2. Peet's Arabian Mocha-Java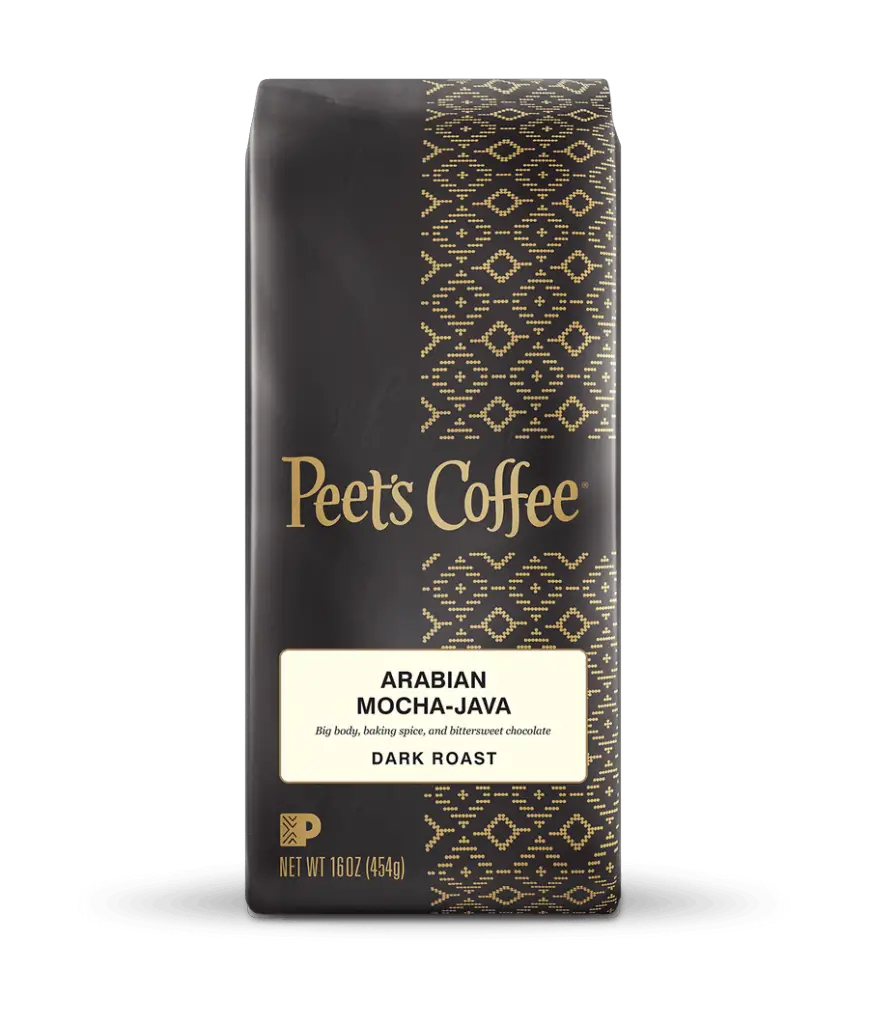 Coffee loves who adore complexity and a hint of chocolate will adore the Arabian Mocha-Java blend. The blend is a result from java and Arabian mocha beans, which deliver a coffee with a beautiful full body, hints of chocolate, and a lot of added complexity. All these characteristics take this blend to the top of the list.
There are many things that make Peet's Arabian Mocha-Java blend special. That being said, its unique characteristics can undoubtedly be attributed to the exotic coffee bean mix. Of course, the overtones of chocolate are bound to please sweet-tooth coffee lovers who love just a little bit more.
3. Peet's Guatemala San Sebastian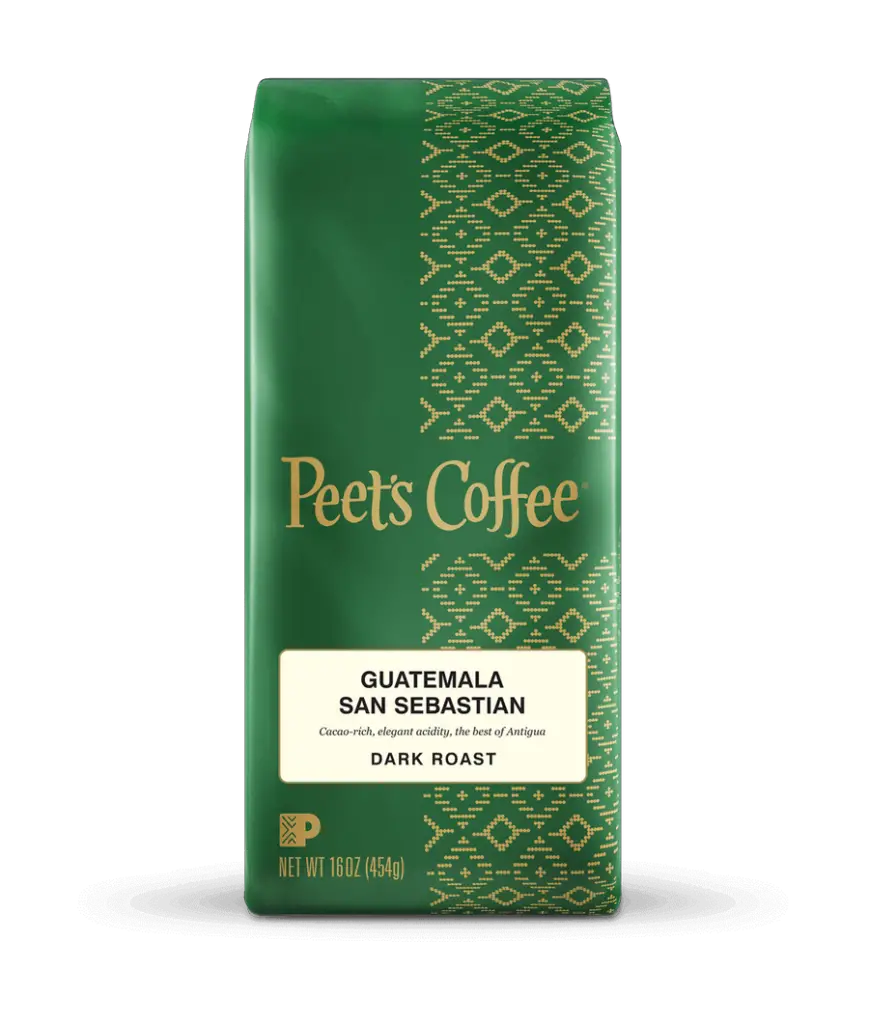 There are many coffee blends inside the Peet's range that can be characterized as traditional and a stalwart of the range. One of the coffee blends that certainly meets that description is the Guatemala San Sebastian.
The Guatemala San Sebastian is a dark roast that originates from some of the best farms in Antigua. It has been a staple in the coffee industry for over 40 years. So, anyone who is new to the coffee experience and want to try something good can rely on the Guatemala San Sebastian.
Peet's Guatemala San Sebastian is a dark roast with an elegant acidity and lots of cacao notes. Of course, this blend also has some bright and citrus notes that are interesting for coffee lovers who want just a little more from their regular coffee blend.
4. Peet's Sumatra Batak Peaberry
Do you often struggle when you have to choose between coffee and tea? Peet's may have a solution with the Sumatra Batak Peaberry.
Contrary to most dark roasts, the Sumatra Batak Peaberry has a lot of herbal and earthy notes, providing the perfect combination of dark roast coffee and a classic herbal tea.
When you try Peet's Sumatra Batak Peaberry, you will encounter a lot of unusual and exciting flavors. Your first sip will be characterized by lemongrass, sage, and even caramelized sugar.
With such a blend of both rustic and refreshing flavors, Peet's Sumatra Batak Peaberry is certainly a blend that will appeal to both coffee and tea lovers.
5. Peet's Rwanda Tumba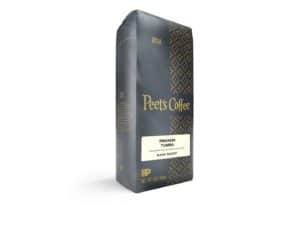 Do you prefer a coffee with a little fruity flavor? If so, you could consider the Rwanda Tumba, a dark roast with an almost medium roast flavor. As the name suggests, this coffee blend is obtained from Rwanda, providing a select harvest of the finest quality.
The Rwanda Tumba provides the best from Africa and Arabia where coffee beans are concerned. The flavor notes of this blend are quite interesting too, as it provides hints of cranberry and cola nut. The coffee blend is also sustainably sourced, which is good news for environmentally conscious consumers.
6. Peet's JR Reserve Blend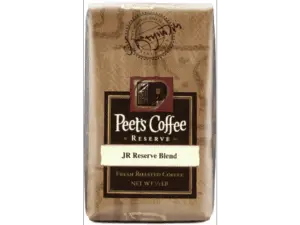 This is a blend that is created by none other than Emeritus Jim Reynolds, one of the best roast masters in the world. He created this blend from some of the rarest harvest lots, so this is a coffee that should be experienced by all coffee lovers out there.
Since Peet's JR Reserve Blend is quite a rare coffee blend, you can only obtain this roast in a limited quantity, more specifically of the regular bag size. However, the smaller quantity is more than worth obtaining, because the JR Reserve Blend is made to order only once a week. It is also shipped within 24 hours of roasting, so you will never experience a fresher blend than this one right here.
7. Peet's Kona
The Kona blend is another coffee blend that is available in a limited quantity, much like the JR Reserve Blend we discussed earlier. It is considered as one of the fanciest coffees out there, obtained from a single-estate 100% Kona harvest.
Contrary to the more traditional limited quantity blend we described earlier; the Kona blend is a little more adventurous. It provides a unique aroma of fruit, which also translates into the taste of the blend, which is dominated by apricot.
No products found.
8. Peet's Yosemite Dos Sierras Organic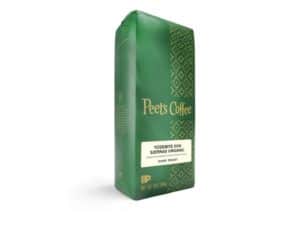 Some coffee lovers prefer their coffee organic. If this is the case, you will have plenty to choose from with the Peet's brand. One of the options is the Yosemite Dos Sierras Organic, a traditional dark roast with quite interesting notes of milk-chocolate. Because of its traditional flavor and its light sweetness, this coffee can be enjoyed throughout the year.
Peet's Yosemite Dos Sierras Organic is one of the most sustainable and environmentally friendly options out there. It is sustainably produced in Sierra Nevada, but also Smithsonian bird-friendly and even certified by the Rainforest Alliance. It does not get much better than that!
9. Peet's Gaia Organic Blend
Another organic coffee that is a part of the Peet's range is the Gaia Organic Blend. Interestingly, this coffee is not just sourced in a single place, as it uses a combination of Africa, Indonesia, and even America.
Peet's Gaia Organic Blend is a spicier coffee and part of the signature blend range of Peet's. It is made from organic coffee beans from three different locations around the world. Naturally, this has created the unique blend that many people have become to know and love.
When you try Peet's Gaia Organic Blend for the first time, you will undoubtedly notice it is one of the most vibrant coffee blends in the Peet's range. It also has a lot of interesting notes in its flavor; this includes earth, cacao, and countless florals.
10. Peet's Organic French Roast
Prefer something traditional and smoky when it comes down to your coffee? If so, you simply have to try the Organic French Roast from Peet's. This coffee is characterized by lots of smoky notes throughout your drinking experience, but also a natural bitterness that comes with this traditional dark roast.
As the name suggests, Peet's Organic French Roast is made through conventional farming methods. Since a lot of labor is needed to use these conventional methods, the organic French roast may cost a little more than non-organic dark roast. However, it is more than worth the investment, as you can enjoy a batch of much higher quality and lots more flavor.
11. Peet's House Blend
When you are a big Peet's coffee lover, you simply cannot miss out on the Peet's House Blend. As the name indicates, this blend pretty much envelops the house style of the coffee brand and it is surely worth trying.
The Peet's House Blend is a Latin-American blend that speaks to all coffee lovers. It is packed with balanced flavors and medium body, even though it is a darker blend. This type of coffee is perfect for anyone who has never tried Peet's coffee before, as this blend is the perfect introduction to the rest of the range.
Since Peet's House Blend is an easy-drinking coffee, you should have this coffee in your home as a staple. Of course, you can complement this blend with some of the more complex coffees if you want to discover the rest of the Peet's range.
Peet's House Blend vs Major Dickason
Compared to Major Dickason's, Peet's House Blend is a little bit milder. The House Blend is a balanced coffee that's not quite as intense as Major Dickason's. Even though the House Blend is a medium-dark roast, Major Dickason's clocks in much higher on the intensity scale at the level of a very dark roast.
Conclusion: which Peet's coffee is the best?
Peet's Coffee is an awesome coffee roaster that has something on offer for everyone. Whether you like really intense roasts or milder brews, there's something for you. If you are totally new to Peet's we suggest checking out the House Blend or Major Dickason's for a very signature taste.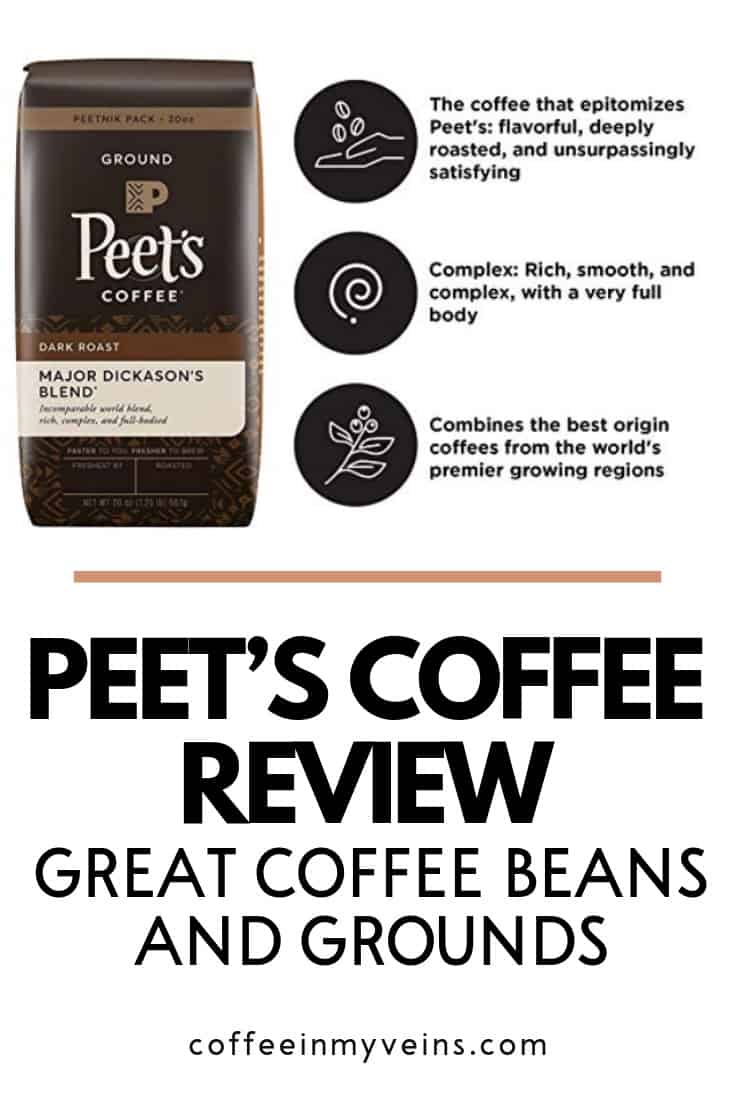 Last update on 2023-08-30 / Affiliate links / Images from Amazon Product Advertising API