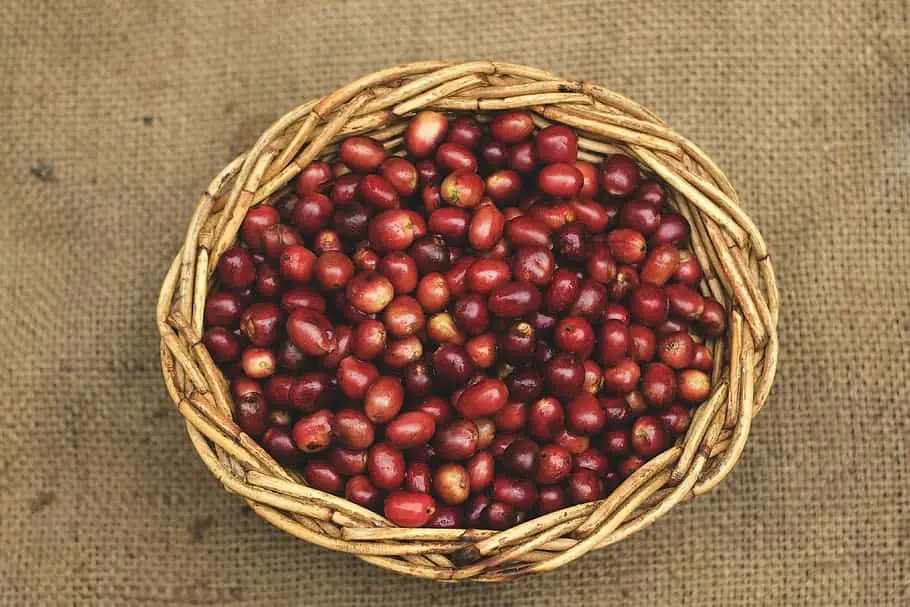 Sumatra coffee is hugely popular in the world of gourmet coffee, as some of the finest coffee in the world is grown on the island of Sumatra.
Sumatran coffee tends to have a typical earthy flavor, heavy body and also a low acidity that is loved by coffee fanatics across the globe. But what makes Sumatra coffee special? And what is the best Sumatra coffee out there? Let's find out!
Best Sumatra Coffee: Top recommendations
There are so many Sumatran coffees, it is so difficult to only grab a couple. However, we put some of the finest brands to the test and picked some of our personal favorites. So, if you are looking for Sumatran coffee, be sure to have a look at some of the best Sumatra coffee below.
1. Volcanica Coffee Sumatra Mandheling Coffee
Your coffee experience would not be complete without trying the traditional Sumatra Mandheling coffee. Fortunately, you can find the perfect option with the Volcanica Coffee brand.
As mentioned previously, Sumatra Mandheling is characterised by hints of chocolate, spices and brown sugar, which makes these beans an experience on its own. While they are more expensive than other Sumatran coffee, it is well worth investing in.
Since this brand can be a little pricier than most, we do have some alternatives that are more cost-effective. Even though this brand provides the best taste, there is always a more affordable option that comes close to the perfection this brand delivers.
2. Cooper's Cask Sumatra Dark Roast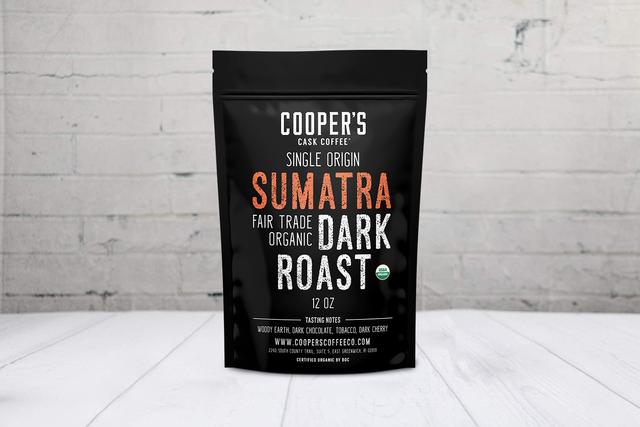 Would you prefer a dark roast coming from Sumatra? If so, then Cooper's Cask Sumatra Dark Roast might be the ideal choice for your personal taste palate.
Like Sumatra Mandheling, this dark roast is fair trade. In addition to that, this Sumatran coffee is also organic, which is great for people who want to avoid unnecessary chemicals and additives.
Consumers can acquire this dark roast from Cooper's Cask either as whole bean or ground coffee. While it is also a little more expensive than the average selection of whole bean or ground coffee, many coffee lovers will put this dark roast on top of their list.
When you decide to make some coffee with these coffee beans, please remember that these beans contain a lot more oil than the average medium roast. Therefore, you may have to adjust your brewing method accordingly.
3. Coffee Bean Direct Sumatra Mandheling
Another Mandheling Sumatra coffee is delivered by Coffee Bean Direct. Since this particular coffee is a little more affordable compared to the option from Volcanic Coffee, this can be a lower cost alternative to those on a budget.
Like our previous suggestion, this Sumatra coffee is a little darker and therefore oilier than the average medium roast. So, be sure to use the right brewing method when it comes to this Sumatran coffee.
Of course, more affordable does not necessarily mean less good, because Coffee Bean Direct certainly delivers with these Sumatran coffee beans. The Sumatran beans provide a coffee with low acidity, a smooth chocolate flavor, and plenty of nutty hints. Perfect for the established coffee lover.
4. AmazonFresh Organic Fair Trade Sumatra – Best Ground Coffee
If you prefer some ground coffee over coffee beans, then you could look at one of the options from AmazonFresh. That being said, you can get this particular option in coffee bean format as well.
Contrary to some of the other options in the overview, this option from AmazonFresh is a medium grind. This Sumatran coffee is a fair trade and organic coffee, complemented by a low acidity. In addition to that, it is dark roast with a reasonably strong flavor that is decently priced to boot.
On the flipside, the AmazonFresh Organic Fair Trade Sumatran Coffee may be a little less complex in flavor compared to some of the other best Sumatra coffees we looked at today.
Nevertheless, it is a sturdy option that holds its own among these favorites. It is also a coffee that is easier to drink, so this Sumatran coffee can be enjoyed every single day.
5. Fresh Roasted Coffee LLC Sumatra Mandheling
When you love Mandheling coffee beans, but want to try something that does not provide the distinctive flavor of Sumatra beans, you may want to looking into this option from Fresh Roasted Coffee LLC.
If you try the Sumatra beans from Fresh Roasted Coffee, you will notice a distinct flavor of dark chocolate, low acidity and a relatively smooth blend. It is a medium roast, made from coffee beans that are harvested from the Lintong area in Sumatra. So, if you are used to regular Mandheling and want to try something different, be sure to take a look at this medium roast.
Related
Why Is Sumatra Coffee So Good?
Once you try Sumatra coffee, you will immediately notice it is quite different from the average cup of joe. There are a number of things that make this coffee special, so let's take a closer look at what makes Sumatra beans some of the best in the world.
Wet Hulling
One of the main things that makes Sumatra beans so fantastics is a process called wet hulling. Wet hulling is a process locally referred to as Giling Basah. Giling Basah basically ensures that the coffee retains more moisture after processing compared to any other coffee bean processing method in the world.
But what does this additional moisture do for the flavor of Sumatra coffee? Well, it tends to provide an entirely new adventure of flavors and aromas, ranging from herbal to earthy. Of course, this also means that Sumatra beans bring something completely new to the table.
Low Acidity
Aside from wet hulling, the low acidity of Sumatra beans is another big appeal for many consumers. Low acidity beans are perfect for consumers who are prone to headaches and stomach aches from coffee, as it is much gentler on the body as well as the taste buds.
Roasting Processes
The roast of the Sumatra bean is also important, as you can get anything from a medium roast to dark roast. Still, despite the roast process each bean goes through, the wet hulling ensures that the unique flavors remain in the coffee. Sumatra is therefore not only the home of the unique bean, but also the unique processing method that make this coffee among some of the best.
Why Should I Get Coffee From Sumatra?
There are many places where you can get your coffee. Sumatra however, has something interesting to offer when it comes to your regular coffee consumption.
While you may not have guessed it, Indonesia is the fourth-largest producer of coffee in the world. And, since Indonesia is made up of different islands, you can expect some unique flavors depending on the island where your beans are grown.
Indonesia is also the home of an iconic region that will forever be known for its links with your daily cup-of-joe, Java.
Interestingly, the largest portion of beans exported in Indonesia are Robusta. That being said, you are unlikely to find them in whole bean variety, as they are often exported to factories to make instant coffees.
Fortunately, 15% of bean production in Indonesia is Arabica, which means you can count on the smoothest flavors out there.
What Type of Coffee Is Sumatra?
Sumatra coffee comes in three different variants, depending on the region in Indonesia where the coffee is grown. The current types of Sumatran beans include Mandheling, Lintong, and Gayo. Since each type is quite unique, it is a good idea to have a look at the characteristics and properties of all these beans.
What Is Sumatra Mandheling Coffee?
The Sumatra Mandheling is a rare coffee bean from Indonesia. It is named after the Mandheling people, who originally grew these coffee beans. The coffee beans provide coffee with a full and rich body, this thanks to the beans being sun dried before they are sent out for sale.
You will find many flavors of Sumatran Mandheling coffee, this ranges from the basic cocoa and brown spice flavors to dried fruit, wine and brown sugar. Most types of Mandheling coffee also have a lovely and syrupy aftertaste, which is appreciates by many sweet tooths out there.
When you want to purchase Sumatra Mandheling coffee, you will have little problems finding some fair trade coffee. In fact, most of these beans are produced according to fair trade standards and area also Rainforest Alliance certified.
What Is Sumatra Lintong Coffee?
When you prefer coffee beans to provide a clean aftertaste with a lovely balance and low acidity, then you should be looking for the Sumatra Lintong coffee beans. These coffee beans are grown on a high plateau that overlooks Lake Toba, and the unique and balanced nature of Lake Toba is undoubtedly noticeable in the coffee beans.
What Is Sumatra Gayo Coffee?
Gayo coffee is grown in the Northern Aceh region of Indonesia. These coffee beans provide a more intense flavor than the previous suggestions, so well worth trying for anyone who is looking for a more unusual and intense coffee bean coming from Indonesia.
How To Choose Your Sumatra Coffee
There are a number of Sumatra coffee beans and ground coffee that you should try at least once in your lifetime. So, how do you choose the best option for you personally? And how do you choose something you could drink on a regular basis? Or do you simply want something special to serve to special guests?
The benefit of choosing beans from Sumatra is that you can count on distinctive tastes for each bean. So, if you choose a bean from Mandheling, you can count on a different flavor than beans from Lintong and other areas. If you have your taste preferences outside of coffee, why not use those taste preferences to choose your best Sumatra beans from this overview?
Doing a little research can also help you make a decision. You can head over to small batch suppliers, who tend to have detailed information about each of our suggestions. In addition to that, you can check our reviews from other consumers, since it is quite popular these days to try a variety of beans and grinds.
Of course, budget can be an option for many consumers as well, especially when it comes down to your daily cup-of-joe. If you have to stick to a budget for your coffee, it may be better to look under the more affordable options in our overview, as they give you more value for money.
On the other hand, if you are looking for the best flavor and do not mind paying just a little more, then be sure to look at brands such as Volcanic Coffee.
Now you are ready to pick the perfect Sumatra coffee for your personal collection at home! Of course, do not be afraid to try out different blends and beans, as your preferences might vary a little compared to regular roasts you can find in stores.
While our recommendations are absolute must-haves, you can find many other coffees from Sumatra these days. So, once you have mastered these coffee beans, why not look at some small batch roasters to provide you with some additional options that will blow your mind too!? We are sure you will be a Sumatra coffee aficionado in no time at all.
Does Sumatra Coffee Have More Caffeine?
While you may expect Sumatra to contain significantly more caffeine than the average Arabica coffee beans, this is not the case. The reason for that is quite simple, because most of the coffee beans produced in Sumatra are actually an Arabica variety.

Those who are interested in trying stronger caffeinated coffee beans can find some of these options at the Biohazard Coffee Company. You can also look to other brands that are known for their strong coffee beans, including Death Wish Coffee, Black Insomnia, Killer Coffee and Banned Coffee.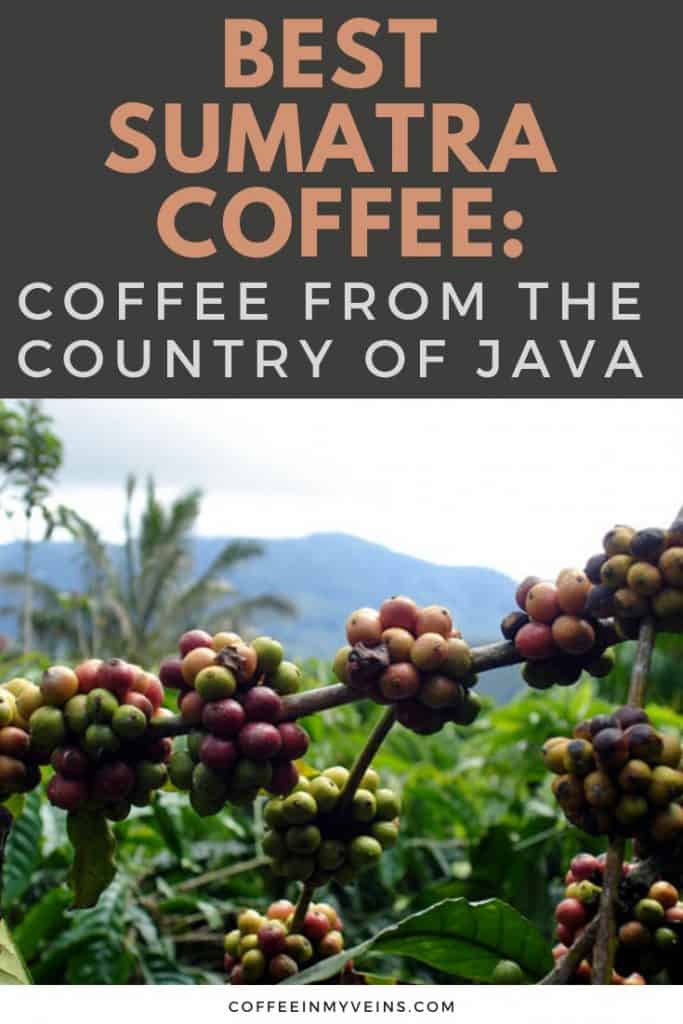 Last update on 2023-09-03 / Affiliate links / Images from Amazon Product Advertising API