Bones coffee is an adventurous coffee brand for coffee lovers to try. With lots of unique and downright weird flavors to choose from, there is always adventurous new to try when you get in a selection of Bones Coffee.
Curious about the most popular flavors of Bones coffee?
Check out our Bones Coffee review to learn more and discover something new.
All of these are offered as whole beans or as grounds in a variety of grind sizes so you can get what you need.
Bones Coffee Review: Outrageous flavors but good coffee?
1. Maple Bacon Coffee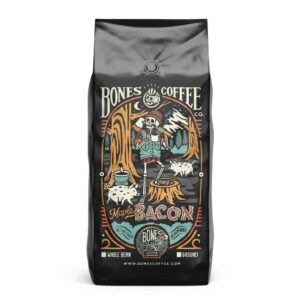 One of the most popular flavors in the Bones Coffee range is their Maple Bacon Coffee. It is not difficult to see why this coffee flavor is one of the most popular in the range, because who can say no to the delight of bacon, maple, and coffee in the morning.
Bones Maple Bacon Coffee is a medium roast, which means they do not have oil on the bean's surface. The medium roast also provides a more balanced flavor and aroma.
If you're looking to combine all of your breakfast flavors into a single coffee, maple bacon coffee seems like a good idea!
2. Strawberry Cheesecake Gourmet Coffee
Is there nothing better to you than a nice cup of coffee and a slice of your favorite cheesecake? There is no reason why you cannot combine both, as Bones Coffee can provide a Strawberry Cheesecake Gourmet Coffee.
The Strawberry Cheesecake Gourmet Coffee by the Bones Coffee Company is a medium-roast Arabica. Through the medium-roast coffee, the brand is able to deliver a balanced flavor of cheesecake and strawberry, beautifully complemented by low acidity.
Related: Have you tried cheese coffee?
3. High Voltage Coffee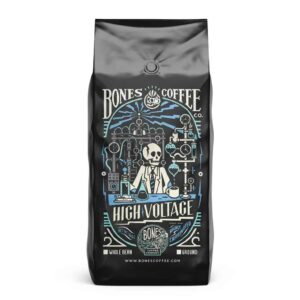 Is a regular cup of coffee not enough to provide you with your daily caffeine boost? No worries, as Bones Coffee delivers High Voltage Coffee, one of the strongest and nicest cups of coffee you will ever experience!
High Voltage Coffee consists of hand-roasted beans, and this certainly makes a difference in terms of flavor and caffeine content. The beans provide coffee with twice as much caffeine as regular coffee, so even if you had a bad night sleep, High Voltage will be enough to give you that sweet coffee buzz.
While the high caffeine content and superior flavor are already big reasons to obtain High Voltage, all coffee obtained from the Bones Coffee Company is roasted to order; this ensures that all the coffee you receive is fresh! So, if you are a genuine coffee fanatic, you simply cannot go another day without trying their fresh High Voltage Coffee.
4. White Russian Flavored Coffee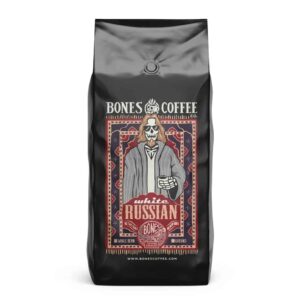 One of the more unusual coffees in the Bones Company coffee range is the White Russian Flavored Coffee. As the name suggests, this cup of joe is based on the famous White Russian cocktail. Therefore, this cup of coffee will provide you with flavors such as coffee liqueur and cream.
Like their Strawberry Cheesecake Gourmet Coffee, Bones Coffee has selected the medium-roast arabica beans for the White Russian. Arabica beans are incredibly popular for a variety of coffee blends. The beans are obtained from the Coffea arabica plant, which came from the Ethiopian highlands.
In their natural state, arabica coffee beans have a light sweet flavor. Coffee connoisseurs will also detect some common sweet flavors such as chocolate, nuts, and caramel. Of course, these flavors go well with other flavors such as the White Russian and Strawberry cheesecake.
5. Peanut Butter & Jelly Coffee
Another wonderful flavored coffee from the Bones Coffee company. Their Peanut Butter & Jelly Coffee provides you with a unique aroma of grape jelly and peanut butter, which also flows through in the coffee's flavor. It is the perfect breakfast coffee for those with a love for anything peanut butter.
6. Sumatra Single-Origin Premium Coffee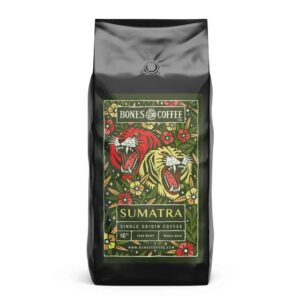 If you like to try exotic coffee beans, then the Sumatra Single-Origin Premium Coffee is bound to be a good addition to your coffee collection. As the name suggests, Sumatra coffee is made from Sumatra coffee beans, which is an Island of the Indonesian coast.
The Sumatra coffee from the Bones Coffee Company is a dark roast. As you undoubtedly know already, dark-roast coffee tends to be darker in color and tends to have a small amount of oil on top of the coffee bean. The oil remains visible after you have made your brew.
Dark roasts are characterized by a smoky and bitter flavor, which is usually preferred by coffee lovers. If you love your coffee tasting strong, but with a caffeine content that is slightly lower, then a dark roast coffee will be the way to go. It all comes down to your personal preferences.
7. French Vanilla Craft Coffee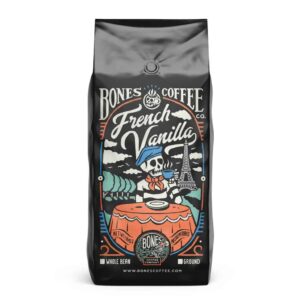 Does nothing compare to a cup of coffee made from the finest French coffee beans? If that is the case, you cannot pass on the French Vanilla Craft Coffee from the Bones Coffee Company. Providing you with a timeless classic with a vanilla twist, this is certainly a favorite for many.
8. Bananas Foster Coffee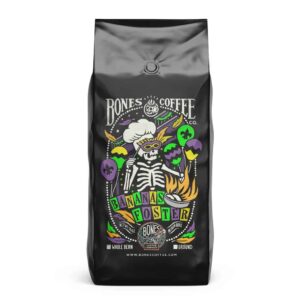 Is banana flavor among your personal favorites, but do you also enjoy a nice cup of coffee? Try Bananas Foster Coffee from the Bones Coffee Company. With this blend, you can experience a combination of bananas, butter, brown sugar, cinnamon, dark rum, and even some vanilla ice-cream.
Since there are a lot of flavors inside the coffee, the Bones Coffee Company chose the reliable arabica coffee beans for the blend. Once again, these coffee beans provide a perfect flavor balance, enabling you to enjoy each flavor to its maximum potential.
9. Guatemala Single-Origin Craft Coffee
The final cup of joe to try from the Bones Coffee company is their Guatemala Single-Origin Craft Coffee. The coffee is made from coffee beans harvested in the highlands of Antigua and medium-roasted; this provides some lovely nutty undertones and quite the smooth finish.
Guatemala Single-Origin Craft Coffee is suitable as an everyday cup of coffee, but it can also be served as a special treat for your friends and family. If you are known to choose the best coffee selections among your friends and family, why not delight them with something completely new and unique.
What Sets Bones Coffee Apart From Other Coffee Brands?
One of the biggest differences between Bones Coffee and other coffee brands is its unique selection of flavors. If you like your coffee to have something extra or special, Bones Coffee delivers where other coffee brands do not. So, any coffee fanatic looking for that little bit more will not be disappointed in what this brand has to offer.
However, I have to warn you – you'll either love flavored coffees or you'll hate them.
For me personally, flavored coffees are a mixed bag. The Starbucks caramel coffee grounds taste like vomit to me. Sometimes the flavors are overpowering and there is not enough coffee, or the coffee is too strong and the flavor just tips it over the edge.
While the flavors do seem really intriguing, I would suggest you pick up a sampler pack first to see which ones you like the best.
If you like a particular flavor, you can also subscribe to it for regular deliveries. You'll get a discount for recurring orders.
All of Bones Coffee flavors are also available as K-Cups.
Related
Can I Buy A Combination Of These Flavors In A Similar Size Bag?
Don't know which of the unique flavors to choose? Or do you like several of the unique flavors, but do not want to buy a large bag of each? No worries, because Bones Coffee combines its most popular flavors in its Bones Cups 20-Count Single Serve Variety Pack. You'll need a Keurig or single serve machine to make it, though.
So, if you are just starting out with Bones Coffee, why not try the variety pack to get familiar with all the unique flavors this coffee brand has to offer?
The Bones Coffee Company also provides each of the flavors mentioned today in individual coffee bags. Head over to their website and discover the amazing selection of unique coffee blends they can offer you.
Conclusion
Admittedly, some of these flavors are not for the faint of heart. However, if you're adventurous, you may find a flavor that really gels with your palate and you'll end up with a new favorite coffee.
Aside from that, the novelty factor is definitely there and the coffees are worth trying. They also make for a great gift idea.