Unless you are an absolute coffee PURIST, then you don't mind adding a shot of flavor to your coffee every now and then. Coffee is incredibly versatile in that sense – just a few squirts of coffee syrup and the rich flavor and aroma of the coffee combines flawlessly with what you put in it. So in this post, we'll take a look at some of the best coffee syrups.
Of course, the flavor profiles have to match in some way, but that goes without saying.
If you've picked up a flavored latte or iced coffee from your favorite coffee shop, you probably have seen the barista squirting a syrup into your coffee after pouring the frothed or iced milk on the espresso shot.
Because the liquid is so hot, the syrup dissipates quite quickly throughout the mixture, but I have experienced that the bottom of the cup is always much more strongly flavored than the first few sips. A quick stir would fix that, of course, but don't destroy the bubbles and froth!
You don't have to go to a coffee shop to enjoy these kinds beverages, though.
The awesome thing is that you can pick up coffee syrups from Amazon or your supermarket(if they stock them) and make flavored coffee at home, too!
If you're a coffee shop owner looking to see what to stock, this list will help you too.
Coffee syrup brands
There are 5 major brands as far as coffee syrups go:
Ghirardelli: The famous Italian chocolatier Ghirardelli makes unmistakably delicious syrups you can use in coffee to give them an instant burst of flavor
Monin: Another big name in syrups, Monin also have a line of organic and all natural syrups
Dolce: The Italian company Dolce makes sweet coffee syrups to add a depth of love and sweetness to your coffees
DaVinci Gourmet: DaVinci Gourmet offers sugar free and all natural syrups
Torani: Torani syrups are a mix of traditional flavors you'd expect to find everywhere and some truly unique ones(which you may not find too appetizing in coffee! Chicken n' waffles, anyone?)
Note: I have personally used Torani and quite enjoyed the coffee – the syrup I was using was caramel.
Sale
Bestseller No. 1
Torani Brown Sugar Cinnamon Syrup, 750 ml
Adds a rich, indulgent flavor to your beverages
Served with hot or cold dinks
Pure cane sugar & Naturally Flavored
#1 consumer brand in the United States
750 mL bottle
Bestseller No. 2
Bestseller No. 3
Bestseller No. 4
By The Cup Syrup Pumps, Fits Torani Syrup Bottles and Includes 1 of each, French Vanilla and Classic Caramel 750 ml Coffee Syrup Flavoring
1 each of - 25.4 FL OZ (750 ml) bottle Classic Caramel and French Vanilla syrup for coffee and 2 - By The Cup Pumps
CLASSIC CARAMEL - Buttery, rich caramel flavor; a dark, caramelized taste, and subtle fruity finish
FRENCH VANILLA - Reminds you of that decadent, intensely-flavored, creamy custard you once tried
Also great for hot cocoa, hot tea, cocktails, Italian sodas, lemonades, slushies, sauces and baked goods
The perfect choice for espresso-based drinks, brewed coffee or tea, frappes, iced coffees, and smoothies
Best coffee syrups and flavors
Flavors are a matter of personal preference, but these flavors are evergreen and enjoyed almost universally, so they get honorable mention at the very start of our list:
1) Vanilla
Vanilla is the "classic" flavor for everything, be it ice cream, chocolate, or coffee! Tim Horton's of Canada has become legendary for it's maybe-not-so-French Vanilla coffee, and almost all coffee shops utilize the rich, soothing taste of vanilla in one way or another.
The best thing about vanilla is that it's a starter flavor and can be combined with other flavors to create even more depth and texture. Try mixing it with chocolate or strawberries and your coffee will taste like a cake!
2) Caramel
Coming in at a close second, almost neck and neck with vanilla is caramel. There is a coffee chain called Second Cup who make a latte called the caramel coretto – that coffee is my FAVORITE latte and I'd take a Caramel Coretto any day over any other chain-bought coffee.
Caramel syrups are usually classic caramel and salted caramel, which has an added kick when you feel the salty and sweet dance on your tongue. If you like salted caramel chocolate, you will most likely enjoy a hint of salted caramel in your coffee, too.
3) Hazelnut
Finally, we have hazelnut – the nut in the list! Hazelnut has a very creamy, chocolatey flavor as it is – look at how popular Nutella and Ferrero Rochers are! Hazelnut coffee adds hint of nuttiness to your coffee and if you like their flavor profile, hazelnut coffee can really perk you up. Personally, I find hazelnut to be a little too strong when mixed with coffee.
4) Butterscotch
Butterscotch is quite similar to caramel, but it has that distinct buttery, dairy depth to it that caramel just doesn't have. If you give me a choice between butterscotch and caramel on an ice cream, I'd prefer butterscotch any day! Butter coffee seems to be quite the rage these days, so perhaps butterscotch syrup may be a cool thing to try.
5) Chocolate
Chocolate syrups may seem like a strange addition to a hot coffee, but they're a neat way to top up a mocha iced coffee.
6) Mint
Mint syrups add a icy, cool hint to your coffee. Starbucks does quite well with their popular peppermint iced coffees in the winter season! They would certainly spruce up a cold or iced coffee, but for me, it was hit or miss in hot coffee. Mint by nature is a cool sensation, so the mixing of hot and cool was a little neutralizing.
7) Dessert
Dessert flavored syrups include gingerbread, pumpkin spice, and other popular desserts – personally, I am not a huge fan of these flavors, as I enjoy the dessert itself more! But if you like your coffee tasting like your favorite dessert, then there's certainly nothing wrong with trying these out!
Can you use other kinds of syrups in coffee?
Now that we've talked about what we feel are the best coffee syrups, one question obviously remains: there is a pretty good chance that your personal preference for syrups or sweeteners falls outside the ones we listed above.
In that case, you may be wondering if you can get away with using any kind of syrup in your coffee. After all, syrups are essentially the same, are they not?
While the concept of a syrup is basically a reduction of sugar and water with some flavoring, not all syrups are created the same and some will actually end up ruining your coffee rather than improving it.
Coffee syrups
This goes without saying, but syrups that are specifically made for coffee are the best kinds to use in your coffee. These are made specifically so that they complement the flavor of your coffee and enhance it rather than overpowering it or ruining it.
Maple syrup
You can put maple syrup in coffee if that's your thing! Maple syrup is not very viscous, and the flavor is usually quite mild, so it makes a great addition if you want a natural way to sweeten your coffee and want to avoid processed sugar. Bear in mind that maple syrup is still sugar, so if you are avoiding sugar for any reason, maple syrup is a no go.
Also, by maple syrup, we mean the real stuff, NOT American pancake syrup!
Agave nectar
Agave nectar is much like maple syrup in that it is a naturally occurring sweetener and is not very processed. It has a gently sweet flavor and adds a nice kick of caramel, which actually makes for a great tasting cappuccino or latte.
Are coffee syrups healthy?
Did you know that a typical Starbucks Caramel Frappuccino is just shy of 400 calories?
400 calories is a lot, considering that a large chunk of those calories are coming from sugar. Too much sugar is never a good thing, and in some cases, people may choose to avoid sugar as much as they can.
That's where we run into a bit of an issue, and you need to be careful.
When you buy your syrup, make sure to check the label to see if it contains sugar or is sugar free. Even if it is sugar free, some sweeteners are not exactly good for you, and other sweeteners are slightly better.
Some sweeteners are also gluten free, which should be written on the label or in the product description if you are buying online.
Adding syrups can quickly skyrocket the calories in your coffee from near zero to over a couple of hundred, so it's best to decide wisely whether you can a) afford to have the calories and b) you want to have so many calories.
For most people, moderation will be fine.
However, this is not medical advice! You should consult your doctor or healthcare provider if you have any doubts, questions, or before making any major lifestyle changes.
Making coffee syrup at home
In case you run out of coffee syrup and need a fix, or if you prefer going the natural way and avoiding processed foods as much as possible, you can easily make coffee syrup at home.
The most popular homemade coffee syrup is probably french vanilla, but the basic idea behind a syrup is the same, and if you want to mix things up, just replace the vanilla with a dash of peppermint concentrate or whatever other flavor you want.
Making syrup is really easy: you just need to combine sugar and water(some use a 1:1 ratio, others use slightly more sugar) and toss in a vanilla bean as you whisk it over a flame until the sugar dissolves and you're left with a syrup.
Then you just remove it from the heat, add a touch of vanilla flavor, and let it cool before pouring it into a mason jar. Syrups like these will usually keep for a week.
You can even use them for making vanilla sodas and other concoctions, too!
For a good vanilla coffee syrup recipe, check out this one from My Baking Addiction.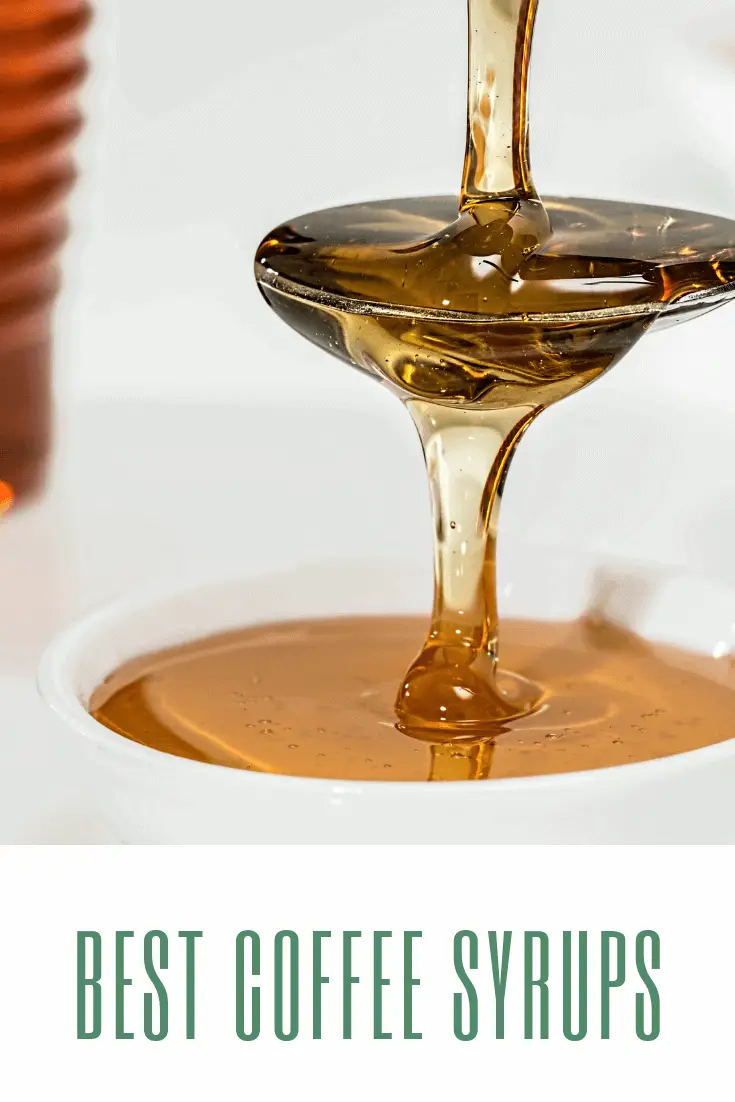 Last update on 2022-08-26 / Affiliate links / Images from Amazon Product Advertising API