Undoubtedly, coffee is one of the world's most popular beverages and an integral part of our everyday lives.
Over the years, many flavor combinations have emerged, such as sour, salty, fruity, and chocolatey, making it difficult for coffee lovers to pick their favorite.
Still, chocolate coffee always comes on top when we think about the perfect comfort drink.
There are many ways to add chocolate flavor to your coffee, but not all of them will give you the same rich and creamy taste.
That's why we've rounded up the best chocolate-flavored coffees on the market, so you can indulge your sweet tooth without sacrificing flavor.
From intense dark chocolate to lighter milk chocolate varieties, let's take a look at our top choices.
How can Coffee Taste Like Chocolate?
A couple of factors can contribute to a coffee's chocolatey taste. Here they are explained in more detail.
1. Roasting process
There are many different ways to roast coffee. Some coffees are roasted for a shorter time, resulting in a "light roast," followed by a "medium roast."
These stages of roasting yield varied tastes in the coffee and emphasize or mask various elements of the coffee's origin.
A medium-dark roast is often used in making coffee with chocolate notes. This is because a roast that is too light will not allow the sugar in the coffee beans to caramelize fully, resulting in insufficient toasted cacao and chocolate flavor expression.
In contrast, an overly dark roast will "burn" the chocolate flavors of the coffee bean and cover its original taste.
2. Origin of Coffee Beans
Beans from higher altitudes, such as those from Guatemala, Colombia, and Brazil in Central and South America, are your best shot for coffee beans that will taste like chocolate.
In those countries, the coffee has a distinct chocolate flavor reminiscent of cacao powder added to each cup.
Also read: Best Coffee Beans in 2022
Factors to Consider When Choosing Chocolate Coffee
With so many different products on the market, it can be hard to know which one to choose. Here are five factors to consider when selecting the best chocolate coffee:
1. Type of chocolate
There are three main types of chocolate: dark, milk, and white. Each type has its distinct flavor and aroma, which complement coffee differently.
For example, dark chocolate has a strong, rich flavor that can be overwhelming when paired with a weak coffee.
On the other hand, milk chocolate has a creamy sweetness that can balance out the bitterness of coffee. White chocolate is the sweetest of the three and can provide a lovely contrast to a rich coffee.
2. Cacao content
If you want your coffee to taste like chocolate, choose beans with a high cacao content. The cacao bean gives chocolate its distinct flavor – the higher the cacao content, the more pronounced the flavor.
When choosing a coffee with a chocolate flavor, look for one with at least 60% cacao. Any less than that, and the coffee will likely taste more like traditional coffee than chocolate.
3. Origin of the Beans
The soil in which the beans are grown, and the climate and elevation can impact the coffee's flavor.
For example, beans grown in high altitudes tend to be more dense, resulting in richer and more full-bodied coffee.
In contrast, beans grown in low altitudes are typically lighter in color and have a brighter flavor.
4. Roasting level
Lightly roasted beans tend to be more fruity and acidic, while dark roasted beans are richer and have more body.
The roasting level can also influence the amount of chocolate flavor in a coffee. For instance, beans roasted on the lighter side taste more like chocolate than dark roasted ones.
Top Choices for Coffee That Tastes Like Chocolate 
Below, you will see our top seven choices for coffee that tastes like chocolate. 
Editor's Choice: Gevalia Chocolate Mocha Ground Coffee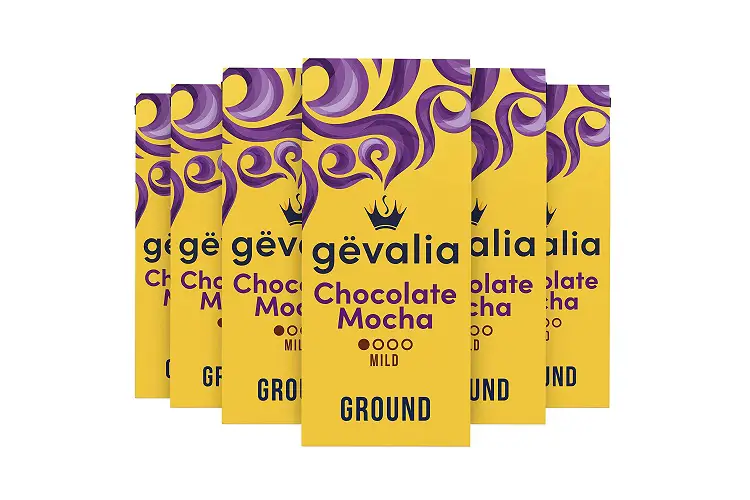 Size: 12 ounce
Flavor: Chocolate mocha
Roast: Light roast
The Gevalia Chocolate Mocha Ground Coffee is made with 100% Arabica beans,  infused with the tantalizing taste of chocolate.
This chocolate-tasting coffee is a smooth, velvety blend made with a rich mocha flavor. It is made from coffee beans from various corners of the world, roasted to perfection to create a rich, full-flavored coffee.
Moreover, the Chocolate Mocha coffee by Gevalia is compatible with all coffee makers and comes in a resealable bag with a fresh lock tin tie to retain flavor and aroma.
Runner-Up: Illy Classico Espresso Ground Coffee with Notes of Chocolate & Caramel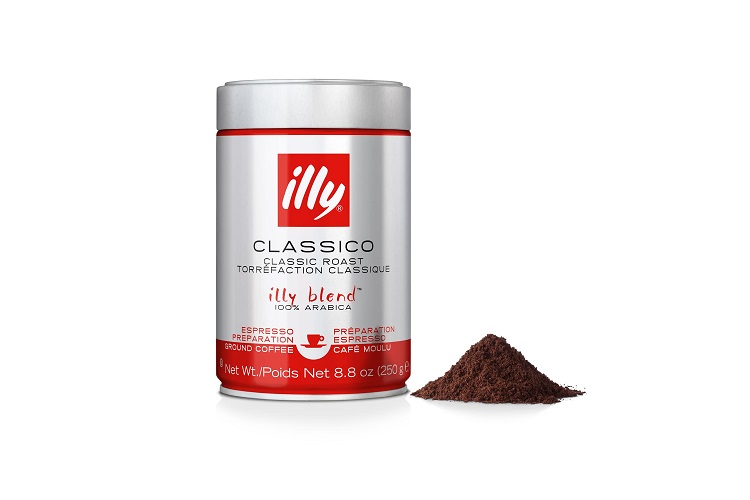 Size: 8.8 ounce
Flavor: Chocolate caramel
Roast: Medium roast
The Espresso Ground Coffee with Notes of Chocolate by Illy is our runner-up for the best chocolate coffee on the market.
Its bold, aromatic, and nutty taste with notes of caramel and chocolate made it a popular choice among coffee drinkers.
It's also made with fine medium-roasted Arabica beans, so there's no unwanted "burnt" taste.
Illy's exclusive pressurized packing keeps the coffee fresh and maintains its flavor and quality for a more extended period.
Best Value for Money:  La Crema Coffee Chocolate Raspberry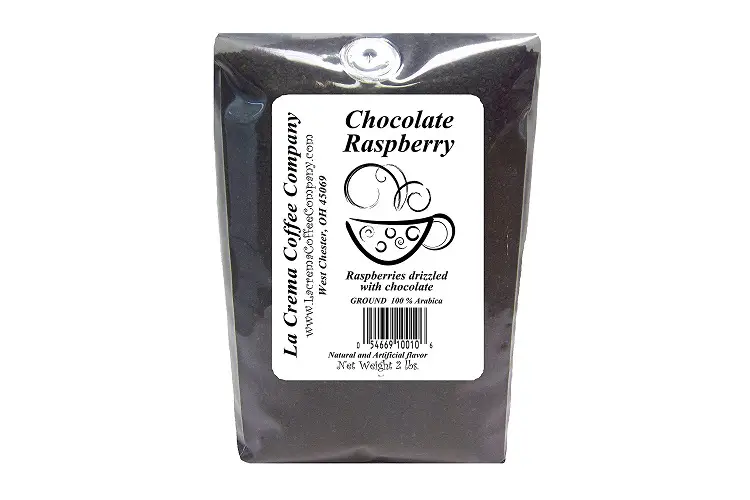 Size: 32 ounce
Flavor: Chocolate raspberry
The La Crema Coffee Chocolate Raspberry coffee is a great way to introduce yourself to the world of high-quality, delicious dessert coffee.
It's made with 100% Arabica beans, infused with chocolate and raspberry flavors. 
And for the health-conscious out there, this La Crema will allow you to enjoy your favorite flavored coffee guilt-free. Their flavored coffees are allergen-free, sugar-free, and only 2 calories per cup.
Lastly, it comes in foil packaging to keep your coffee fresh and flavorful for longer. 
Alternative 1:  Andes Coffee Chocolate Mint Ground Coffee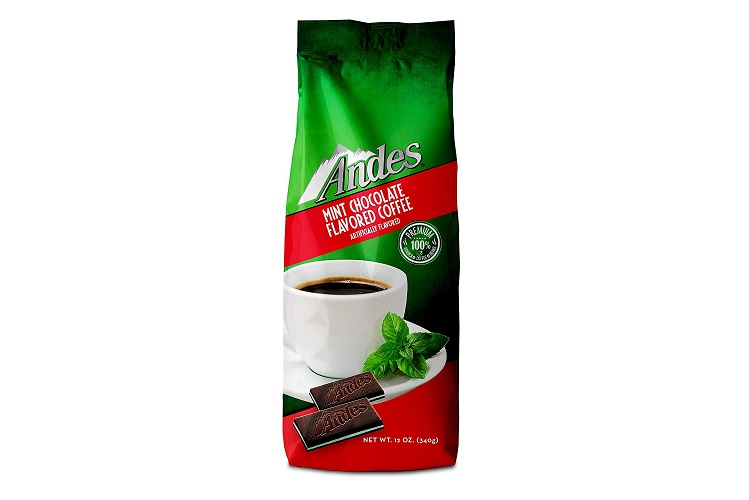 Size: 12 ounce
Flavor: Chocolate mint
Roast: Medium roast
The Andes Coffee Chocolate Mint Ground Coffee is made with 100% premium Arabica coffee beans roasted in-house to perfection.
The beans have always been blended with Andes mints and chocolate flavor to create a delicious and unique flavor that coffee lovers like you will adore.
Andes Coffee Chocolate Mint Ground Coffee is perfect for the Christmas season! It's a great way to warm up on a cold day, and its unique flavor will get you in the festive spirit. 
Alternative 2: BARNIE'S COFFEE TEA CO. Chocolate Flavor Arabica Beans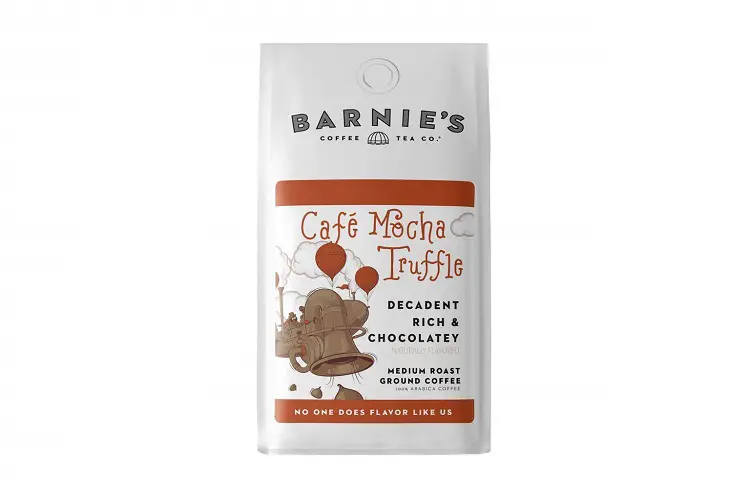 Size: 12 ounce
Flavor: Café Mocha Truffle
Roast: Medium roast
BARNIE'S COFFEE TEA CO. Chocolate Flavor Arabica Beans coffee is another suitable choice for chocolate lovers looking for a rich and decadent coffee confection.
Sourced by high-quality beans, mid-roasted to perfection, are what makes this coffee such a hit with coffee lovers around the world.  
Its rich aroma, creamy mocha nut fudge flavor, and specialty South and Central American blend make a truly unique and delicious coffee experience.
Lastly, this coffee is free of gluten, fat, sugar, nuts, and derivatives. It's also low in acidity, making it easy on the stomach. 
Alternative 3: Coffee Masters Flavored Coffee
Size: 12 ounce
Flavor: Chocolate
Roast: Medium roast
The Coffee Masters Flavored Coffee is made with 100% Arabica ground coffee that is freshly roasted without any added artificial flavors.
Their coffee beans are sourced from notable growers worldwide and roasted in small batches to ensure freshness.
With their nitrogen-flushed bag, you can be sure that the coffee retains maximum freshness. You need not worry about your coffee beans going stale.
The nitrogen-flushing process preserves the flavor and aroma of the coffee beans so that you can enjoy a fresh cup of coffee at any time.
Alternative 4: Queen City Chocolate Raspberry Coffee
Size: 12 ounce
Flavor: Chocolate raspberry
Roast: Medium roast
Queen City's Chocolate Raspberry coffee is exactly what it sounds like – a delicious cup of coffee with the flavors of chocolate and raspberry.
This coffee is perfect for those who enjoy a little sweetness in their cup. The rich chocolate flavor pairs perfectly with the tartness of the raspberries, creating a deliciously balanced cup of coffee.
This coffee is not only delicious but also has a great aroma. It is perfect for breakfast or an afternoon break. Lastly, it can be consumed hot or iced, making it an excellent choice for summer and winter. 
Conclusion
We hope you enjoyed our exploration of the best coffee that tastes like chocolate. It's important to remember that taste is subjective, so what we consider the best may not be the same for you.
As with all things food-related, it's always a good idea to experiment until you find the right fit.
With that in mind, we encourage you to try out some of the brands and roasts we mentioned and see which one gives you that delicious chocolate flavor you're looking for. Let us know how it goes!
Chocolate Coffee – FAQs
Below, we will answer some of the most burning questions regarding chocolate coffee.
How do you make coffee taste like chocolate?
To make the perfect blend between coffee and chocolate, you have to find the right balance of flavors. Start by choosing a coffee that has rich, chocolatey notes.
Next, add a small amount of sweetener to taste. You can use sugar, honey, or even chocolate syrup. Finally, add a touch of cream or milk to round out the flavors. Give your coffee a good stir, and enjoy!
With a little trial and error, you'll be able to find the perfect combination of ingredients to make your coffee taste like chocolate heaven.
Which coffee tastes most like hot chocolate?
There are seemingly endless flavor combinations to choose from when it comes to coffee. If you're in the mood for a cup of hot chocolate, a few coffee flavors will fit the bill. 
Chocolatey coffees tend to be sweeter, with notes of caramel and vanilla. Some brands add cinnamon for an extra kick of flavor.
If you're looking for a lighter cup of coffee, try a coffee with hazelnut or almond flavoring. These coffees have a nutty taste and pair well with chocolate.
Why do coffee and chocolate go well together?
Chocolate and coffee are two of the most popular flavors worldwide, and they pair perfectly.
One of the reasons why they go well together is because coffee has a robust flavor, and chocolate can help to mellow it out.
The rich, bold taste of coffee pairs well with the sweetness of chocolate, and the two flavors complement each other beautifully. Chocolate also has a complex flavor profile that pairs well with the bitterness of coffee.
In addition, coffee can help to enhance the sweetness of chocolate. Also, coffee and chocolate contain compounds that can boost your mood and energy levels.
Last update on 2023-08-30 / Affiliate links / Images from Amazon Product Advertising API