If your loved one is a coffee lover, then gifting them with a coffee maker or coffee pods, some subscriptions to famous coffee brands , or coffee accessories are some of the best gifts you can surprise them with.
You can help them make some coffee and make their day. Coffee lovers are pretty serious about their drink. Starting from the aroma to the taste – everything appeals to a coffee aficionado.
Below is a detailed list of our favorite things that you can choose to gift coffee lovers. We have organized these gifts under several categories. You can directly choose a gift by searching in the category you want.
Coffee Subscriptions
Coffee subscriptions are always a very good idea to gift a coffee-obsessed friend or a colleague. Subscriptions allow you to gift them what they like and more over allows them to choose too. And definitely coffee lovers know more about the coffee and their preferences.
Trade Coffee Subscription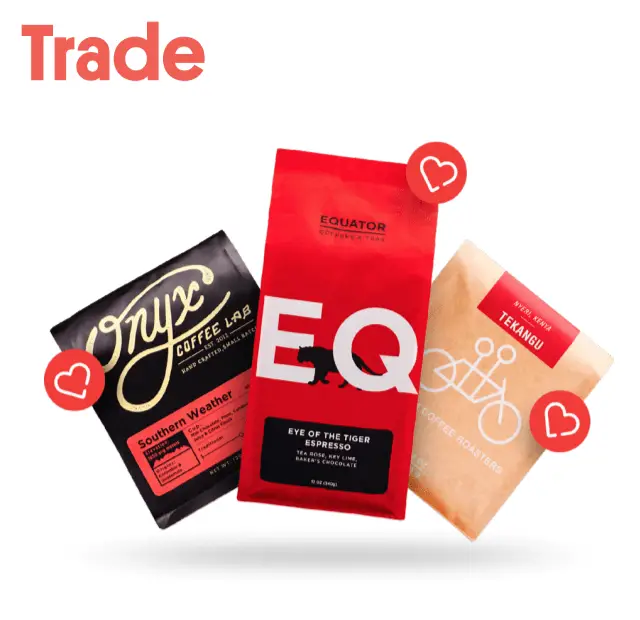 Trade Coffee curates the best coffee beans from craft roasters all over the country. They have a very unique gifting program too, so you can either choose to gift coffee beans, tumblers, or a variety of other coffee products.
Atlas Coffee Subscription
Atlas Coffee Subscription is the most popular and most famous out of all coffee subscriptions. An Austin-based roaster Atlas Coffee Subscription is endorsed by the likes of USA Today, Food & Wine and The Boston Globe – and this alone is enough to make you realize their command over the coffee lovers community.
Atlas Coffees are  popular as they allow you to taste coffees from around the world. If you choose an all year all over the world subscription – you might receive coffee form Kenya in the first month and directly from India in the second month.
They are not just in demand because of several coffee categories they allow you to choose from, but also for the various subscription plans that you can sign up with them. You can add all types of filters and modify the subscription plans to your like.
Coffee lovers love Atlas Coffee Subscriptions – because the company not just send them their liked products. Instead a gift voucher from Atlas will have a post card from the one who is sending them the gift, all the background information about the coffee the voucher contains along with brewing tips! These all every month!
Driftaway Coffee Subscriptions
Driftaway Coffee Subscriptions allows you to gift coffee to the loved ones – along with some charity like activities. The company's headquarter is in Brooklyn – and their mission is to connect coffee growing farmers directly to the consumers. So you take part in the sustainable development program when you gift a Driftaway Subscription.
Like The Atlas – The Driftaway too allows you several personalized subscription plans – where you can modify and match the pack according to what fits your loved ones the best. Subscription Pack prices start from as low as $44, and you can select the size, frequency and length, of your selection!
Driftaway Subscriptions can be gifted to a large geographical base. The company reaches over 40 countries all over the world.
Mistobox Coffee Subscription
The best thing about a Mistobox Coffee Subscription is that the giftee gets to personalize the gift box according to his or her preferences. What more can you gift a coffee lover? You as a gift giving individual just need to sign them up and pay the bill.
Mistobox will ask them some questions about their preferences, and will send their favorites at subscription intervals. The best part is that – they can choose from 516 different coffees from 50 roasters. And the subscription does not even leave a whole in your pockets – it costs less than 11 dollars.
Whole Bean Coffee
Jamaica Blue Mountain Beans
100% Blue Mountain Pea Berry Coffee is an exotic experience for coffee lovers. And JBM (Jamaica Blue Mountain Beans) makes this rarity possible. Wallenford Estate in Jamaica are certified to grow this kind of coffee beans and Volcanica Coffee Company is the only known collector and supplier of blue mountain beans.
You can select from 4 enchanting flavors – orange, floral, crisp chocolate and mint. Volcanica Coffee Company sends these beans along with tasting and flavor notes.
Nossa Familia Coffee
Nossa features a Sampler Box Set containing 4 ounces of whole bean Brazilian coffee. So if your coffee lover craves for strong African coffees – than go for the Nossa Familia Coffee. As a company they are very reputed and are known for originality in taste and farming organic chemical free coffees.
Although there are two things you need to consider before making a purchase. Firstly you don't get ground coffee option for this set -and you can only order this pack online. Currently Nossa don't sell this pack at their physical stores.
Good Morning Gift Box
Four handpicked artisans coffees from the Pacific Northwest's finest coffee roasters along with
two biscotti cookies,
two Dutch stroopwafels,
two pouches of gourmet granola,
and 2 artisan crafted preserves for spreading and dipping.
Do you need anything other than these for a perfect morning breakfast? We highly doubt! You can add a personal note for if you are gifting a coffee lover for – a nice finishing touch.
All the above listed delicacies – are included in a Good Morning Gift Box by Bean Box. And all these come in 19 dollars because of a limited time deal that Bean Box is running on online purchases – if you order now.
Chocolatier Ground Coffee Variety Set By Godiva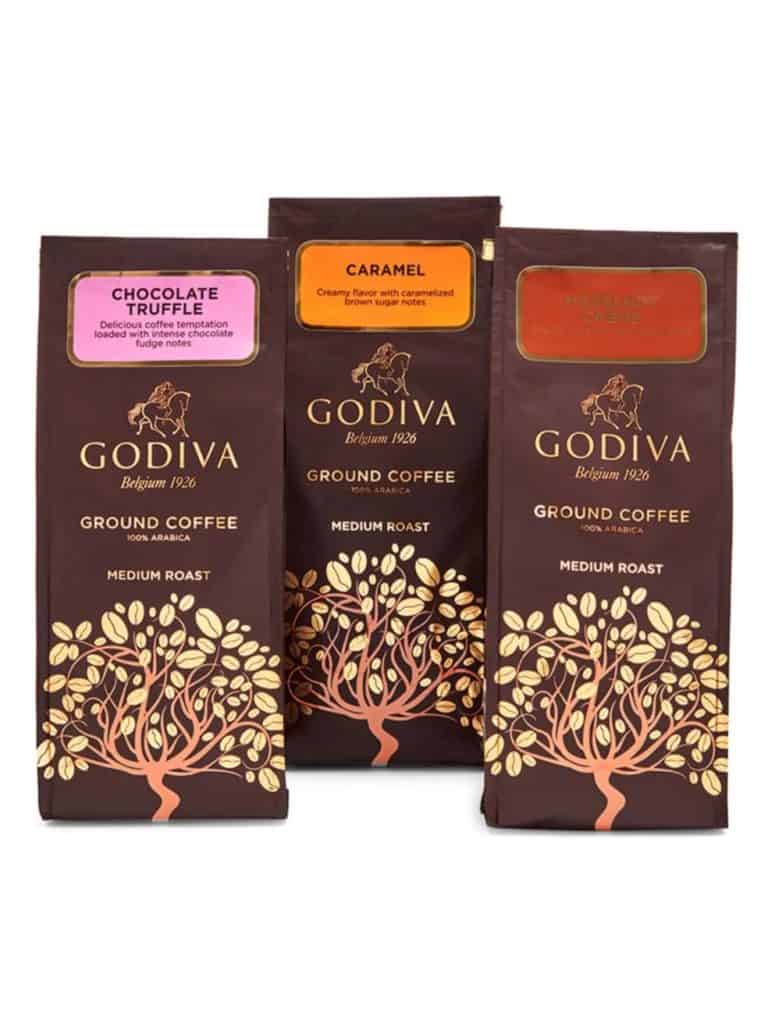 Coffees infused with chocolate flavors! This in itself is a delicacy. The Chocolatier Ground Coffee Variety Set includes three medium roast coffee beans packs. These coffee beans are soaked in chocolate truffle, caramel and hazelnut creme flavors. The taste is exotic and this gift set beats regular, not-chocolate-flavored grounds any day.
Godiva is a reputed chocolate manufacturer. The coffee beans by Godiva are exceptional in terms of quality and taste. The selection process for the beans is very perfect. They cultivate the beans at their peak of freshness. The beans are then permeated by Godiva's chocolate flavors and then sealed instantly.
Coffee Makers
Bialetti Moka Express

Cup Stovetop Coffee Maker
A small carry along coffee maker makes one of the best gifts for coffee lovers. You can brew two cups of strong and rich Espresso with this Bialetti Express Cup.
This stovetop is not just in use when you are out on recreational trips. In fact it is a must for small households, bachelors and college goers. You don't need to invest hundreds in costly Coffee Makers when you can get your coffee maker in less than a quarter hundred dollars.
Soma Brew Bottle
If you want an infusion of the Ember mug and Bialetti Coffee Maker – than gift this Brew Bottle by food52.  This Some Brew Bottle is a reusable double-walled glass bottle with a stainless steel filter that lets you easily brew hot or cold coffee. Further you can cap the bottle and use it like a thermos. So basically it is a coffee maker + a travel mug + a thermos.
The bottle allows you to brew hot and cold brew both.
Wacaco Minipresso – a Portable Espresso Machine
Wacao Minispresso is almost same as food52's Brew Bottle with some improvements. The Espresso Machine is Compact and very lightweight. And the most fascinating feature about it is – the way coffee is produced in this machine. –
You need to fill the machine with water and ground coffee and do some basic pushing. The machine comes with a semi-automatic piston and as you push small quantities of water are injected into the coffee adapter. After a few more pushes extraction pressure is achieved and you are handed with a rich and bold espresso.
More than the machine's design – the way of producing espresso will appeal to coffee lovers!
Aeropress Coffee and Espresso Maker
Same as the above two Portable Coffee Makers – this Aeropress Espresso Maker too makes a beautiful gift for coffee lovers. An important upgrade in this Coffee Maker is its speed. Unlike the above two – this coffee maker brews regular American style coffee in just 30 seconds!
You can use this brew lattes and other espresso based drinks. The machine delivers around 3 regular size cups in one press.
If you want coffee and want it fast then go for this one. Even the cleaning process is super fast which just needs a quick rinse and press.
Bodum Chambord French Press Coffee Maker
One more coffee maker – for your choice. The difference between this one and the one reviewed earlier (Aeropress) is that this one brews french coffee while Aeropress is just for American Style Coffee. Although the process is not as fast as Aeropress – but it is simple. You need to add course ground coffee, hot water and press and in four minutes the coffee maker will brew french coffee for you.
The best part about this product which makes it unique among other coffee makers – is its 3-part stainless steel plunger which has a mesh filter. Paper filters are unable to extract coffee's natural aroma and oil. Where as mesh filters do not allow to lose the flavors and taste of natural coffees.
OXO Cold Brew Coffee Maker
This 4 Cup (32 ounce) capacity coffee maker – will brew both cold and hot coffee alike. It is known as a Cold Brew coffee maker because it's specially designed Borosilicate glass carafe with stopper keeps coffee cold and fresh (when refrigerated).
This coffee maker is a must in every coffee lover household. It can brew over 14 cups of coffee and comes with a stainless steel mesh filter which preserves the aroma and flavor of the coffee. Although the brewer comes with 10 Paper Filters but try avoiding them as the stainless steel filter is always best for coffee filtration.
Chemex Pour-over Glass Coffeemaker
Made up of non-porous Borosilicate this sleek, glass-blown coffee maker is a treat to eyes like the coffee brewed in this jar is a treat to the tongues.
The coffee maker has an antique jar appearance. This is not just a coffee maker but also serves as a thermos. And the best part is that the closing mechanism is such that it retains flavor of your coffee for hours. Remember if you are gifting this pour over glass then gift these bonded filters FP-1, FC-100, FS-100, FSU-100 along with this product.
So even if you brewed your coffee hours earlier the taste will be fresh and the aroma the best as the glass does not absorb odors or chemical residues.
Brew Book + Press Gift Set
Gifting just coffee book to a coffee lover without some real coffee seems incomplete. "Better Coffee At Home" is a 160 pagesbook by Brian W. Jones. It is a renowned coffee recipe book – and this set comes with refined pour-over coffee press.
The book has all the information you need about pour over, French press and moka pot and other coffee based drinks. It also sheds light on how to buy good coffee beans and how to select best brewing equipment according to your preferences.
The coffee press contains 3-in-1 brewer featuring tempered glass, stainless steel, ceramic material.
16 Pieces Turkish Greek Arabic Coffee Making Serving Gift Set for Two
If your coffee lover is more into traditional artifacts – then go for this Bosphorus Turkish Set – which includes a coffee maker and serving cups saucers and plates. All the parts showcase Arabic Turkish designs and are copper colored.
The set also includes 2 X 3.3 Oz Premium Mehmet Efendi Coffee – and Turkish coffees are a delicacy. Although the brewing method remains traditional and is unlike the press methods – the coffee's taste is not compromised.
If you don't want to gift the whole set – then you can just go for the brewing pot.
Camp Cafe Coffee Maker
Want to gift the coffee lovers when they are leaving for recreational trips? This camp coffee maker includes a 12-cup coffee maker. You can boil water, filter ground coffees and can even use this to strain other eatables like pasta and rice.
The kettle can boil 2.5 liters of water and features FluxRing technology for boiling water twice as fast as other kettles. And the best part is its compact nesting system. The camp coffee maker packs up very small making it very portable and apt for transport and storage.
Clever Coffee Maker
If you want an inexpensive coffee maker – and want to please your coffee fan too – then go for the Clever coffee brewer. It is a BPA-free plastic made simple coffee maker – with a larger sized reservoir which can hold 18 fluid oz.
Clever brewer comes with an exclusive coaster and lid and one bonus filter. For extra filters you will have to pay some more dollars.
Available in 3 color options – Clear, Cloud and Java – the machine looks elegant. The brewer is perfect for manual brewing lovers and those who prefers mechanical coffees over machine produced ones.
Costa Rican Handmade Portable Foldable Wooden Stand Coffee Maker by Chorreador
Costa Rica is Mecca for coffee lovers. And this handmade coffee maker by Chorreador will give you the traditional feel of Costa Rican brewed coffees.
The brewing method does not need any mechanical presses or electrical churners. You simply need to  pour boiling water slowly through the reusable cloth filter which will hand you one cup of streaming traditional cup of sensually soothing coffee.
It is not just a coffee maker – instead it also serves as an antique decorative piece – highlighting your love for coffees. The Handmade coffee maker is made up of  original Costa Rican Gmelina wood which is light and durable. The exterior is hand painted showcasing beautiful Blue Morpho Butterfly Art.
Assorted Coffee Gifts
Ember Temperature Control Smart Mug
The Ember Temperature Control Smart Mug is something very unique and very innovative. Coffee Lovers are very specific. A single degree up or down coffee shows up on their faces.
The Ember smart mug allows you to keep your coffee at your exact preferred temperature (between 120?F – 145?F). The innovative part is that it is a smart mug – which makes it enable to pair with your smartphone. You need to download the ember app and then you can set your temperature, customize presets, receive notifications and do much more while sitting on your desk!
Organic Coffee Maple Syrup by Bushwick Kitchen Trees Knees
Another addition to coffee + chocolate products is this coffee maple syrup which is just great on ice creams, doughnuts, bacon, and pancakes. The good part about this syrup is that it is organic and all types of chemical free. This makes it a healthier and a tastier alternative to sulfuric sugars.
The syrup comes infused with Stumptown Coffee Roasters Hair Bender Blend, and consists of following flavors – dark chocolate, cherry, toffee, and fudge.
The versatility of its uses – makes it an all time favorite. Your coffee lovers can use it as a syrup, as a meat or fish marinade and even to flavor some cold slush and drinks.
Dipped Coffee Bean Foodie Necklace
This necklace by uncommon goods must be the most uncommon and elegant gift ever for a serious coffee lover. "A real coffee bean is harvested and dipped in 24k antique gold for a moment frozen in time". Coffee Bean + Hand Harvesting + Gold + Jewelry – all these makes this actual something to flaunt about.
Michale Dancer – the producer of this necklace describes her work as something "elevating nature?s designs and bringing natural beauty into people?s homes as keepsakes and heirloom gifts.?
The necklace is made from copper, a 14k gold filled chain, 24k antique gold, and a real coffee bean. The bean pendant measures 0.5″ L while the chain is 18" L.
Coffee Molecule Necklace
Infusing food, chemistry science and fashion – this is an state of the art necklace. It features caffeine?s chemical structure and looks fabulous. Even for those who do not understand chemistry – the design is eye catching. If you want something different than hearts and love arrows – then this is actually something unique.
You can gift this beautiful necklace to any female – who is a coffee lover and has a taste for fashion. Be it your friend, mother, sister, aunt or any other female counterpart.  Let the love for caffeine dangle from their necks.
The necklace features a 2? x 1.5? x 19? chain with an easy-to-use lobster clasp closure and is available in rose gold, gold, carbon black and silver colors.
Coffee Joulies
This is something very innovating, scientific and just fascinating. Before reviewing it here – we have ordered a pack for ourselves.
What is a coffee joulie and how does it work? Coffee Joulies are used to control temperature of your freshly brewed coffees. When you are served with severely hot coffee – there is a high chance of tongue burns. Coffee Joulies are made with an advanced phase change material that melts at 140?F.
They absorb heat when the coffee is too hot. When your coffee reaches your ideal drinking temperature the absorbed heat in the joulies then ensures that no further heat loss takes place – maintaining your coffee at your drinking temperature.
These Coffee Joulies are designed as original coffee beans and has gained a lot of popularity and coffee lovers attention. The joulies were on Shark Tank! And below is a review about the product from "Cooks Illustrated" –
"The mug with the Joulies rapidly cooled to 140 degrees and held steady for 2 hours"
Bali's Best Assorted Coffee Candy Jar
Coffee Candies still remain the favorites – be it a candy lover or a coffee lover. And it is a pleasure to buy a coffee lover – chemical free and 100 percent natural Espresso and Latte Candies from Bali Made with real Sumatran coffee.
Bali is known for coffees and cocoas. And mixing them both Bali's Best brings forth this assorted coffee candy jar which contains 300 candies. 100 Bali's Best Coffee Candies, 100 Bali's Best Espresso Candies, and 100 Bali's Best Latte Candies.
A coffee's mug will last for 5 minutes while 300 candies will at least last two months. And you get one jar in less than 20 dollars whereas a bulk purchase of 2 jars costs much less than 35 dollars.
Coffee Scented Soy Candle
The way drinking coffee pleases the tongue – its aroma pleases the senses. Scented Soy Candles are perfect to fill coffee lovers houses and work spaces with a sweet espresso Scent which has notes of Dark Roasted Coffee and Chocolate.
These candles cone in premium glass jars and are chemical free – preventing toxins to go inside your bodies. The best part about the product is that it comes with 2 wooden wicks. One crackles as it burns – giving a fireplace effect.
A single soy candle burns for 60 hours – and if you don't like the smell or not satisfied with the product then you can replace it within 30 days of delivery. The company will give you a full refund for the product.
Coffee Scented Badass Beard Balm For Men
Beard Balm in Mocha Coffee flavor! This is something new. For all the coffee fanatics – who want to smell Mocha all day long – this is an exclusive gifting product.
Beard is the new fashion. In several different styles – this Beard Balm will hold your beard intact, softening the hair and also hydrating the facial skin. The cream also promote growth of the beard if you fancy long flowing hairs.
Guatemalan coffee beans hand picked and roasted locally hours before they are infused in this Balm. This gives the balm a very pleasant and strong aroma. The fragrance of this balm also has notes of chocolate and vanilla.
OE LIDO 3 Manual Coffee Grinder
Grinding coffee is a wonderful experience. Drinking your own grind coffee is a start to end process. The OE Lido Manual burr coffee grinder makes this possible. The grinder is conical in shape, compact and is Swiss made.
For proper grinding process – read the instruction manual. Instruction manual is included in the kit.
Assemble and disassembly is very convenient (Because generally people don't grind coffee because of inconvenient grinding processes). You can grind 70 grams or 10 table spoons of coffee in one grind.
OE Lido 3 set comes with a cleaning brush, an assembly tool, a rubber stopper and a Zip Close Travel Bag.
Milk Frother by PowerLix
This is an idea and probably the most useful gift for coffee loves who prefer creamier milky coffees.
This handheld machine is battery operated. You just need to heat up the milk, and immerse the espresso maker into the cup. The machine will instantly create creamy froth above the milk and in 15-20 seconds your coffee latte or cappuccino will be bathed in milk frost.
Quality, appearance, performance and small parts – all are manufactured to perfection allowing you to froth other liquids too besides hot milk.
PowerLix offers a 100% LIFETIME WARRANTY with this milk frother and even gives away a free bonus e-book with this purchase.
Coffee Gator Pour Over Kettle
When brewing coffee – every step should be a perfection. From selecting the coffee beans to roasting them to boiling water at perfect temperatures. If the becomes too hot – you will have a burnt coffee taste – and if it is left cold then the coffee will never reach the full flavor potential. For perfect boiling you need a kettle specially designed for coffee water boils having a built-in temperature gauge .
Gator Pour Over Kettle features a perfect structure. The kettle is made up of premium-grade stainless steel with a goose-neck spout for steady water flow and is suitable for all stove-tops including Induction tops. Even the design is elegant. Some refer this kettle as – "The Lamborghini of the coffee world."
Where to Drink Coffee: A must have coffee book
A coffee lovers coffee table – desires a coffee book. "Where to Drink Coffee" is a must have. The book has all the details about coffee shops in all US cities. It covers 600 famous coffee stores in 50 popular cities and this collection comes from 150 baristas and coffee experts. All these places are a must visit for a coffee lover.
You cannot compensate this book even to google maps. All the major news reporters and magazines have reviewed this book. We put forward one review from : Acquire
"It's the only guide you need to get the best coffee in memorable global locations."
A History of the World in 6 Glasses
Want to gift a nerdy coffee lover something to show how cups of coffees affected the course of history? Then gift this book which is simply written but delivers a strong caffeinated essence about the history of the world. The book is both a fun and informative read.
This 336 pages book comes from the author of the best sellers like – the Victorian Internet and the Neptune File and covers world history starting from stone Age up till the present times.
New York Times reviewed this book in the following words:
?[A HISTORY OF THE WORLD IN 6 GLASSES] is loaded with the kind of data that get talked about at the figurative water cooler…Incisive, illuminating and swift.?
Coffee Ice Tray by Fred Cool Beans
Cold Coffee gets diluted if you add regular water frozen ice cubes. To a normal coffee drinker this will not matter – but to a coffee lover – even a little dilution in the taste – completely cancels out the satisfaction of a cold coffee beverage.
This Ice Tray – is not for water frozen ice. It is meant to freeze all flavors of coffee -latte, mocha, or espresso. The coffee ice cubes enhance the flavor and the temperature of your cold refreshment.
The tray is made up of durable silicone and you can pull out 8 cubes of frozen coffee from a single refrigeration. The plates come in many different shapes – which will guarantee smiles on your coffee lover's face.
Coffee Brewing Alarm Clock by Barisieur
Coffee lovers – want coffee the first thing in the morning. A gulp of freshly brewed coffee on their coffee beds – is like drinking Elixir!
Joshua Renouf, product designer and founder of Barisieur has designed something which makes waking up to next to the smells and sounds of freshly brewed coffee possible – The Coffee Brewing Alarm Clock.
This state-of-the-art machine begins its brewing process according to your preferences and alarms you at your waking up time – next to a hot cup of coffee. You can adjust the volume and other settings – however suits you.
Coffee Canister and Coffee Gator
Storing premium coffees in plastic bags affects their freshness. Most of the times due to air exposure the coffee becomes stale. Gifting your coffee lover this canister and gator is a very valuable option.
The gator features a one-way valve to let CO2 diffuse in the air as coffee beans degas keeping the beans roaster-fresh. The canister and gator both feature date trackers – to set your next purchase date –
These two are not perishable products – and becomes a lifetime gift. Coffeegator.com describes this product in the following words –  "looks the bee's knees and loves your tea and coffee like a Kardashian loves a selfie."
A handy set of coffee clips
These stainless steel made – set of clips become a very handy gift. Even the costliest coffees go stale when exposed to air. And sealing coffee bags is always an issue. These clips actually make your coffee bags air tight containers.
The set also comes with a scoop and two variable sizes clips. You can scoop the coffee grounds and even clip your sugar bags and other favoring spices bags – along with the coffee bag.
The set is premium quality manufactured and as it is steel so you need not to worry about rusting. This set might be the most economic gift you can choose from all the coffee gifts available in the market.
Behmor Customizable Drum Coffee Roaster
Roasting Coffee is as pleasurable as making a coffee drink for oneself. And roasting green coffee beans at home – gives the control of the aroma, flavor and coffee oils in the hands of the roaster. The best part about this large roaster is that it comes with a lighted interior so that you can view of the roast process yourself.
Behomor Drum Coffee Roaster – is not a small coffee roaster like the ones reviewed earlier. This can roast – up to 1 pound of coffee per batch, and is considered among large capacity home roasters. The size is just like a compact microwave – and the parts used are all quality ones. You can gift this to a whole family of coffee lovers – rather than gifting it to an individual.
Last update on 2023-11-23 / Affiliate links / Images from Amazon Product Advertising API