Recommendations
Find a curated list of our own coffee shopping list. You can find our picks for beans, gear, and accessories, all in one place!
Coffees
Volcanica Ethiopian Yirgacheffe
Volcanica's Ethiopian Yirgacheffe coffee is organic certified, fruity, bright, and medium-bodied. It's a great pick for all tastes, and very budget-friendly.
LifeBoost Medium Roast
LifeBoost Coffee is low-acid and grown exclusively for them from a single region. The coffee is organic, mycotoxin-free, low-acid, and tastes great. It's more expensive than other coffees, but the taste is worth the cost.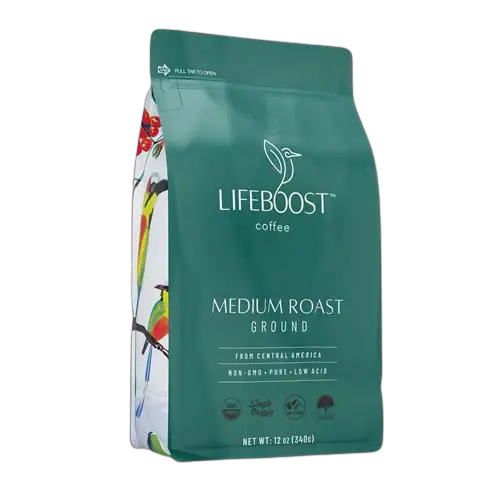 ---
Subscriptions
Trade Coffee
Trade Coffee sources coffee from the best roasters all over the United States. You can answer a short questionnaire and they'll pair you with a coffee that suits your preferences. They'll send you a new coffee every time and get your feedback on it to tailor your next bag. If you're a regular coffee drinker and want to try something new every time, this is the way.
---
Gear
Hario V60
The Hario V60 is the undisputed king of all brewers. It produces really delicious coffee and best of all, it's very budget-friendly.
Timemore Chestnut C2
The Timemore Chestnut C2 is one of the best manual grinders available. It has super-sharp stainless steel burrs and a handle design that makes it really easy to grind coffee beans in no time.
View on Amazon
Aeropress
The Aeropress is an amazing brewer that is incredibly versatile and portable. There are many different recipes you can try to produce varied cups of coffee every time.
View on Amazon
Bodum Pour Over Kettle
A good brew is better with the controlled pour of a gooseneck kettle. This electric model from Bodum is budget-friendly and high quality.
View on Amazon
---
Splurge.
Technivorm Moccamaster
The Technivorm Moccamaster is drip coffee maker royalty. It makes some of the best-tasting drip coffee, period. The temperature control and even water distribution make superb coffee.
View on Amazon
Last update on 2023-05-09 / Affiliate links / Images from Amazon Product Advertising API