Chicory coffees are arguably one of the best alternatives to traditional coffee. It's a healthier substitute for coffee beans and ideal for those who want to reduce their caffeine intake. 
Below you will find our recommendations for the best coffee made of chicory in 2022, featuring well-known brands and underrated gems. 
Health Benefits of Chicory Coffee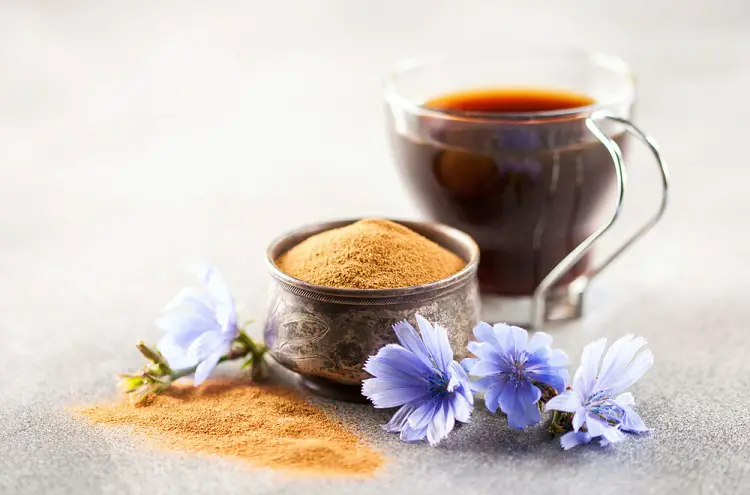 It has been established that coffee, especially espresso, has numerous health benefits. Even so, chicory coffees have several impressive health benefits that make it worth seeking out, more so  than regular coffee.
For starters, chicory coffee is an excellent prebiotic fiber source, which helps promote gut health by providing food for beneficial bacteria.
In addition, chicory coffee is rich in antioxidants, which can help to protect cells from damage and reduce inflammation.
More importantly, if you like to drink chicory coffee, it aids digestion and weight loss.
So if you're looking for an alternative to traditional coffee that packs a serious nutritional punch, chicory coffee is a great option.
What to Look for When Buying Chicory Coffee?
When shopping for chicory coffee, there are a few things to keep in mind. Some of those include:
Look for a brand that uses 100% organic, high-quality chicory root
When looking for chicory coffee, seek a brand that uses 100% organic roasted chicory root. Non-organic chicory can be sprayed with pesticides and chemicals that can harm your health.
By opting for an organic brand, you can be sure you're getting a chemical-free and healthier product. Organic farming practices are better for the environment, so you can feel good about choosing an organic chicory coffee brand.
Check the expiration date
Another essential thing to keep in mind when buying chicory coffee is the expiration date.
Unlike regular coffee, chicory coffee has a shelf life of around six months, so double-check the expiration date before purchasing any bottles. If the coffee has expired, it won't have that signature chicory flavor and may even make you sick. 
Note the grind size
When choosing chicory coffee, the grind size is one of the most important things to consider. The grind size will affect the flavor and texture of your coffee.
A finer grind will result in a smoother, more delicate cup of coffee, while a coarser grind will produce a more robust flavor. 
Best Chicory Coffee Brands
Below you will find our top picks for the best chicory coffee brands on the market. Go through them to find your next favorite.
Editor's Choice:

Community Coffee Chicory
Community Coffee – Coffee & Chicory Ground Coffee is an excellent alternative to regular coffee beans because it is a bolder, sweeter flavor than regular coffee alone.
It is also a perfect addition to chocolate desserts or complex multi-flavored desserts. The roast refers to the temperature at which the coffee bean was roasted. 
Remember, the roast determines the flavor of the coffee. Light roasts are described as 'sweet' or 'well-balanced,' while dark roasts are intense and lively.
Pros
One of the most versatile brands of coffee

It can be adjusted to your liking 

Full-bodied flavor 
Cons
The unique solid taste is not for everyone
Runner-Up: Cafe Du Monde Coffee Chicory
With its rich history, Cafe Du Monde Coffee Chicory is probably one of our list's top chicory coffee brands.  It is your quintessential New Orleans coffee because it is a product of the original French Market Coffee Stand.
The coffee is rich and flavorful, and the chicory gives it a unique New Orleans twist. The coffee is also ground fresh, so you can always enjoy a cup of hot, delicious Cafe Du Monde Coffee Chicory.
Pros
Inspired by traditional New Orleans coffee

Distinctive aroma 

Rich flavor
Cons
Best Value for Money: Anthony's Instant Chicory Root
Anthony's Instant Chicory Root is another recommended alternative to regular coffee, especially for those looking for a caffeine-free drink.
This powder is made from ground and roasted chicory root and provides a rich, coffee-like flavor without the caffeine jolt. 
Anthony's Instant Chicory Root is also gluten-free, non-GMO, and contains no other additives, making it a healthy and delicious choice for those with dietary restrictions.
It can be enjoyed hot or as a cold brew, mixed with coffee, or on its own
Pros
Good value for money (can serve about 113 uses per bag)
Cons
Earthy and bitter taste (not enjoyed by everyone)
Alternative: French Market Coffee – Coffee and Chicory
French Market Coffee – Coffee and Chicory is for coffee lovers who want to enjoy a delicious, bold cup of coffee with a hint of sweetness.
The medium roast and medium-dark roast coffee beans are blended with French chicory to create a unique flavor profile that is perfect for those who love New Orleans-style coffee. 
The handcrafted blends are made in small batches to ensure quality, and the company sources their coffee beans from the highest-quality Arabica beans to provide a rich, soulful flavor.
Not only does French Market Coffee – Coffee and Chicory taste great, but it is also committed to sustainable farming practices that help improve the lives of farmers and their communities.
Pros
Rich and flavorful taste

No bitterness 
Cons
Slightly acidic taste (not for everyone)
Alternative: Worldwide Botanicals Organic French Chicory Root
If you want a coffee alternative lower in acidity and caffeine, try Worldwide Botanicals Organic French Chicory Root. Sustainably harvested in Northern France, this roasted chicory root can be brewed by itself or blended with coffee.
100% caffeine-free, certified gluten-free, acid-free and Kosher, this prebiotic soluble fiber will help support probiotics and restore gut health. 
Pros
Less acidic 

Caffeine-free 

Smooth and rich taste
Cons
Can trigger some unwanted bodily functions
Alternative: CDM Coffee & Chicory
CDM Coffee & Chicory is a smooth, roasted chicory blended regular grind coffee with a strong flavor. It's perfect with the right amount of cream and is an ideal base for a cafe au lait. On a hotter day, it can be enjoyed as an iced coffee.
Certified Kosher ground coffee Café Du Monde is a roasted chicory blend with regular coffee following New Orleans traditions.
It has a slight sweetness and caramel-like undertones. Reily Foods, which makes CDM Coffee & Chicory, is a 4th-generation family-owned company that provides wholesome and authentic foods and beverages that create meals that bring family and friends together.
1/2 cup of CDM mixed with 1/2 cup of hot milk creates an excellent version of New Orleans' favorite coffee drink. If you're looking for something bolder than your average cup of Joe, give the Café Du Monde CDM Coffee & Chicory a try!
Pros
Smooth and rich flavor

Bold aroma and taste
Cons
It might be too strong and bitter for some people
Alternative: CHICORAYA Instant Chicory Coffee
Chicoraya is a healthy, all-natural instant coffee alternative that doesn't contain caffeine, sugar, or gluten.
It's made of only two ingredients: chicory and raspberries or dandelions. Chichoraya is also the only Chicory coffee alternative in the United States with dandelion and not traditional coffee beans.
This instant coffee replacement is a great way to get the rich coffee-like taste, satisfaction, and energy without bitterness or caffeine dependency.
Simply stir one spoon of Chichoraya powder in 6oz. of water. For a richer, coffee-like taste, add a rounded teaspoon. One tablespoon will give you an espresso-strength beverage.
Pros
It tastes like coffee without caffeine

It's low in calories
Cons
The added raspberry flavor is barely noticeable
Alternative: Teeccino Chicory Coffee
Another great alternative is the Teeccino Chicory Coffee. Made from roasted ramón seeds from the Maya Biosphere Reserve and chicory root, Teeccino Chicory Coffee has a bold, coffee-like flavor that is delicious and satisfying.
With no artificial flavors, chemicals, MSG, or preservatives, Teeccino Chicory Coffee is a healthy alternative to regular coffee and decaf coffee.
The prebiotics in chicory root help support gut health and regularity, and the all-purpose grind makes it easy to brew in any coffee maker. 
Whether you enjoy it hot or iced, Teeccino Chicory Coffee is a great way to get the energy you need without the caffeine.
Pros
Less acidic than regular coffee

Rich taste
Cons
A bit pricier than the other brands

Some find the smell irritating 
Alternative: Luzianne Premium Blend Ground Coffee & Chicory
Luzianne's combination of ground coffee and chicory is a unique and flavorful blend that is perfect for coffee lovers who want a smooth, classic cup of coffee without bitterness. 
The all-purpose grind and vacuum sealing ensure that every cup is fresh and full of rich Louisiana flavor.
Luzianne's heritage as a family-owned business devoted to tea and coffee for over 100 years makes it a trusted brand for anyone looking for a delicious cup of joe.
This coffee ground is made of 100% Arabica coffee beans and chicory. This creates a smooth, rich cup of coffee without bitterness.
Vacuum sealing keeps the coffee fresh and full of flavor. The all-purpose grind makes it easy to use in any coffee maker.
Luzianne is an excellent alternative to other coffee brands because it offers a unique flavor, is family-owned and operated, and is easy to use.
Pros
Smooth flavor 

No bitterness

Long-lasting flavor, even when reheated
Cons
The decaf variety has a sour taste and lacks aroma
Conclusion
Chicory Coffee is an excellent alternative to traditional coffee beans. As shown in our list, several brands have made it their mission to provide coffee lovers with a healthier alternative to mainstream coffee.
We hope you found your next favorite drink among our recommendations. Happy brewing!
Resources:
Last update on 2023-09-03 / Affiliate links / Images from Amazon Product Advertising API