One issue I used to run into when shopping around for coffee beans was a lack of variety. There were just a handful of stores I ordered from.
But that was before I found out about Trade Coffee.
Trade Coffee has tie-ups with over 50 of the best roasters all over the USA, and that gives you access to more than 400 types of coffees.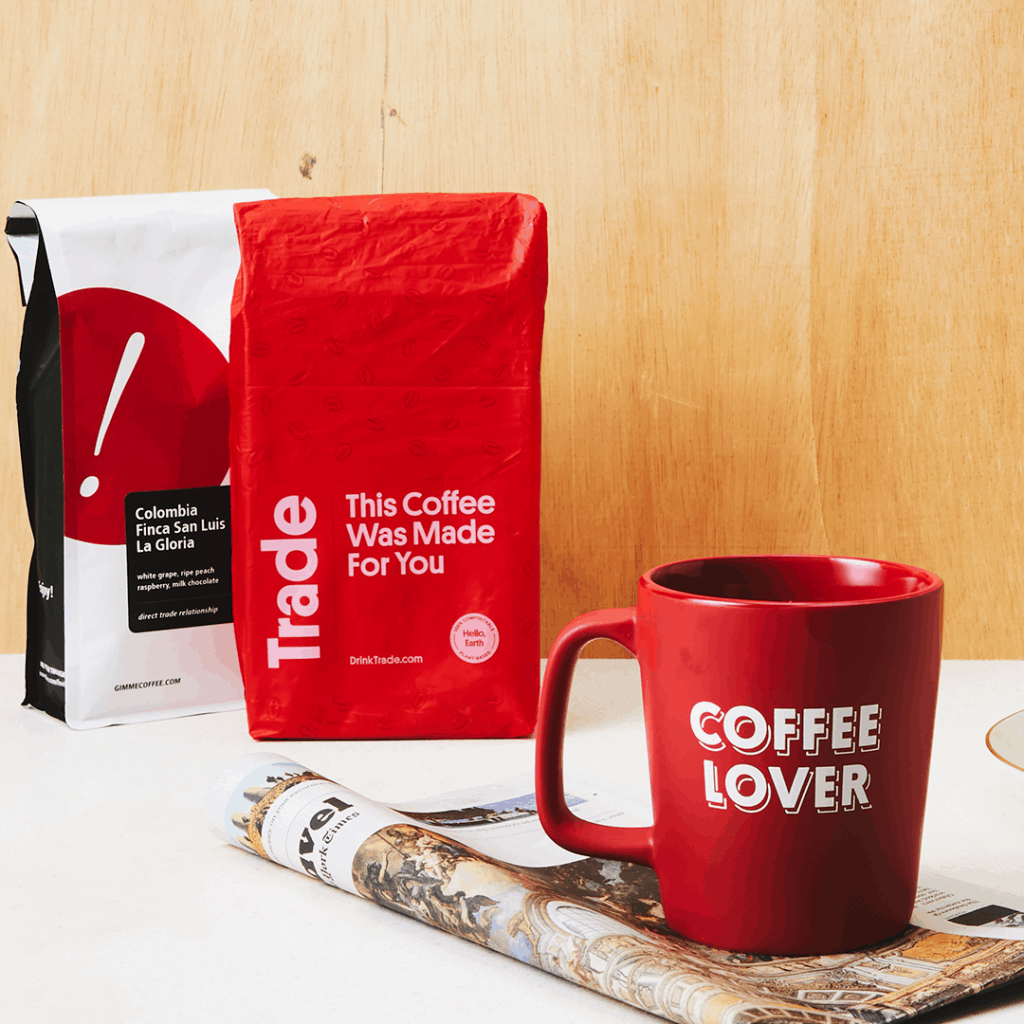 Once you start using Trade Coffee, you won't run out of new coffees to try anytime soon!
If the prospect of having access to 400 different types of freshly roasted coffee beans has gotten your caffeine sense tingling, read on in this Trade Coffee Review.
Check out Trade Coffee and get started with 30% off your first match
How is Trade Coffee special?
Let's kick off this review of Trade Coffee with what makes it special. Trade Coffee is not a coffee roaster. As we mentioned above, they have tie-ups with over 50 coffee roasters all over the USA and they aggregate all of their offerings into a really streamlined and easy to use platform.
The biggest selling point of Trade Coffee (in my opinion) is their quiz which matches you to a type of coffee. You answer a handful of questions and their algorithm matches you up with a selection of coffees that it feels will be a good match for you.
If you don't want to take the quiz, you can just browse normally as you would in any other online store and choose your coffee from there.
Using the Get Matched feature
I am a huge fan of the Get Matched feature for choosing a coffee. Not only do they match up you using a quiz for your first order, they continuously ask for your feedback every time they deliver coffee so that their algorithm gets better at learning your preferences.
When you take the quiz, they'll ask you 6 questions(as of this writing) ranging from your experience with coffee brewing, to the kind of brewing method you usually use, the roast type you prefer, and the flavor profile you like.
Upon finishing the quiz, you'll be paired with a bag of coffee, which you can then order.
The Hookup subscription
When you order your first coffee through the quiz, you're actually subscribing(you can cancel at any time) and you can choose the frequency of delivery from once a week to once every two weeks to once every three weeks.
Once you get the coffee, you can go into your account and rate the coffee that was sent to you. Trade Coffee uses your rating to help the algorithm figure out what the next coffee to send to you will be.
If by any chance you don't like the first one they send you, you can just let them know and they'll send you another bag of coffee for free!
The Hookup is a great way to have a regular supply of new kinds of coffee to try
The Classics subscription
If you like the Match result and want to stick with it, Trade will continue to send you two bags of this coffee based upon the frequency you choose.
Auto ordering
Finally, if you just know what you want, you can choose to have a single kind of coffee shipped to you in any quantity at a frequency that you choose.
Shopping for coffee with Trade
Trade has a lot of filtering options if you're browsing the 400+ coffees they give you access to:
Roast level: Choose from light, light-medium, medium, medium-dark, dark, and extra dark
Coffee tastes like: Choose from options like berry fruit, florals, citrus, earthy, brown sugar, and more
Price: On the lower end, you can find coffees for less than $15 per bag, and on the higher end, more than $22 per bag
Region: You can filter from the most popular coffee growing regions in the world
Country: You can dig down even further by filtering by individual countries if you have a preference
Roaster: If there is a particular company you want to shop from, you can choose a particular roaster to see their current offerings
Type: You can choose between single origin or blends
Bag weight: Since they're pulling from particular roasters, you'll be able to see the different weights they offer as well
Process: This is a really cool filter to differentiate between the different ways the beans have been processed: honey, natural, pulped natural, pulped natural/honey, washed, wet-hulled
Certifications: You can use these filters if you prefer to buy Kosher, Fair Trade, Organic, or Rainforest Alliance
Cold brew, decaf, espresso: Finally, these filters let you choose beans that are specially chosen for these kinds of brews
Quality of coffees
Since Trade has partenered up with a whole bunch of craft roasters, all of the fulfillment is done by the roaster themselves and you can expect the same level of quality and care into roasting and shipping that you'd expect from a craft roaster.
In the coffees we tried, we were very happy with the quality of the product we received. We were matched with the Corazon from Madcap roasters.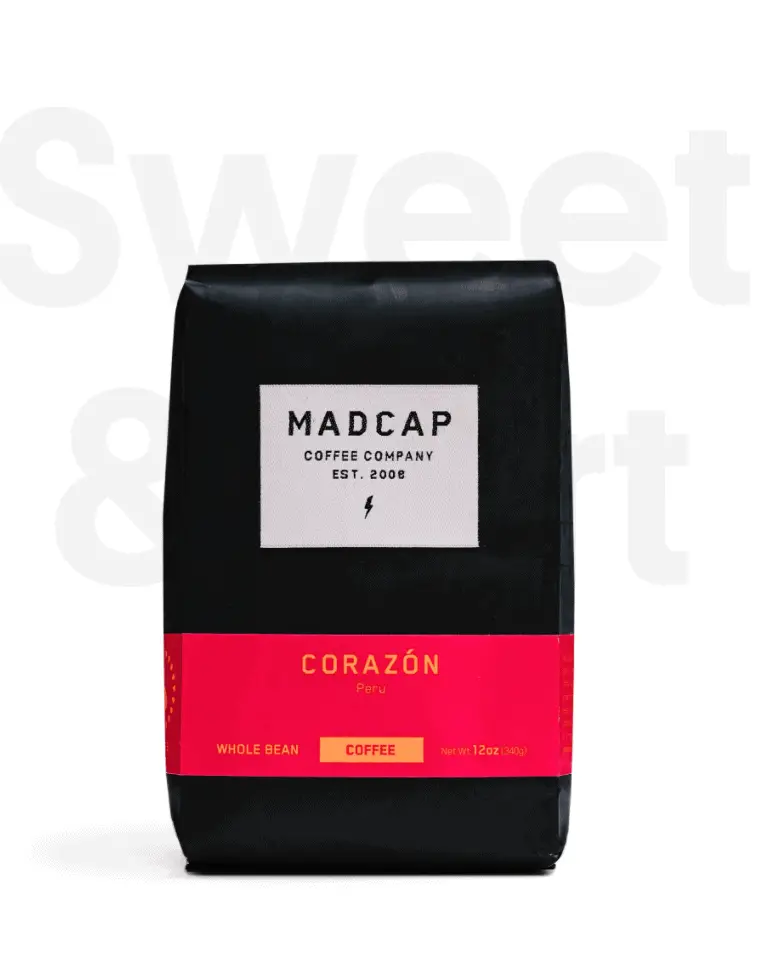 The beans had a wonderful aroma and as we grinded them we could feel the unlocked aromas wafting into our noses with every turn of the crank.
Our preferred method of brewing is espresso, so once we tamped everything down and pulled the shot, the result was a smooth and dark shot with a generous amount of creamish-golden crema on the top.
The taste was bold with a hint of acidity and sweetness: very refreshing!
To see how well the coffee bloomed, we also tried a pour over brew. The coffee bloomed very nicely and we saw lots of bubbles rushing to the surface at the first pour.
After 30 seconds or so we poured the rest of the water and the resulting drip brew was very clean, fresh, and we could still taste the acidity and sweetness albeit with less intensity.
Shipping
With a Trade Coffee Subscription, the roasters themselves are shipping to you. The packaging is what you'd expect from a craft coffee roaster: a tightly sealed bag well packed into the shipping box.
Since Trade Coffee is not shipping, the actual shipping time depends on the schedule of the roaster you are buying from. This is not such a big deal though as most of the roasters have fairly regular roasting schedules and they ship fast, which means you should receive your coffee within 3-5 days of ordering
One potential disadvantage
If you happen to fall in love with one particular coffee, there is a good chance that the roaster in question may stop making it at some point in time.
Going back to our own example, it's entirely possible that the Corazon we enjoyed so much may not be available in a few weeks or months.
At that point, though, the Get Matched feature comes in handy again as you can just retake the quiz to get a new personalized suggestion.
As roasters tend to remove some coffees from their catalogs, they also add new coffees too, so it's entirely possible that there's a new coffee that you haven't seen!
Value for money
Craft coffee is not going to be uber cheap, but that's just the nature of the product. With that said, this is not going to break the bank, and prices are very competitive as far as craft coffee goes.
The lower end is about $14 per bag and it can go up to $22 per bag, which falls right in the range of most specialty coffee roasters.
If you use the Hookup or the Classics subscription, shipping is free. For other orders below $30, shipping is a very palatable $2 per bag.
Check out Trade Coffee and get started with 30% off your first match
Shopping for brewing equipment at Trade
In case you don't have any brewing equipment on hand, you can also shop Trade for some very curated and specialized gear.
As of now, you can pick up the Baratza Encore Grinder, which is a very robust and easy to use electric burr grinder. They also carry the Technivorm Moccamaster, which is one of my favorite drip brewers.
If automatic drip brewing is not your thing and you prefer hand pouring, they've got a gooseneck kettle and scale, too.
Of course, since Trade is primarily a coffee bean subscription, it's no surprise that they also carry a really neat storage container that will keep your coffee airtight and away from the elements.
Other coffee subscription services
Trade Coffee is not the only coffee subscription out there, but they're certainly one of the most unique. If you are put off by the overwhelming number of coffees available on Trade, there are other subscription services you can look into.
The most notable one by far is Atlas Coffee Club, which takes you through a world tour of coffee over the period of your subscription.
It's also a very educational experience on the whole.
Choosing a coffee subscription service
There are quite a few subscription services out there besides Trade Coffee and Atlas Coffee Club, so what should you consider before choosing a subscription?
Subscription frequency
How often the company ships you a new bag of coffee is super important, because you need to have a regular supply of coffee on hand so that you don't run out!
Whole beans/grind sizes
You also need to see whether the service you're choosing offers. The best way to drink is to grind just before brewing, but if you don't have access to a grinder or don't have the time to grind, you may wish to get pre-ground coffee. Freshly roasted pre-ground coffee is still better than supermarket ground coffee!
Varieties
Some services like Trade Coffee pride themselves on offering a wide variety of coffee beans. Others are more targeted in their selection. This is something you need to consider before you start.
Cost
Finally, consider the cost. Some premium coffee will end up costing a little bit more that regular coffee, so that's a cost that you have to be willing to bear. But there are added costs too, like shipping.