The Hamilton Beach Flexbrew coffee maker is an interesting – yet bold – two way coffee maker that aims to combine the two most popular kinds of coffee makers into one affordable system.
How well does it do the job? In this Hamilton Beach Flexbrew review, that's exactly what we'll be looking at.
Notable features of the Hamilton Beach FlexBrew:
Hamilton Beach FlexBrew Review: Overall Features
The highlight, of course, of the Hamilton Beach Flexbrew is that it can brew filtered drip coffee as well as single serve coffee from K-Cups.
This opens up a whole new world of choice for you if you like to enjoy some variety in your coffee. It serves as a single-cup machine for when you're brewing for yourself, and can also brew up to 12 cups of coffee through the filter if you're brewing for a party.
Of course, you can all just line up and use the pods one by one, too!
Either side has it's own reservoir of water, so there's no confusion as to which side you're brewing from – you don't want to end up pouring too much or too little water, after all, one side takes 12 ounces and the other side takes 12 cups!
There is also a water window on either side that indicates how much water has been poured in.
This means that the Hamilton Beach FlexBrew is essentially two separate coffee makers packaged into a single machine, with each side independent of the other.
You have the option of selecting between bold and regular strength – and you can do this by the push of a button. This is nice – and a feature present in most coffee machines, so it is something that manufacturers should certainly not miss out on.
Brewing a single cup
To brew a single cup, you can either use a pod or grounds. This is really neat – you're not limited to a pod if you just want a single cup – and you can use your favorite grounds instead.
Press the single serve button and raise the lid until you hear a click. Fill the brew basket with your favorite grounds, close the lid, and let it do its magic!
Some folks seem to claim that this is an automatic machine but that's not exactly the case. You'll need to grind your own beans or get pre-ground beans(not recommended), but you can indeed set a timer for the machine to brew automatically. Brewing automatically does not make it an "automatic" machine.
Automatic machines are generally fully functional coffee suites that you just put beans in and the machine does the rest for you.
Coming back to the FlexBrew, you'll need to fill up to 14 oz of water for a single cup from grounds.
If you'd like to use a pod instead, press the single serve button, lift the lid, and place a pod into the pod holder. Then close the lid.
Be sure to fill up to 10 ounces of water for a single cup from a pod.
Brewing a full pot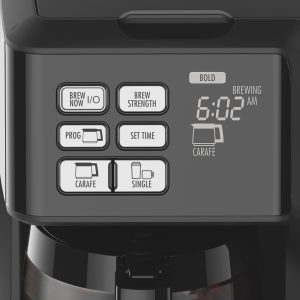 To brew a full pot, you press the carafe button, and open the filter holder and place a paper filter in the netting. Put your favorite ground coffee in. For best results, remember to grind just before brewing.
You can also use a reusable filter to reduce your footprint.
Fill the reservoir with your desired amount of coffee, and place the carafe on the warming plate.
If you'd like to change the strength of your brew, you can press the brew strength button to get a bolder cup of coffee.
Then press the BREW NOW button to get started!
You can also set a timer 24 hours in advance to make sure you have freshly brewed coffee whenever you want it.
It's worth pointing out that the carafe is not a thermal carafe, but a glass carafe that sits on a warming plate. In order to keep your coffee warm, the warming plate will heat up, warming your coffee from the bottom up.
This can overcook your coffee if you let it sit for too long. This is not the case with thermal carafes, as the heating is even and that prevents any uneven cooking.
The heating plate is only available on the carafe side. You will have to use something like a travel mug to keep the single serve side hot.
Possible pitfalls
The dual water reservoirs is both a blessing and a potential problem area because you have two water reservoirs to keep clean and descale every now and then.
You can very easily forget that you had filled water in one reservoir, use the other one for the longest time and realize that you've got nasty salt deposits and calcification on the other side.
Another issue I can see with two different brewing mechanisms is there are two things you need to maintain instead of just one. Filter coffee is fairly simple to maintain but the needle system used to brew Keurig cups is sometimes a little delicate and fiddly.
This machine is also very tall, so if you're fitting it under a cabinet, you'll have to pull it out quite a ways before you can fill it with water.
Another issue – and this is solely with the pod side – is that you can only fill enough water for one cup at a time. Most Keurig machines have large reservoirs where you can fill in a lot of water and it will brew a perfectly measured cup every time.
With this machine, you'll brew exactly as much coffee as the amount of water you pour in. So if you pour less, you'll get less coffee, and if you pour more, you'll get more.
That's not a deal-breaker, but it's something you should be aware of.
Sale
Hamilton Beach 49976 FlexBrew Trio 2-Way Coffee Maker, Compatible with K-Cup Pods or Grounds, Combo, Single Serve & Full 12c Pot, Black
THREE WAYS TO BREW. Brew 12 cups with ground coffee on the carafe side or brew a single serving with a pod or ground coffee on the other. With a pod you can brew up to 10 oz. of coffee and when you use coffee grounds you can fill a 14 oz. travel mug.
SINGLE-CUP COFFEE MAKER. Brew a cup with a K-Cup pod, another pod brand, or ground coffee. The included pod holder and single-serve grounds basket easily handle both options and the cup rest removes so you can brew into a tall travel mug.
BREW A FULL POT OF COFFEE: This programmable coffee maker has Easy-Touch programming for wake-up ready coffee. After brewing, coffee stays warm for 2 hours and the power automatically shuts off. AutoPause & Pour lets you pour a cup as coffee brews.
CUSTOMIZE YOUR BREW STRENGTH: Control how strong you want your coffee with Select-a-Brew: regular and bold brewing options.
2 SEPARATE EASY-FILL WATER RESERVOIRS: Each brewing side on this Hamilton Beach coffee maker has its own water reservoir that's easy to fill and features a water window, so you always know exactly how much water to add.
The Hamilton Beach FlexBrew's Two-way brewing
Given the current trends in coffee and coffeemakers, there seems to be a split between single serve, pod based coffee makers like Keurig and Nespresso, and traditional drip/filter/press coffeemakers.
Each has its own benefits and drawbacks, which we can get into more detail for:
Pros of pod based coffee makers
fast brewing – usually one to three minutes
wide variety of flavors to choose from
some machines have very small footprints(this machine is medium sized, coming it at 14″H x 10″W x 11″D rounded off)
Cons of pod based coffee makers
costs of pods can add up quickly
pods are usually single-use so they generate a lot of trash, unless you use reusable pods
Pros of traditional coffee makers
Dripped/filtered coffee has a unique and bright taste
Much more budget-friendly than buying pods
Machines are also much cheaper
Cons of traditional coffee makers
Difficult to enjoy variety without having to buy large packs of different coffees
Takes its sweet time in brewing
Hamilton Beach – a company quite well known in the kitchenware space – was apparently debating between developing a pod machine or a drip machine, and some designer or executive must have said "why not both?"
And so the FlexBrew came about – a machine capable of brewing drip coffee(up to 12 cups at a time)?and coffee and beverages from K-cups – which will be 10 oz or 14 oz single servings.
The beauty of a dual coffee maker system is that you get the pros of both systems and the pros cancel out the cons.
For example,
About Hamilton Beach
Hamilton Beach is quite a household name in America and Canada. They've been around for a long time, too – the company was founded over 100 years ago back in 1910.
They make a wide variety of kitchen appliances, everything from toasters to electric knives to coffeemakers to food processors.
As such, you can suppose they are not a specialty coffee brand like DeLonghi or Keurig – and their coffee makers are just one offering out of many.
Does that mean their machines are any worse than others? I don't think so, but it certainly does mean that there will be a lot more heart and soul in other coffee makers built by specialty brands.
However, I think Hamilton Beach are onto something with the FlexBrew system…
Value for money and conclusion
For the price, you're getting a really sweet deal, I think. You have the flexibility of pods and a drip machine, and you're getting it all for a really competitive price.
However if you're primarily a pod coffee drinker, I think you'd prefer sticking to regular Keurig machines instead of this one – but if you normally drink dripped coffee and would like to occasionally enjoy a pod, this machine is a great pick.
You can also check out Cuisinart's 2 way machine.
Frequently Asked Questions
Does the Hamilton Beach FlexBrew have a built in filter?
No, there is no filter built into the machine. You'll have to use an external filter if you wish to use distilled or filtered water for coffee.
Which is better, Keurig or Hamilton Beach?
If you have the space, the Hamilton Beach is the best of both worlds.
Which pods are compatible with Hamilton Beach?
You can use Keurig K-Cups from any manufacturer so long as they are the standard size K-Cups.
Last update on 2023-03-19 / Affiliate links / Images from Amazon Product Advertising API